Recently on Cyclingnews.com
An interview with Melodie Metzger, November 19, 2005
Stepping it up a notch
Melodie Metzger isn't the first name that springs to the lips of 'Cross followers if they're asked to name prominent riders; but with plenty of ability and perspective, this PhD student from the Bay area has made quick work of coming up the ranks as the future of 'cross racing in the US. With teammate and best friend Barb Howe riding with her on and off the road, Metzger is having fun and beginning to take some strong results. Cyclingnews' Les Clarke spoke with the lovely Miss M before this weekend's USGP of Cyclocross finals.
Metzger has made swift progress
Photo ©: Sheila Moon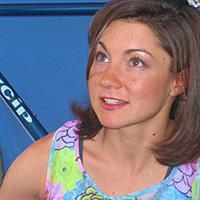 This season has been extremely busy for Melodie Metzger - as well as racing the US Gran Prix of Cyclocross series she's been featuring in NorCal 'Cross races and performing well, challenging for wins in only her second year of racing. Riding for the Velo Bella team, Metzger's been able to beat experienced campaigners such as teammate Sarah Kerlin, with eighth place at the Rad Racing GP of Cyclocross in Tacoma, Oregon, her best result so far. She's also completing her PhD in biotechnology, and has just finished a session dissecting bits of bodies when we speak.
Metzger believes that she's just one of a number of new riders out there making a mark in US 'Cross circles, saying, "There are some new faces out there. Barb [Howe, Metzger's Velo Bella teammate] has been doing really well, and she's had the opportunity to get herself some second and third places, plus there are some girls like myself who've been getting some top ten places." Heading into this weekend's USGP of 'Cross final, does Metzger think the Lyne Bessette juggernaut can be beaten? "Oh gosh...I think in order for someone to beat Lyne Bessette, it has to be this gnarly, technical course where you have to get off your bike like 600 times; I think she's super strong, but I feel that she's not as good a technical rider. The more technical the course is, the less of a gap she has to the number two rider, whoever that may be."
As for Metzger's own ambitions this weekend, she's confident hometown knowledge may be an advantage, saying, "I'm planning on pre-riding the USGP course tomorrow, but I've heard that it's got lots of roots and it's pretty much flat and fast. I'm hoping that because it's my local turf - I know the Watsonville course very well and I think that I'm a pretty good technical rider on that sort of course - so I have an advantage."
Metzger won the collegiate race
Photo ©: Rob Karman

The 29-year-old Velo Bella rides mountain bike in addition to road and 'cross, but doesn't believe her mountain bike experience will play that big a role in whether she's successful this weekend, rather her knowledge of the course, which features areas where she's strong. "In the Bay area there aren't that many technical things to ride that are legal - the one thing we have is a lot of sand and cornering; tight turns and stuff - there's a really long run-up at Watsonville, and I'm actually surprising myself this year with some decent runs, so hopefully that'll help."
Last season Metzger won the collegiate women's race at US 'Cross nationals, and is making the jump to the elite women's ranks this season. How does she think she'll handle the challenge, considering she's not that experienced yet? "I'm hoping to continue to be in the top ten - I've had some eighth places this season, so I'd love to see a fifth place; it'd be awesome. It's tough though; the closest I've been to it was when I got eighth - I was sprinting for sixth but didn't make it a smart sprint. But I feel like I'm getting there, slowly but surely..."
At this year's Nevada City Classic
Photo ©: Russ and Nancy Wright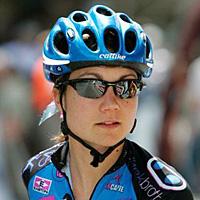 This year Metzger rode her second season on the road with Velo Bella, riding the Tour du Grand Montreal among other races. She's been invited to ride with the McGuire cycling team with teammate Barb Howe next season, and is excited at the prospect of learning more of the road craft and helping young riders on the team do the same. "The road team I'll be with next year helps kids from a more junior level into the elite ranks. It's run by Laura Charmeda and it's going to be a pretty big team; I'm hoping good things will come out of it. Laura is such a great role model and she's had such a successful career. Last season was my first year doing road stage races, so for myself I'm hoping I can learn tactics and stuff like that."
Her experiences this year were encouraging, especially the chance to ride with legends of the sport such as Judith Arndt, something she appreciates as she recalls, saying, "It was definitely an experience to be had; I remember I was in a break on the second day and I looked around and there was Christine Thorburn and Judith Arndt and I thought 'I can't believe this is happening!' I think to have an experience like that I was pretty lucky." She's keen to ride there again this year, saying, "If I had the opportunity to ride in Montreal I'd love to go and do that race again," but Charmeda is focussing the team's energies on NRC races, so Montreal may have to wait until another time.
"I'm hoping to step it up a notch on the road, and see where that takes me."
-Metzger on her plans for road racing in the future.
She's full of praise for the approach the McGuire squad is taking to rider development, with riders in that gap between juniors and the elite level catered for. "In the case of McGuires, they used to have a men's team, and now we're looking at the space in between juniors and the elite - about the level of division 3 teams - where there's a gap; they have a space for juniors but nothing in between that and the highest level of racing, so it's kind of filling that gap. And there aren't many people out there doing that, so McGuires, a realty company in the Bay area, has set up a programme. There are so many cyclists in the Bay area, so it makes sense."
Metzger (l) with Barb Howe and Sheila Moon
Photo ©: Sheila Moon

Metzger's rise within the elite ranks is a good sign that women's racing in the US is gaining strength, but what does she think of the opportunities available for young women cyclists? "The thing with women is that a lot don't get involved, and I didn't get involved until my senior year as an undergraduate; I think women don't have as many opportunities when they're younger, so it [the development of riders] happens at a bit later," she says. But that's not to say that women's cycling isn't growing, and she cites races in her local area as proof of this. "There have been some local races where they've had to split the women's cat 4 field in half because it's so big - fields of 50 or 60 split in two because it's growing so much," she says.
She'd also love to get involved with rider development, but hasn't quite got the time at the moment with racing and study commitments. "I always want to be involved in women's development - right now I don't have time to get involved, but I'd love to get into coaching and get women involved. There are a lot of boys in teams, but women's racing is growing and you have to just put kids on a bike! Show them how much fun it is and get out there," she says.
As for her own development as a rider in the upper echelons of 'Cross, Metzger feels she's making good progress, and sets goals that are realistic, considering her time in the elite ranks and her busy schedule as a grad school student. "I'm hoping that with a little more muscle and some more work - I'm still focussing on my grad school, which is a priority that probably slows me down a little - next year maybe I can go top five, who knows. It's important not to put too much pressure on yourself - if I had expected to get top five this year and hadn't, I'd be disappointed - and just make it a slow progression. And most of all, I'm just having so much fun, the season's gone really well."
Riding well at Surf City 'Cross
Photo ©: Velo Bella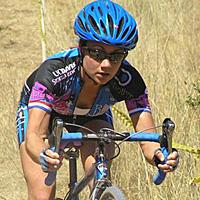 Metzger currently rides all three disciplines [road, MTB and 'Cross] with Velo Bella, but believes she may focus on road racing in the future, saying, "I want to continue with 'cross but I think I'll start going towards road - it's something I really enjoy. I think road is really growing, and I've noticed women's [road racing] is really growing - for example, to my knowledge Webcor has eliminated their men's team to fully focus on the women. The McGuires team has a really strong women's squad and they're still putting together the men's part of it. I see a lot more teams looking to support women, which is exciting for me, because I'm a woman [laughs]...with McGuires, I'm hoping to step it up a notch on the road, and see where that takes me."
With a season of road racing experience, what differences does she notice between the tactics of racing on the road as opposed to in 'Cross? "I notice when you have people that don't race on the road that often, you get to a nice flat section and they just keep pulling you. There have been times when I've said 'get on my wheel, we might be able to catch the people in front of us,' but they're like, whatever; so there's that, plus your cornering and your overall reactions - dealing with people up close, and being able to handle the mass starts, like in crits and the like."
Riding mountain bike
Photo ©: Russ and Nancy Wright

Metzger also believes road racing has helped her 'Cross racing, saying, "I think my starts have improved this year, and I think that might have something to do with doing crits on the road. Starts are really important for me, because I'm not travelling all over the country getting UCI points, so I'm starting from about the third row or something like that; you've got to then shoot by three rows of people before you catch your breath, settle in and just go, so the start's everything."
Back in the dirt, Metzger's Velo Bella team recently signed a two-year deal with Kona as a technical sponsor, gaining the sevices of Canadian 'crosser Wendy Simms in the process, something she's sure will help the team immensely. "We're going to have Wendy Simms, who's tremendously strong in 'cross and mountain biking, and as we don't get a whole lot of financial support at Velo Bella I think it'll allow us to relax a bit and focus on racing. I think the support's going to make a lot of difference and solidify the team a little bit more."