Recently on Cyclingnews.com
An interview with Lyne Bessette, October 29, 2005
Starting out slowly
It usually takes a while for the season's dominant cross rider to emerge, but in the North American women's ranks Lyne Besssette already looks unstoppable. Steve Medcroft finds out where the flying Canadian is aiming this season.
Lyne Bessette
Lyne Bessette supporting partner Tim Johnson at the Tour de Beauce
Photo ©: Matt Hansen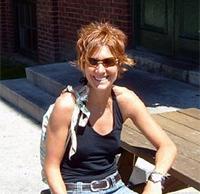 Age: 30
Born: 10/3/75
Place of birth: Knowlton, Québec, Canada
Resides: Montreal, Quebec
Turned pro: 1999
'Cross Sponsors: Cyclocrossworld-Louis Garneau
Major Results
2005
4th, Tour de l'Aude
1st, Quebec Cross Country Championships
1st, Star-Crossed Cyclocross
1st, Stümptown Cyclocross Classic
1st, Rad Racing GP
1st, Downeast Cyclocross Classic
1st, Granogue Cyclocross
1st, Wissahickon Cyclocross
2004
1st, Redlands Bicycle Classic
1st, Sea Otter Classic
2nd, Tour de Berne
2nd, Souvenir Magalie Pache
5th, Tour de l'Aude
3rd, Tour du Grand Montréal
1st, Nature Valley Grand Prix
1st, Canadian Road Championships
2nd, Canadian National Time Trial Championships
6th, Cascade Classic Stage Race
16th, Athens Olympic Time Trial
DNF (crash), Athens Olympic Road Race
2003
2nd, Redlands Bicycle Classic
2nd, Sea Otter Bicycle Classic
2nd, Tour de l'Aude
2nd, Tour du Grand Montréal
1st, Wachovia Liberty Classic
For results prior to 2003, see Anthony Tan 's interview - The Tim and Lyne show
The beginning of the U.S. Cyclocross season is always interesting. Within the first few major races, dominant riders usually develop. Last year, Geoff Kabush, Ryan Trebon, Todd Wells and Mark McCormack policed the front of the men's USGP series while Ann Knapp, Mary McConneloug and Gina Hall led the women's scene. And on any given day, any one of five top riders could win the race.
So far in 2005, the exact opposite has been happening. In fact, one woman has ridden away with every UCI and USGP race she entered. That rider is 2004 Canadian Road National Champion Lyne Bessette.
When Cyclingnews' Anthony Tan caught up with Bessette and husband Tim Johnson during their reign at Saturn in 2002, he found an engaging couple; a pair of racers who were both having fun taking on the world of cycling. It was a year in which Bessette won the Cyclocross GP de France in Nommay, Sea Otter and the Fitchburg-Longsjo Classic.
Then Team Saturn ended. Johnson moved on to Saunier Duval-Prodir and Bessette found a home on Saturn manager Tom Schuler's new team; Quark. By the end of the 2004 season though, both riders were burned out on the pressures of big-team racing and Bessette passed on the opportunity to continue wiith Quark in favor of the freedom and control of schedule that being a privately-sponsored rider offers. The freedom she gained allowed Bessette to decompress and take a fresh look at what she wanted out of racing.
At Rad Racing GP
Photo ©: Russ and Nancy Wright

"After the Olympics, I decided to take the (2005) road season differently," she said from her home in suburban Montreal in the week between the West Coast and East Coast USGPs. Instead of a full slate of races as the leader of a high-profile team, she entered only a handful of events in 2005, sticking to select favorites; Sea Otter and the Tour de l'Aude. "I did a little bit of everything," she says. "I did some mountain biking, triathlon and stuff like that. I wasn't training so much specifically, more just enjoying riding the bike."
Because she took the season easy, and has her eye on early 2006 events like the Commonwealth Games, Bessette says she "kind of wanted to get back into 'cross in the fall to start my 2006 season fresh."
" I'm actually just starting my training right now"
-Bessette after winning her six U.S. 'cross races in a row.
The concept around her training is that she plans to build her fitness through winter using cyclocross. "There are two ways you can see the season," she explained. "Some people would come do 'cross to keep a certain level of form; to get through the winter without stressing about not doing a lot of exercise. Other people really focus on it; take a real break after the road season and really focus on 'cross."
Winning Stumptown Classic
Photo ©: Russ and Nancy Wright

Bessette says that by taking the former approach to her 'cross season, she hopes to avoid a return of any lingering burnout. "I'm actually just starting my training right now. I did some running in August but not too much so far." She held back but says she gave herslef enough time to raise her form in time for World's in January. "I want to do well in Worlds. I just didn't want to start really hard, kill myself, and not want to train hard after that. So I'm starting to get back into it slowly."
Her competitors might be confused at hearing the five-foot-ten rider say she is starting her season slowly; Bessette has won every major race she's entered; the first two USGP's and four other major races in only the first six weeks of racing.
Bessette says she plans to follow up this 'slow start' by competing in the remainder of the USGP series. "To qualify for Worlds (held January 29 in Zeddan, Netherlands) I have to do well at my nationals (November 6)," a race she expects to be a challenge. "Wendy Simms is a major competition for sure. She's been riding really well and placed well at Worlds last year (12th place, St. Wendel, Germany)."
Lynn Bessette (Can)
Photo ©: Todd Leister

A strong showing at nationals could assure the confident Canadian a spot on her country's worlds team but it may take more than U.S. competition to groom her fitness for the ultimate race. "So," she says, "I'd also like to go to Europe in January to do a couple of World Cups." And even though she is obviously the strongest woman in U.S. cyclocross right now, Bessette says she still has a lot of work to do to be ready. "I'm still working on my form. I know what my form is when I'm on top of things and I have not been doing any intervals or anything like that in the season so that's where I know I think I need right now and I think I can still make it a little better for sure."