Recently on Cyclingnews.com
An interview with Levi Leipheimer, February 1, 2005
Top five or bust?
Levi Leipheimer
Photo © Gerolsteiner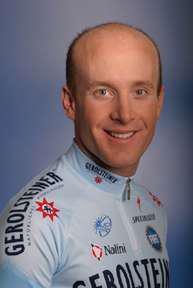 Age: 31
Born: October 24, 1973
Place of Birth: USA
Height: 170cm
Weight: 62kg
Turned professional: 1998
Teams: Gerolsteiner (2005), Rabobank (2002-2004), US Postal Service (2000-2001), Saturn (1998-1999)
Selected career highlights
2004 - Rabobank
1st stage, Setmana Catalana
5th, Vuelta a Pais Vasco
8th, Dauphine Libere
9th, Tour de France
2003 - Rabobank
7th, Dauphine Libere
2002 - Rabobank
1st stage & GC, Route du Sud
8th, Tour de France
2001 - US Postal Service
1st stage, Sea Otter Classic
1st stage, Redlands Classic
3rd, Vuelta a Espana
4th, World TT Championship
2000 - US Postal Service
1st stage, Circuit Franco-Belge
1999 - Saturn
1st stage & GC, GP de Beauce
1998 - Saturn
1st stage & GC, GP de Beauce
Since its creation in 1999, German team Gerolsteiner has made steady progress its absolute goal, and five seasons later, it is ranked third best team in the world and continues to grow according to this principle. Therefore, at the end of 2004, it seemed only natural to sign a rider with an equally high belief in improvement and one who was ready to use a new environment for further achievements: Levi Leipheimer. At least, that is what is expected of the American, but at the team's presentation in Gerolstein on January 20, Leipheimer gave the impression to Cyclingnews' Hedwig Kröner that he is up to the challenge.
Coming from Dutch team Rabobank, the American didn't want to compare between the two teams yet, but his feelings about Gerolsteiner were very good. "It's very relaxed," he said. "Which is something I was surprised with, to be honest. I expected a very strict organisation which they have; everything runs perfectly. But I also suspected a little rigidity and there is none of that, it's very relaxed." Leipheimer, who says his ancestors come from Leipheim, a small town in Southern Germany, is trying to learn the language, but the difficult tongue will take some time to master.
"My racing programme is not really different from when I was at Rabobank," he said when Cyclingnews asked him about his new schedule. "In my preparations for the Tour de France, I'll ride the Tour of Basque country, then the Tour de Romandie. After that, I'll do the Tour de Suisse instead of the Dauphiné, which will be a change because I've never done it before." The Tour de Suisse being his last race before the big goal named Tour de France, Leipheimer is cautious about it. "We'll have to wait and see how my form is at that point. Whether I ride it relaxed and just pick on one or two days to really go for it or to try and do my best there as well."
Asked about his season's target, the Tour de France which the California rider finished eighth in 2002 and ninth last year, Leipheimer was straightforward. "I've done the Tour twice, and both times I've finished in the top ten. I did it once to prove to myself I could do it; a second time to sort of confirm, and now I really want to reach higher - I'm out for top five. If that's not working out, then I will risk everything for a stage win." Naturally, I wanted to know which stage that would be, but he hadn't picked one yet. "I'll have to play it by ear. I'll ride all the important stages, the mountains and time-trials beforehand, and then I'll tell you which one!"
Georg Totschnig and Levi Leipheimer
Photo ©: Mani Wollner

On the way towards achieving his personal best at the Tour, the 31 year-old will be working closely with Georg Totschnig, Gerolsteiner's second Tour de France GC aspirant, whom he gets along with very well. "It takes the pressure off both of us," he explained. "But the more we can work together, the stronger we will be. As our aim and Gerolsteiner's is to place very high at the Tour, the better. If one of us has a chance to hop on the podium, we'll help each other."
Although Leipheimer also lives in Gerona, he doesn't see his former teammate Lance Armstrong very often. But he was able to share some thoughts about the presence - or absence - of the six-time Tour winner at this year's Grande Boucle. "If he has to do it once in the next two years, which is what we read in the press, then...," he weighed his words. "I'm sure it would make a great story if he sat this year out and then came back to challenge the winner of this year. But that's putting it off another year, he'll be another year older - why not just get it out of the way?" Leipheimer is pretty sure Armstrong will line up in Fromentine on July 2.
Speaking of the Tour, a recent change in the applied rules made a lot of sense to him: the UCI extended the distance to the finish line that time cannot be lost due to a crash from one to three kilometres. "I think it's a very good thing, a step in the right direction," he acknowledged. "It will depend on the finish itself, if it's a straight line on a wide road it's great - then I'll be able to relax in the last three kilometres. If it's technical, a little bit uphill, then of course the situation is different. But the new rule does eliminate some of the possibility of even being involved in a crash, and that's great. The sprinters don't want us there, and we don't want to be there - it's a bad mix."
And that's something he can't say about himself and his new team...
See also: September 2003 interview, May 2003 interview, November 2002 interview, January 2002 interview