An interview with Johan Bruyneel, January 9, 2005
Part II: We're ready to go
Bruyneel looks at Discovery Pro Cycling in 2005
By Tim Maloney, European Editor
With the Christmas and New Year's holidays over and the team presentation just around the corner, Discovery Channel Pro Cycling Team manager Johan Bruyneel was relaxed and confident when we spoke to him at his home in Madrid, Spain for part two of our interview. (See also: Part I.)
Johan Bruyneel
Photo ©: Beth Seliga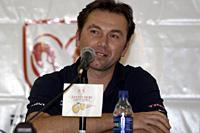 Cyclingnews: Johan, It's almost one year that you've been working on the Discovery Channel Pro Cycling Team and with the presentation coming up soon, I'm curious where your head is at. Is everything ready to go?
Johan Bruyneel: I'd say right now, the work is done...things are how they should be at this point, just before the team presentation and first team camp. I like how we did it; we had a good strategy with the sponsors and have the budget we need for the team. With Discovery Communications, Advanced Micro Devices, Trek, 24 Hour Fitness and now Berry Floor, we have great support. I feel good about where we are; the sponsors are good and the composition of the team we put together is good. So I can actually relax before the team presentation. We're ready to go.
CN: In our Cyclingnews 2004 Reader Poll Results, Lance Armstrong was voted Rider of the Year, Best Moment of 2004 (winning Tour De France Stage 17 against Klöden) and being voted Legend Of Cycling for the second consecutive year.
"If Lance doesn't do the Tour, we will change our strategy a bit and (Azevedo) won't be our only leader."
- Bruyneel on the possibilities of Jose Azevedo at this year's Tour
JB: I think it's because Lance's sixth consecutive victory is historical...it would be difficult to perform better than he did. Not to minimize the performance of any other rider, but I know the kind of efforts that went into Lance's sixth Tour win. I think that it's a big honour (for Lance) to be selected by Cyclingnews readers; no one better than the people who really know cycling. This is one of many honours that Lance has gotten this year, like the Associated Press Sportsman of the Year. Without a doubt, Lance made history this year and since it was a moment when a lot of people didn't expect him to win, so his Tour win was actually a lot bigger.
CN: Last time we spoke, we didn't talk about Jose Azevedo. Does his fifth place in last year's Tour de France show that he could be a Tour contender this season if Lance doesn't ride?
JB: Jose is a very strong and experienced rider and he was able to finish fifth in last year's Tour while he was working for the team. But to say at this point that he's a a contender...I wouldn't say so yet. There are others, like Ullrich, Basso, Vinokourov...but Azevedo can do very well and even finish on the podium. There is a difference between being the leader of a team and a protected rider. Jose is a rider who know what he can do but he also knows his limits.
If Lance doesn't do the Tour, we will change our strategy a bit and (Azevedo) won't be our only leader. It's different to have that responsibility as a leader...but what Jose did last year at the Tour was just amazing. He dedicated himself 100 percent to the team in the interest of the leader. Once it looked like a comfortable situation for Lance towards the end of the Tour, I went to talk to Azevedo in his hotel and said I wanted him to save himself and try and finish 5th. Azevedo is the kind of rider you have to tell this to, even twice. He's so focused in working for the team...that's the proof of the kind of person he is.
Last year, we took Azevedo late and he replaced Roberto Heras. His job was to ride the Tour, and support Lance. Azevedo was at least as good as Heras was for the Tour, but Heras also had role as a leader for us; he won the Vuelta and was second and third.
"George really deserves to win a big classic."
- Bruyneel on one of his most experienced one day riders, George Hincapie
CN: At 31 years old, George Hincapie should be ready for a big year in the classics for 2005. How do you see his role unfolding?
JB: We hope he can finally win a big race; George is kind of a guarantee to be in the final of most classics; like Milano-Sanremo, Gent-Wevelgem, Flanders and Amstel. But a lot of times, George has been alone in the final without any teammates; last year, we had bad luck because (Viatcheslav) Ekimov didn't do the classics...he was out after a crash. But this year we have a deep team for the classics, with Hincapie, (Roger) Hammond, (Leif) Hoste, (Stijn) Devolder and Eki. So that will bring two advantages to George; one, he won't have to carry the whole weight of the team in the classics and two, I hope we can do more to give him support. George really deserves to win a big classic.
CN: You have two young Americans on the team, Mike Creed and Pat McCarty, who are going into their sophomore season with you. What do you expect from them in 2005 on the Discovery Channel pro cycling team?
Mike Creed (USPS)
Photo ©: Beth Seliga
JB: This will be an important year for both of them...in their first year, we didn't expect a whole lot from them. To ride without pressure and not have to do a lot of races. I think they have both learned and seen what professional cycling is. So we want to see some improvement from them both in 2005, to see that they've adapted to the rhythm of pro cycling. Both Creed and McCarty are good bike riders. I think they are ready to take the next step in 2005 and we'll give them the opportunity and the program where they can do it.
CN: Last season, it seemed that it would be the last for your oldest and most experienced rider Viatcheslav Ekimov, but it seems that somewhere along the way, Eki decided not to hang up his wheels and keep riding in 2005. What does a guy with this kind of experience bring to the Discovery Channel pro cycling team?
JB: Well, Eki is an example for everybody on the team. Last year, I remember that at the beginning of last season, Eki wasn't sure of what he wanted to do. At the Tour de Roussillon, the ex-Midi Libre, he was riding great. He almost won (Ekimov finished 2nd) and it was his pre-Tour preparation. So I went to his room after the race and said "Eki, you're too good of a rider to stop racing now". We talked for a while and eventually he told me he would think about (not retiring). That's what he decided and he'll be with us this season.
Viatcheslav Ekimov (USPS-Berry Floor)
Photo ©: AFP

One thing you know about Ekimov is that he'll always be ready. After over 20 years as a top rider, he knows his body so well that he's always prepared when he needs to be. Plus he's still enjoying racing his bike, but he needed a push to continue. At 39, what he can do is just amazing. In the classics, Eki can be there in the final and maybe even win...in the Tour De France, with his enormous experience, he's worth his weight in gold.
Eki is such a great example to our young pros...they just don't make guys like him anymore; he's almost from another planet! On the bike, he's so well prepared and off the bike, he's resting. Eki's average level of fitness is just so high...he's always ready to go.
About to enter his 16th pro season, evergreen Ekimov is ready to go, as are the other 27 riders on the new Discovery Channel pro cycling team and the man who has set the stage for success, Discovery team director Johan Bruyneel.
See also: Part I, where Bruyneel discusses laying the foundations for the Discovery Channel Pro Cycling Team.