An interview with Ina-Yoko Teutenberg, August 19, 2005
Still schooling 'em
Ina-Yoko Teutenberg returned to professional racing in 2005 after a year off to recover from surgery. Her return to racing this year has been fruitful to say the least, and Cyclingnews' Mark Zalewski sat down with Teutenberg in between wins for a conversation and some, as she says, 'bee-ahrs.'
All smiles before the Manhattan Beach GP
Photo ©: Mitch Friedman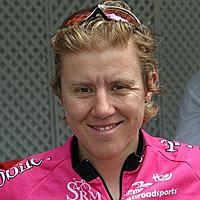 A three-time junior world champion, Teutenberg excelled at racing in North America with the Saturn juggernaut and has raced in the Olympics as well as winning six stages of the Tour de France Féminine.
Her time off from racing renewed her love of cycling, returning the fun and excitement to the sport. Subsequently, she and her T-Mobile team have lit the 2005 season ablaze, with Teutenberg winning stages of the Tour de Toona, Cascade Classic, Nature Valley Grand Prix, and Redlands. Her biggest wins so far have been the infamous Liberty Classic and the first women's edition of the Bank of America Invitational.
Cyclingnews: Let's start with the obvious...has this year been the best year for you, winning the Liberty Classic as well as many other victories?
Ina-Yoko Teutenberg: Well, it's probably the most number of victories. But we do a lot of crits. With Saturn when we used to ride a lot of international races and I had ten to twelve victories every year. But the overall feeling is good - I haven't been feeling that good before. The Liberty Classic was big. I've always been part of winning it, but it's different winning it yourself. It was cool!
CN: How about your T-Mobile team this year? You have scored many wins as a team too. And how is working with a new team director?
Pushing hard out front
Photo ©: Mark Johnson

IT: It's been fun this year - I think we've done a lot compared to the last couple of years. We work as a team, so that is good. Liberty was a real team effort - they rode on the front all day for me, otherwise I wouldn't have done it.
Andrzej is good. He has two daughters at home so he knows how to handle girls! He's fair and he always addresses every problem so there aren't any fights. He really looks out for the athletes.
CN: So is the world championship race the next big one on the list for you? And what about he problems you have had with your federation?
It's just politics, I don't want to really get into it. Petra retired and I beat Schleicher in Philly, so I think [the coach] will send both of us, and we can both get our chance depending on how the race goes. Even with Petra gone there are still two really good sprinters.
Still focused on racing hard
Photo ©: Mark Johnson

A lot of the guys say it is a sprinter's course, but with the girls it's probably harder. You never even know if it comes to a sprint. At least there might be a chance.
CN: Do you think you could do well in a break instead of a field sprint?
IT: I will try. I mean we do have enough climbers that if it's a really hard course we can do something, and then I just have to go and work, and that's fine. They would do it if it came to a sprint.
CN: What are your plans for the off-season?
IT: Come back to Utah for a while and then go to Australia. I won't train the first few months, but then I will start riding again. I think I'll do the crits in January but then I have to see what is going to happen with me next year to see how long I will stay. It all depends on what team I am riding for. If I am riding for a team that does the world cups, then I won't stay too much. If not, then I'll have to see where I have to go.
CN: Along that line, what is your future in professional racing, both for next year and farther down the road?
A giant of women's cycling...
Photo ©: Mark Johnson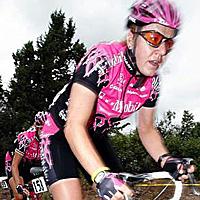 IT: I don't know yet. T-Mobile doesn't know yet if they are renewing. I haven't talked to anybody yet - we'll see what happens. I've won enough races where I should be able to get a contract. If nothing happens over here I will probably try to go back to Europe for a season or two.
CN: Would you rather be in North America on a team or back in Europe?
IT: I would like to be on a team here and then do a couple of trips to Europe. I like living here - it's fun, and the races are fun. I've done the whole European team for years too, but either way I'm pretty open for it next year.
CN: Do you think T-Mobile will come through with another year of sponsorship?
IT: I hope so. The team has been working really hard so hopefully that's going to happen.
CN: Now that you are riding on the worlds team again, would you consider trying for an Olympic spot in a few years? Is that something that would motivate you to keep with the sport a little longer?
IT: That depends on if I am still riding. It might motivate me - I go from year to year right now. Last year was hard with my year off. It made me realise a lot of things. If I don't have fun anymore, I am not going to do it.
CN: So what brought you back to racing?
Lovin' Philly! Teutenberg won the Liberty Classic
Photo ©: Jon Devich

IT: I was missing it. I tried to get back before, but I had my surgery so I couldn't make it back. It put a lot of things in perspective and I think that is why I am riding well this year. I was burned out by the end of 2003, mentally and physically.
CN: What do you see as life after racing for you? Would you want to stay in the industry, maybe as a team director? And would it be in the US?
IT: I don't know yet. Team manager is a problem because you still have to travel a lot. I'll be sick of traveling when I'm done. So maybe within the industry. I mean, if I have to get a job, it would be good because I love it. I have my green card now, so I could stay here.
I would like to help organise getting kids into the sport. If I were to do anything with coaching it would be with kids. I would like to help them get started.
CN: You have done very well this year, but you mentioned that the team has raced mostly crits this year. Do you think that could hamper your performance at worlds in the road race?
Looking composed
Photo ©: Mitch Clinton

IT: I've done Altoona which is hard, and I will go back to Europe to do the world cups, so I think I will be fine. But the world championship is a long race.
CN: On women's cycling in general, do you think the loss of the San Francisco Grand Prix will hurt the efforts to develop the sport here in the US?
IT: Hopefully not, that would be sad. It's like in Europe, it's hard to get sponsorship because it's never televised and it's hard to make a living. I hope it will progress - good bike riding always helps!
CN: What was your reaction to the news about the San Francisco Grand Prix?
IT: I was really sad because I was trying to peak for that race too. It's a good race, a good crowd - kind of like a Philly feeling - so it's sad.
CN: What do you think needs to happen to keep women's cycling advancing?
IT: I don't know. I think it needs more people to talk it up. I think a lot of people just don't know that women's cycling can be interesting until after they watch it, so hopefully that will keep happening.
Hamming it up
Photo ©: Kristy Scrymgeour

CN: Do you think women's cycling will ever be able to compete with men's in Europe? Not necessarily surpass, but at least grow a significant fan base?
Women's cycling is getting more television coverage in Europe - they are showing the Olympics and worlds, and supposedly the Tour de France Féminine, so hopefully there are people watching it and giving it a shot - that'll bring more sponsors in.
CN: You used to race a lot on the track. Why haven't you raced on it lately?
IT: Not since 1998. I knew I wouldn't be able to qualify for the 2000 Olympics, so I stopped doing the track. It does take a little away from your road racing so I haven't been doing that. My only thing is that I have to go to Germany to qualify so it is rather complicated