An interview with Gord Fraser, October 4, 2005
Be like Gord
Gordon Fraser (Health Net)
Photo ©: Bill Parsons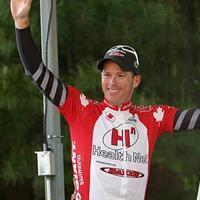 Former Canadian road champion Gord Fraser has racked up countless sprint victories over his career. Now, as he approaches the final chapters of his racing days, he is beginning to look ahead to what is beyond the elbows and head-butts of the field sprints in North America.
This November, Fraser is launching his road racing camp at near his winter home in Tucson, Arizona. With the help of team-mate Scott Moninger and trainer Alan Lim, he hopes that this venture will be part of his future. Cyclingnews' Mark Zalewski sat down with the Health Net-Maxxis captain in between autograph sessions at Interbike to talk about his new venture and other current topics of cycling.
Most professional cyclists in North America that make it to a level where they can actually carve out a living still realize that one day the legs just are not going to turn as fast as they once did and that racing for a salary is no longer feasible. Some racers walk away completely from the sport, but many find their way into another area - often in industry, coaching or management.
The smarter racer knows to begin this process before actually retiring from active racing. For Gord Fraser, those plans are well underway right now with his new racing camp scheduled next month. "I'm undertaking a new project - kind of foreshadowing a new future career plan," said Fraser. "I'm excited to do a training camp in Tucson - it's a great atmosphere. A lot of people when they first come to Tucson it's an environment that is completely foreign to them. There are some amazing rides. So we'll be showing people a new place, bringing in Alan Lim from PowerTap to teach people how to use watts and decipher data. The location is a great place to come and ride in November."
"You cannot race for as long as I have and not be passionate about it."
- Gord Fraser is sure to be sticking around in cycling, long after his professional career is over.
Though the concept of a professional leading a training camp is nothing new, the amount of sprint wins over his career shows that he knows how to move through a field and can hopefully pass those skills along. In addition to sprinting, other racing skills will be covered thanks to his friend Scott Moninger - a climber who is coming off his best season ever - as well as uncovering the mystery of training with power meter technology. "We are going to be covering all aspects of cycling - sprinting with myself, Moninger covering climbing, Alan Lim doing the watts - we'll have professional massages for the campers every day from some great therapists, and good food!
"Sure these camps have been done before, but I'm going to put my personal style into it and it should be a lot of fun. The camp will run from November 13 - 20, and on the 19th is the El Tour de Tucson that is a fantastic event which expects between 5,000 and 10,000 riders."
Regardless of the outcome of the racing camp, Fraser also says he is planning on staying with the sport in other capacities. "I'm passionate about the sport. You cannot race for as long as I have and not be passionate about it. I think there are a lot of opportunities for me out there in the industry, and this is just one thing I am trying out. Maybe I can offer more camps in the future - I've already had people ask about a spring camp. But if this is a success and there is a demand for it, I would love to keep doing it."
As one of the top Canadian riders, a natural thought is to help younger Canadians along the route to becoming successful professionals, but Fraser says he has no immediate plans to involve himself with his country's federation. "I've always offered [myself to] the Canadian Cycling Association, if they need help with the young guys, if they want to come to Tucson to train. As for working for them, I haven't really thought about that just yet," he said.
As for his thoughts on the job his country is doing in developing young talent, Fraser thinks that the federation is doing the best it can with limited resources. "They have always done a great job with the means they have. They don't have a budget like the USCF but they've always produced amazing riders. I think they get the most out of their budget. Maybe not so much out of the grassroots, but once the rider shows they can compete on a higher level they do a good job. That's the way it has been with the Canadian federation over the years - they do the most with what they have. And they have new people in there now, young guys about my age with new direction, so I think it is going to be good over the next few years."
Still one of the fast guys
Photo ©: Jon Devich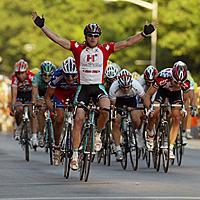 Fraser has enjoyed a solid 2005, winning impressive sprints like the final stage of the Tour de Georgia as well as the Trenton race of Philly week. It was then surprising that he was not representing Canada at the world championships in Madrid - a course for the sprinters. "Canada has a rule that you have to attend the nationals to qualify for the world's, and at the time I was slated for Cascade and it turned out the team needed me up there to help Scott win the overall," Fraser explained.
"I won that nationals last year and I didn't think I could pull it off again. It was a tough course and I kind of got away with it in 2004! I didn't have the form and the team needed me in Cascade. I would have liked to have done world's because the course was more for a sprinter, but the way it turned out with guys like McEwen and Petacchi not making the lead group, I don't think I would have done it. And I was already at the end of my rope after San Francisco."
With a lot of personnel changes in store for Health Net/Maxxis, Fraser's role as a team leader will be increasingly important in 2006. "This new team [being created by former professional Frankie Andreu - ed.] taking a few of our riders... that's the business of the sport. It would have been nice for me in past years to have another big player like that, to offer more options is obviously beneficial to riders. There will be some restructuring within the team and it will be interesting to see how long it takes for the chemistry to mesh. We are bringing on some new good riders, and I'm pretty excited to work with them."
One of the side effects of having such a successful team is seeing the young talent snatched up by bigger teams, sometimes in Europe. Tyler Farrar is a prime example of that - a fellow sprinter that benefited from Fraser's veteran experience. "He definitely has a big career ahead of him, and I've been really happy to be a part of his maturing. He is already well beyond his years and he is going to have a big illustrious career over there. As for us, as we take riders from smaller teams in the U.S., to have riders from our team graduate to big teams in Europe, that is a nice hierarchy. It looks good for our program to show riders that."