An interview with Geoff Kabush, September 3, 2005
King of NORBA heads for Europe
It's been a super 2005 for Canadian mountain biker Geoff Kabush. Overall victory in the NORBA cross country and short track series and a national championship put a shine on his year. With the world championships taking place this weekend, the Maxxis rider has still got plenty on his plate before he can relax. But Kabush is no stranger to juggling a dozen demands at one time as Cyclingnews' Steve Medcroft found out.
Chillin' out post win...
Photo ©: Colin Meagher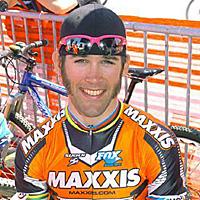 If you had seen NORBA XC and STXC series winner Geoff Kabush (Team Maxxis) the Monday after the Mount Snow NORBA finale, you might have thought of him as yet another frantic corporate road warrior in a rush to make his next travel connection. The 2005 Canadian National Champion started his day stuck at his hotel waiting for a UPS delivery, then had to drive four hours to Boston's Logan International Airport for a mid-afternoon flight while juggling luggage, rental car return, airport security and calls from pesky reporters wanting to know how he felt about his repeat as series champion. Gee, don't those guys know when to quit?
Geoff Kabush's dominance in NORBA National Series mountain biking stretches back to 2004 when, three years after he 'broke out' by making Canada's 2000 Sydney Olympic MTB team, Kabush reached the pinnacle of the prominent US Circuit and took his Cross Country title. Then he did something unconventional; he kept racing.
Kabush finished second the six-race Crankbrother's US Gran Prix of Cyclocross and won the Canadian Cyclocross National Championship over the following three months, extending his racing form much later than conventional wisdom said he should. So coming into the 2005 mountain bike season the question lingered; would Kabush be as dominant as he had in 2004 or did he sacrificed his form for winter glory?
The question was answered early - Kabush seemed on an unstoppable romp after just three races into the 2005 season. "I was surprised how strong I came out in the first couple of NORBAs (third in Texas and a win in Phoenix)," Kabush said from the departure lounge at Logan International on Monday. "I was excited to feel that incredible because I had such a short winter after racing the whole Crankbrother's 'cross."
On the start line at Sea Otter, '05
Photo ©: Marek Lazarski

The fitness continued through Sea Otter (another win) then the domestic mountain bike season shut down when NORBA took a two-month break. Kabush filled his time road racing (with the Jittery Joe's - Kalahari pro cycling team). "That break was good for me mentally," he says. "Even though we did some hard (road) racing, it's made the (mountain-bike) season seem really short."
This year's inclusion of a major block of road racing was a first for Kabush and a risk; even a minor injury on the road or excessive fatigue caused by too many continuous racing days could have set his mountain bike programme back. "It worked out well though," he says. "I got to race with a fun group of guys and I appreciated the opportunity to get into races I've wanted to do for a long time - like the Tour of Georgia and the US Pro Championships." As for its impact on his form, "It helped me to push myself beyond what I usually do. Especially the Tour of Georgia with the long hard days one after the other."
Kabush also says he hoped the break would let him come into the second half of the season refreshed but instead, he faltered, falling to bottom step on the podiums in the Deer Valley and Schweitzer NORBA's. "I had a strong race at Canadian Nationals (which he won) but I was just a little bit off in the couple of NORBA's so the series got interesting because JHK was strong at altitude."
Celebrating his NORBA series win
Photo ©: Colin Meagher

Jeremy Horgan-Kobelski was always Kabush's nemesis in the 2005 series. "He hurt himself at Sea Otter (Horgan-Kobelski had to be airlifted to a local hospital with multiple rib fractures after a crash in the Cross Country race) but he took good care of himself, and I was impressed with how strong he was at Deer Valley," Kabush says. "Then after Brian Head, I was worried because I had a mechanical and finished ninth. I wasn't in the driver's seat any more. I needed to have two really good races the rest of the way to win the series."
Luck fell Kabush's way when JHK crashed out of the Snowshoe race. With his subsequent win at Snowshoe, Kabush carried a 33-point advantage in the series to the finals and sealed the title with another win.
Kabush' success is certainly not due to luck alone though. He says he's matured as a racer and learned to take a watch-from-behind approach. "I am more relaxed now," he says. "I think it's because I've won a lot of races the last two years and I'm not so anxious to win it in the first half." Kabush says he's more of a stalker than a stomper now. "Some of the guys still go right on the attack on that first lap. I know if the other (racers) get a little bit ahead, I'll have enough in the second half to close down the distance. I think guys like Adam Craig are going to be dangerous once they figure it out a little bit more."
With Miss Pink on news of their engagement.
Photo ©: Rob Jones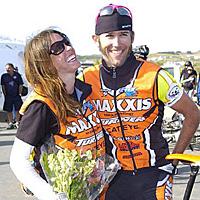 Kabush says the Mount Snow finale was the highlight of his 2005 season so far. "It's one of my favourite venues. The first time I got a podium in Cross Country, in 1999, was in Mount Snow. It was nice to finish off both series there."
Speaking of both series, Kabush says short track XC is a discipline that's become more and more important in the NORBA series since it's introduction. "I think short track is a great vehicle to bring the race closer to the fans," he says. "It's great for spectators." Short track has an appeal for the racers too. "Short track is more like road racing - there are different things you can do to win than just be strong; tactics, for example. You have to metre out your attacks and there's a little bit of mixing it up and there are crashes." Which makes the format challenging in a completely different way than traditional cross country.
After dominating the US domestic racing scene, Kabush says he feels strong for this weekend's World Championships. But because he focused on domestic racing and not World Cups in 2005, he won't be sitting on the front line at Worlds (racers are called to the start line or order of their current UCI point's totals. NORBA races are not sanctioned by the UCI and don't offer UCI points - Ed.). "It's a little frustrating that we don't have as many UCI races in North America but I made the choice not to go for World Cup races so my start position's not going to be ideal." But it isn't going to be too bad either. "I'm sitting about 30th. It's a pretty open course with a lot of passing and I definitely felt very strong this weekend so all I need to do is survive the trip to Italy and stay healthy."
Nice shades!
Photo ©: Bill Parsons

After Worlds, Kabush is taking a different approach to winter than he did at the end of 2004. His team manager, Eric Wallace, said Kabush plans to lay off the cyclocross a little. "I'm going to do a couple of weekends of 'cross in Seattle to start the season off," Kabush says. "Then I'm just going to play it by ear and see how I feel. I might go over to Hawaii; my sister's racing the X-Terra and my family's going to be there. Mostly though, I just want to take some downtime and hang out with my fiancée Keri (Pink). Got the Commonwealth Games in March next year so I'm going to be focused and make sure I get in some good training before that comes around." That downtime with Keri and training plan will happen in both Kabush's Victoria BC home and a new apartment the couple established in Albuquerque, New Mexico.
As for next year, Kabush says he's ready to expand his schedule and wants to challenge himself internationally. "I think I can be competitive, so racing more World Cups is definitely in the plans. I went to Europe this spring and it was pretty disappointing for me. Next year, I want the challenge of the World Cup.