An interview with Chris Horner, January 8, 2005
Tooting his own Horner - Part II
Chris Horner has every right to be happy with his career of late. After a significant but tumultuous stint over in Europe with Francaise des Jeux in the late nineties, including both highlights and lowlights, as well as a brief but successful return to Euro racing with Mercury in 2000, the 33 year old from Oregon has got himself a third crack across the pond with the Spanish team Saunier Duval in 2005, as Cyclingnews' Mark Zalewski reports. (See also Part I)
The Hamilton affair
Always smiling
Photo ©: Rob Karman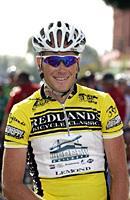 CN: Regarding Tyler Hamilton, and all he is going through, what are your reactions?
CH: It is hard to believe that that could be true from a guy who is so nice. I've never heard a bad word come out of that guy's mouth about anybody. But then you look on the other side, and someone from his team is positive for the same thing. I wish the guy the best. I hope that if he is innocent, he can fight it and come through. Lord knows he has the money to do it. So if he is innocent, he has the money to fight it and he'll clear his name. But I don't know a nicer guy on the bike. And I was one-hundred percent looking forward to racing in Europe and shooting the breeze with him and stuff, because he is as good as they come.
If you ask me about anyone, I could be speaking about my best friend, and I will tell you what I like about him and the very next thing that comes out will be something negative about the guy too. And when you want to know somebody, you want to know what their positives and negatives are. And with what I know about Tyler, I know of no negatives! The only negative thing I could say about Tyler, aside from all these problems he is having, is the guy is too goddamn nice! But I hope the guy's innocent, because I like the guy and I'd hate to think that is going on in sports.
CN: You've been over there before. What are your concerns about racing over there again in light of all this?
CH: The time that I've spent over there, I've never heard anything or seen anything going on of blood doping. I'm not really worried, and I've seen the speeds. Back in '97, things were going really fast. And I was having problems off the bike so I was getting on the bike and you want to find an excuse. The bottom line is, I don't know what [anyone] is doing unless I am in the room with them. And so I haven't been in the room with anyone who was blood doping. So as far as I know it's not going on. But now you hear about this stuff that it is going on, and riders testing positive, so you worry about it. But at some particular time you gotta just race your bike.
CN: Do you think the recent increase in cases of riders over here testing positive is an indication of a trend for the future of racing here in the States?
Horner in his new kit
Photo ©: John Segesta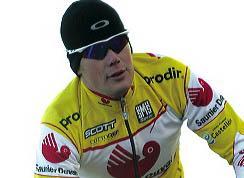 CH: See, there you just don't know. You gotta assume people are thinking about it because it is so publicized. But then you are back to the guessing game. When I was over there I was guessing that for three years. But it was just driving me crazy. But in the States, does it exist? It's gotta exist. It's at a level where it can exist. But there's not the money for it. On my team, we had two guys getting paid a salary. On Saturn, we had four of us making OK money, with the rest making five to fifteen grand. As far as I know you can't buy that stuff for ten bucks [laughs]! What it comes down to is it exists, it has to exist. With this many guys testing positive, it has to, but you go crazy thinking about it.
The bad thing was Phil Zajicek. I know it wasn't you guys, but another cycling publication brought up the whole 'doping year' and they mentioned Phil Zajicek in there. Yes, it happened, so they have the right to print it because it is fact. But God, it wasn't fair. It was not fair. And anyone that believes differently is wrong. He didn't test positive for anything in my book. It was completely legal and he got shafted on that. And I don't think it was right to print that he had anything to do with any kind of doping this year. I know it is fact, so to a degree as a journalist there is a right to print it, but the UCI should have never let it happen. But they went above and beyond - they were completely wrong there with that they did. If everything I've read and been told by Phil is true, then they are completely wrong. If you tested positive, and all you got was a month suspension in the winter-time, then that drug shouldn't even be on the banned list.
Professional cycling in the USA
CN: What are your thoughts of how cycling in the U.S. is progressing?
CH: People ask me, and they say, 'Lance is so popular and it's getting big in the States!' and it hasn't really gotten...there has been no trickle-down effect. It's not like guys are getting paid more money, it's not like there is more prize money out there - with the exception of Georgia, who actually got less prize money for us, probably because they were paying Cipollini's salary and Lance's salary to come to the race, that prize money got cut in half - so no, I don't think it's getting better.
It's not the reason of course, because I'm taking a pay cut to go to Europe, but that's kind of one reason I wanted to go to Europe...there's more job security over there!
CN: What do you think needs to happen in order to bring professional racing along over here?
CH: I think promoters need to stop putting on races that have category three and five and masters, and it needs to become professional across the board. If you are a pro event then you put on a pro race and you are done with it. I don't have any problem if they want to put on a pro women's race too, but when you are showing up at a race and they can't give you the time split before the next day's stage starts, that's not professional.
On the attack
Photo ©: Jon Devich
When you come to an event and you have every category racing, with guys changing clothes in their car, that doesn't look professional. When you have an audience coming to race, and they happen to show up early...you can take a weekend rider and someone will say there is a good bike race coming at Redlands with a downtown criterium happening between 8:00 a.m. and 2:00 p.m., and he shows up at 11:00 a.m. he is watching the cat. four race. And he's going, 'Wow, this doesn't look too exciting.' and he walks off and leaves. And he wasn't there for the main event.
If you just have the main event showing, and you come down and watch the real pros racing, I think that will draw a lot more attention. I mean look over in Europe, I've never done a race over in Europe that had five or six categories racing the same day I was. People want to come and watch the pros. You go to a NBA game, do you want to watch the amateurs play? No, you want to watch the pros play. In order to get bigger, it's got to be treated more professionally. It's at an amateur level in the States with the exception of San Francisco, Philly and Georgia. There are other races that are beautifully ran, but in order to get more money it has to look more professional.
Goals for 2005
CN: Looking ahead to this coming season, what are your goals? Are there any races you are really looking forward to?
CH: I want to win them all! I want to go over there and be dominant!
Of course, I'd like to do the Tour, and they have me down on the list that is one of the riders that could be doing it. That doesn't mean I'll be doing it, that means that I'm down which is positive. I honestly believe that is what the last three weeks of the year did for me. Because before they were signing a rider that they thought, 'OK, we can take him to the States and will have a good ride, and that's it.' But then at World's, all of a sudden, Gianetti's on his way back home and I call him up and say, 'Hey, let's make this happen right now.' And he's ready to get back home, but I'm important enough for him to come get me. So that was a big help. Then Lombardy, Milan-Turin and Paris-Tours - all of that did so much for me next year...it got me on the Tour.
Now next year, if I'm not riding so good at the beginning of the year, they know I can ride better. And this team right now, we don't have a leader, as far as I am aware. I mean Beloki left, so I don't know who we have...(except for me!) No, I understand we have guys who can ride good, I'm just joking. But that proven guy, who can win races over there, we don't have anyone. I just hope that that someone is me. And I believe that I can make it happen. It doesn't mean I'm going to do it, but that at this moment talking to you, I believe I can go over there and win races.
At Paris-Tours
Photo ©: Régis Garnier

I'd really like to do the Giro first, but I'm not on the list to do the Giro. But I talked to Gianetti and said I'd really like to do the Giro first. It's a nice warm-up, less stress, and if I have a good ride there I can make my contract already for the following year. If you ask me which one I'd rather do, of course I'd rather do the Tour, but I have to look at things at a professional level first which means I'd rather go to the Giro. If you are top fifteen at the Tour, then you can be top three at the Giro.
CN: What about racing in the U.S.? They are certainly going to use you a little over here?
CH: Yeah, I'll come back for Georgia. Come back for Philly, and the New York race. Of course who knows, but I'll need time back in the States, and then San Francisco. I'd really love to do the T-Mobile [race] but if I have really good form they'll have me do the Vuelta.
CN: When do you head back over?
CH: I don't know!
CN: OK, when is training camp?
CH: I don't know! I don't even know my whole list of teammates yet. It's funny, because I was looking on your site to see when the winter camp was [laughs]!
But I know who a good portion of my teammates are, and it won't change my philosophy. My philosophy is to go over and rider one-hundred percent. And so who is on the team or who is not on the team doesn't make a difference. It might make a difference if there wasn't this Pro Tour thing going on, because then it might make a difference if you are getting in to the Tour de France or the Giro. But now we are part of the Pro Tour, so it doesn't matter who is on the team. We could hire the whole Webcor guys and it isn't going to make a difference - you're doing all the races. My philosophy is if you ride one-hundred percent you are going to get to do the races you want to do.
CN: What about that new ride of yours? How is the Scott USA treating you?
CH: Oh, that's a nice bike! It's an incredible bike. It's lightweight, an unbelievably stiff. For as light as this thing is it is incredible that it can be so stiff. I was coming off nice bikes, but I got on this think and it's just a beautiful ride. I was really happy about that! I won't have any problems there.
Horner and his teammates
Photo ©: Rob Karman

CN: Anything to add?
CH: I just had a fantastic year with Webcor, and I enjoyed the whole season - it was really one of the funnest [sic] years I've had. It was so great to win with a team like that. Granted the Webcor guys are all nine-to-fivers, which takes it to another step. But they are racing for fun, and we just had a good time...it was really a blast.
Click here for Part I of our interview with Chris Horner, where he discusses making the transition back to Europe (again), his 2004 season and the Athens Olympics.