An interview with Serge Baguet & Peter Van Petegem, February 25, 2005
Fire and ice
Belgian Davitamon-Lotto riders Serge Baguet and Peter Van Petegem are good friends despite their different personalities: Baguet reserved, Van Petegem more outgoing and even pugnacious. Baguet has made a remarkable comeback this season with two stage wins already, while Van Petegem has his sights set on the Classics. But there's far more to life than just racing bikes, as Cyclingnews' Sabine Sunderland found when she caught up with the duo on a cold and wintry February afternoon.
Serge Baguet
Photo ©: Davitamon-Lotto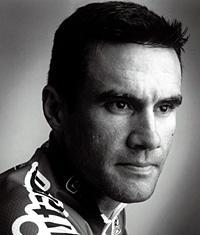 Peter van Petegem
Photo ©: Davitamon-Lotto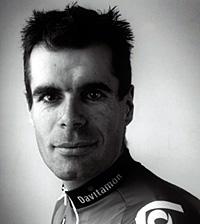 The smell of fresh coffee greets us at the door of the romantic and classy farmhouse in Letterhoutem which Serge and his wife have built in the midst of the rural landscape. The cobblestone driveway, lined with copper garden lights and the copper drainpipes underneath the red tiled roof give the picture a typical Flemish feel.
"This used to be a tiny, old cottage you know," Serge smiles when we make a remark about the size of the house and the garden. "My family and I did most of the work ourselves; the roof of course was done by my father-in-law. Remember, I worked for him for three years."
Indeed, from 1996 till 2000 Serge disappeared completely from the cycling scene while he worked for his father-in-law on rooftops all over Belgium. It wasn't a decision which was made overnight. Serge, who was always a very promising junior and young pro experienced what we could describe as a burn-out in the mid-nineties.
"I was so disappointed about how the sport was evolving at that moment. I mean, I was a good rider when I became a pro; but suddenly, guys who couldn't get out of my wheel as youngsters, started flying past me on climbs and in the sprints. There's no need to draw a picture I think. I had only won eight races since I turned pro and that was not enough for a guy who was considered as one of the most capable riders in the Belgian peloton. The whole situation got me depressed and disappointed, so I stopped."
"But the fire wasn't dead. When Scott [Sunderland] started training again after his accident in '98, I often joined him and I found joy in riding again. After a while, Scott said jokingly, 'mate, you're riding as good as all the others, why don't you give the pro life another go, it's different now, you'll see.'
"Supported by friends and family, I went looking for a team. Besides Jeff Braeckevelt, there were few people here in Belgium who believed I would still be able to do it, but befriended people in the Lotto board of direction wanted to give me chance."
And Baguet didn't let them down; in his first year back in the pro peloton, he thanked his sponsors with a solid season and in 2001 Serge took a brilliant victory in the Tour de France, stage 17 to Montluçon.
"Suddenly, guys who couldn't get out of my wheel as youngsters started flying past me on climbs. There's no need to draw a picture."
- Serge Baguet on the reasons he quit pro cycling for a while in the 90s
In 2002 he won a race in Geraardsbergen, and strung together nice placings, like a second in Kuurne-Brussels-Kuurne. Two lesser years followed, in which Baguet was plagued by minor but consistent injuries. The fact that he wasn't able to put wins on the board meant that he was pushed into a domestique role for his team leaders, Peter Van Petegem and Robbie McEwen.
But as the last weeks have shown, "Baguetje" is back again. Two uphill sprint victories in the Ruta del Sol have woken the Belgian press and once again praise for Baguet's qualities fill the news. "I don't mind riding for another teammate at all. But it's nice to finish things off myself again," Serge laughs.
In the meantime, Peter Van Petegem has joined us for a chat. Even though they lived only minutes apart during their childhood, Serge and Peter never were the friends they are today.
"When we were kids, we didn't have much contact at all," Peter says. "We didn't attend the same school and didn't see each other outside of the racing scene."
"We were rivals on the bike back then," Serge adds. "The friendship grew much later, as we grew older and wiser."
Peter agrees: "Indeed, rivalry is something created by the supporters only. I never started a race thinking Serge was the one I had to beat. But coming from the same area, our fans loved stirring things up."
"It's no use to us anymore, doing hours in the gym. Why build up an upper body when it's your legs that need to do all the work?"
- Peter van Petegem is avowedly no gym junkie
In '93 they both rode for the Belgian Lotto team, but Peter didn't fulfil the managements expectations and he left Lotto the year after. Serge temporarily retired in '96, but in 2002 they found each other again when Peter rejoined the Lotto squad. The return of "de zwarte van Brakel" didn't go unnoticed. ('The swarthy bloke from Brakel' - a nickname he earned thanks to his dark, beardy look.) Experiencing the form of his life, Van Petegem won two big classics in one week: Tour of Flanders and Paris-Roubaix.
"It was nice to be in that team again," Peter recalls. "It's not that I don't like riding for foreign teams, but the bad experience with Mercury made me long for some more familiar surroundings. The Mercury saga is one of the most disappointing eras in my career. Don't get me wrong, the riders and personnel were great - I even had the best team director ever - we all got along very well, but all the rest was a big failure, even our bikes were crap. Money was the big problem."
Serge Baguet and Peter Van Petegem
Photo ©: Sabine Sunderland

Serge Baguet riding Liège-Bastogne-Liège
Photo ©: Mitch Clinton

Peter van Petegem starts 2005
Photo ©: Régis Garnier

"When I rode with Mercury, the Tour of Flanders was the most important classic. We were a half European team, with a few Americans thrown in. After all, Europe is still the world's most important cycling scene. So yes, I was happy to return to a Belgian squad."
As we reminisce about Peter's great 2003 season, in which he won Tour of Flanders, Paris-Roubaix and had a heap of top placings, we guide the conversation towards this season.
Serge already has two wins, does he feel confident there will be more success for him in the Classics this year? "It certainly takes the stress off things," says Baguet. "I'm definitely more relaxed now than what I was previous years. I really surprised myself actually, normally I'm never this strong this early in the season. I'm not riding the Omloop Het Volk on Saturday, but I surely want to show myself on Sunday, in Kuurne-Brussel-Kuurne."
Serge is an all-rounder, strong in uphill sprints. The Ardennes Classics in particular are his cup of tea. "Yes, that's right, I'll be focussing on the Classics in April," he confirms. "That's why I have chosen not to ride Tour of Flanders this year. I'll be aiming for the Wallonian races and Amstel Gold of course [in which he finished third in 2001].
"It's not that I shy away from the RVV, but I'll be riding a ProTour stage race in Spain starting the day after Flanders, so I had to make the choice. The small tour is the ideal preparation for the hillier Classics."
Peter Van Petegem, on the other hand is targeting the first Belgian race of the year, the Omloop Het Volk, and after that the Tour of Flanders and Paris-Roubaix. It's obvious that Serge already has the winning form, but how has Peter's preparation been so far?
"I'm struggling a bit with the aftermath of a flu right now, but I'll be ready," says Van Petegem. "The first training camp in December I didn't attend, as I was waiting for my son Maurits to be born. The winter weather hasn't been too bad here; and during the second training camp in January I was good, I felt I was right on track."
There are riders who are constantly seeking new ways of training and preparing for the season. Did Serge and Peter do anything different from other years to obtain better results this year?
Serge replies, "My training methods haven't changed at all over the last few years. When I was younger I used to do a hell of a lot of research, I used to read books and every article that was published on the matter. I have always been my own coach; everyone is different and I think you need to get to know your own body and limits, no-one can set those for you. It's dangerous to overtrain; I have often seen guys do just that. There's a lot of trainers who just want to put all that great theory into practice, literally. When the athlete starts the competition they then discover they've done too much, they reach their peak too soon and they find it harder to recuperate in-between races.
"I'm not ignorant to the progress of technical aids though. I always use my heart rate monitor and every day I download it all to my laptop. Those figures get analysed thoroughly; I know exactly how I'm doing at all times."
Serge Baguet winning at the Tour
Photo ©: Sirotti

Van Petegem vs Frank Vandenbroucke
Photo ©: Elmar Krings

Van Petegem winning the Ronde
Photo ©: Sirotti

Peter laughs, "I'm still a man of pen and paper, no computer and that sort of stuff for me. I note down my heart rate information in my diary; and when you'd put all those next to one-another, you'd notice that every year looks about the same. The only factor that makes a slight difference over the years is the weather. It's maybe a funny thing to say, but our winters aren't as harsh anymore as they used to be. Like this winter, it's not like we couldn't go out for days on end like it was when I was younger; this winter I did only one or two days on the home-trainer, max. Even if the day started off bad, we were always able to go out for a few hours in the afternoon.
"It's not the quantity of the training that counts, but the quality. We both live on the ideal training parcours, in the midst of the Classics routes, it's the best place to be to prepare for those races."
"Getting attention from the press doesn't interest me at all. You race for yourself, for your team, your family, the money. It's the racing that matters."
- Peter van Petegem explains why he doesn't court the press
Serge reckons the only thing that still gets his undivided interest is the actual position on the bike. "I'm not concerned by new revolutionary training methods," he says. "Even equipment is secondary. It's not like they are going to give you a bad bike in a big ProTour team, there's actually hardly any bad frames on the market nowadays. Also the wheels and stuff are professionally taken care of by the team. The only thing I'm a bit obsessed with is my position on the bike. But I think every cyclist is, the set-up is the most important. Next to that, it's all about doing the right training on the bike, taking care of your health, having enough rest, getting good massages."
Peter and Serge aren't exactly in favour of gym work during the winter.
"No, it's no use to us anymore, doing hours in the gym," Peter explains. "Why build up an upper body when it's your legs that need to do all the work? I mean, I used to try and build some muscles when I was younger. But those days we only started training out on the road in January, so you had to fill your days with some other work; swimming, running, etc. That muscle-building program is something you need to do as a young rider, to make your body strong and straight. But all that work has been done now; look at me, I have a perfect body," he jokes.
Serge agrees. "When you're in your 30's what you still need to work on is power; and you can do that perfectly on the bike. I prefer going on the home-trainer for a couple of hours when the weather is too bad to go out. I do some mountain biking too, but I haven't seen the inside of a gym for years."
Van Petegem's objectives for 2005 could be called "modest" in regards to his abilities; well, that's what he tells the press anyway. "To win another Classic would be great," he says. "In this team, both Serge and myself have been contracted for the Classics. So that's what we want to do, win one of those. To equal 2003 and win two would be absolutely fantastic of course."
Peter Van Petegem's lighter side
Photo ©: Jeff Tse

Serge Baguet at Brabantse Pijl
Photo ©: Luc Claessen

Van Petegem on the way to Roubaix
Photo ©: Luc Claessen

"I'd rather win one big one than have a heap of top ten placings without one victory," Peter explains. "For me, that honour is the most important still. I don't count my points anymore; that's not important for a rider with my experience and palmares. To be good for Tirreno and the Classics is the vital thing this season. The whole ProTour thing doesn't keep me awake at night. That's more important for the team as a whole, to have enough riders to ride all three of the big tours for example. Maybe those tour riders are more interested in the ProTour concept, but I don't think about it. Imagine me saying: I'm going to ride the Tour de France this year! People would say I've lost it."
Moving on to a more touchy subject, as far as Peter is concerned, we wonder why it is that the relationship between him and the Belgian press is often quite volatile and has an unfriendly edge.
Peter moves to the edge of his seat. "Well, to be honest, getting attention from the press doesn't interest me at all," he says. But then he carefully adds, "You race for yourself, for your team, your family, the money. It's the racing that matters. I only like to get press the day I win a race. I'm no showman, I don't ring up the journalists like some guys do and talk shit with them. I don't need to see my name in the papers. I don't say the right things to get the press on my side. Maybe smaller riders need to establish a rapport with the journalists so they actually take notice of them during the races."
A bit shocked we ask if he doesn't even care about what the supporters think? Peter remains firm in his point of view. "Supporters are a by-product of success," he says. "Only the winners get to have a horde of fans following them around, although the domestiques do most of the work for the team during the race. It's the same in any other job, the winner gets the glory.
"Let's just say, it's not me who panics when I decide not to give any interviews in the week before a big race. You have to see it this way; I'm happy with how I live life right now, success or not, my family is the most important to me. Personal happiness is a major thing in anyone's life. Looking at my situation ten years ago; I was happy to be away racing. My situation at home wasn't good at all, and I didn't mind being away a lot. Now, after meeting my wife and enjoying a great family life, I like to get home as quick as I can. Maybe that makes me a bit less approachable. But on the other hand, the peace of a relaxed family atmosphere contributed to my biggest victories.
"And also, living here in Flanders, with this cycling-loving public, it's not always easy. Sometimes, when we enjoy a cold beer after a long training ride in summer - when our races are done - people spot us and then it's quickly in the press: Peter doesn't live for his job. But that's not true: I am someone who lives for the sport, just as much as any of the other guys."
"Family is everything. They are the most supporting factor in an athlete's life. Guys who seem to neglect that social aspect tend to fall into a big black hole when they stop."
- Serge Baguet on some old-fashioned values
Serge laughs about Peter's attitude. "This is typically Peter, what you see is what you get," he says. "I appreciate that in him, but some might think differently! When he wins though, everything's forgotten as quickly as it stirred people up. I had some experience with that already too. People are quick to write you off."
Van Petegem on the Roubaix podium
Photo ©: Jeff Tse

Serge Baguet in Belgian colours
Photo ©: Chris Henry

"For myself, I like to get that attention from the press and the supporters. I think it's nice to have supporters alongside the parcours and it does touch me when people come and congratulate me on a job well-done. I thrive on that. After working a regular job, in the cold winds and rain, up on those roofs, hard yakka I can assure you; I have grown to really notice the appreciation for what I can do as an athlete. I had a lot of positive reactions after these two early season wins; it definitely makes me hungry for more. The upcoming classics and the Tour de France are races during which I hope to enjoy the same success."
The family aspect is something which has been touched a few times during the conversation. Both riders have a rich field of interests outside the sport.
The introvert and quiet Serge Baguet loves nostalgic old cars and is the proud owner of a vintage Porsche. "It's true both Peter and myself are real 'Bourgondiers'; we like a nice meal and a good drop of wine. I even bought a wine fridge to keep the wines at the right temperature; tasting different wines is something I really enjoy, in moderation of course!
"After all, the season's outcome is an accumulation of a lot of different factors. Family is everything. They are the most supporting factor in an athlete's life. Guys who seem to neglect that social aspect tend to fall into a big black hole when they stop. When the racing is over and done with, they have nothing to fall back on, to get support from. Cycling is very important to me, it's what I like doing but also what I make my money from. It's a job which is demanding and it's important to find a healthy balance."
Judging his results so far this season, that's exactly what Serge has found and hearing the fire in Peter's speech during the long discourse, he'll be the man for his competition to keep an eye on pretty soon too.