Recently on Cyclingnews.com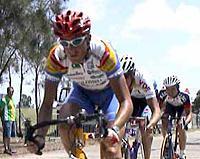 Photo: © Bob Bykerk
Moving on up: The Trent Wilson Journal 2005
Trent "Willo" Wilson is in his second year with the Continental Pro team Colombia Selle Italia. Follow his progress and get a taste of Aussie humour as he lights up the road in Europe. Trent also his own web site at www.trentwilson78.com where you can find out even more about this Sydney rider.
August 3, 2005
Towns throughout Italy, July/August, 2005
Cruisin, crits and some summer fun
G'day,
Hanging out with Russ
Photo ©: Trent Wilson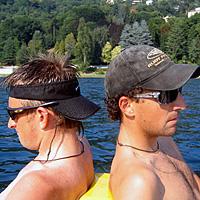 After last month's diary and Belgium shenanigans, the photos didn't make the cut for some reason so I have added some photos from Karl and Katrien's wedding with this diary entry.
Since then I have been back training well, uppin' the miles, back on the regime of things again to up a good end of season. The first part of the season has been the same the past two seasons, with everything focused on the Giro, and with the team doing a lot of racing in Colombia towards the end of the season this year and me getting an early mark home I have chosen the Sun Tour and Tour of Queensland as my main goals, and hope to get 2002 end of season form to perform in these races.
My mum and her husband Lewis have been in Italy for two weeks and been doing a bit of traveling around at the same time. I took this opportunity to also up some good kilometres; the good training turned into a few epics though! When my 'Olds' headed to Santa Margaretta (near Genova) I had an Einstein idea that I'd ride there...240km later I got there. The last 80km was up and down with a gale force head wind, and 40km of it gradually going uphill for what seemed like forever. While we were down that way we checked out Monaco, the home of McGee, Cooke and Matty Wilson. I can see why they live there; very nice place.
Harro, Russ, Dirk and yours truly
Photo ©: Trent Wilson
A few cruisy days, an Italian barbie (barbecue) with an Aussie influence and I was up another epic to Lake Como this time. It wasn't as far, but a good 170km ride. While I was up in Lake Como I did some good training and some great kickin' back around the pool and on the lake. The ride on the way home wasn't as good as the ride there though. The night before there was a bad electrical storm and as I entered a tunnel I realised the lights were out. I could still see while there were cars in the tunnel but once they were out of sight it was like I was blind. Before I had time to slow down I was already lying next to the guard rail. The next 150km home with green moss all over me wasn't pleasant. Our mate Vince made an appearance in Italy for a week. He knows how to rub me the right way with a present from Holland; a dozen Palm beers from Belge, my favourite beer.
On the following weekend Russ and I rode the local Gran Fondo race. These races are mainly for amateurs and have about 600 starters. Seeing it was close to our house, we had no racing and we know all the roads we raced the 170km Gran Fondo. The race went ok and was a good hard hit out. There were actually five pros on the start line. I helped my training partners at the start of the race, seeing us pros can't win the prize money.
Four tenors...
Photo ©: Trent Wilson

Next up was Brixia tour, a three day stage race in Brescia, Italy. The legs felt good, the motivation not huge but was travelling alright. I wanted to use Brixia tour as a bit of a form finder and was happy the way it went. I cruised through the tour with good legs and it gave me a good three day hit out.
Straight after Brixia tour, that night we drove straight to Holland. It's that time of year again, the crazy circus of the post-Tour crits. The drive itself was enough of an epic. Not only was it a nine-hour drive, but we saw a car lose control and hit a guard rail in the wet, a Porsche Boxster decided to slow down at 160km/h in the outside lane to miss a duck, and as we dodged the Boxster we cleaned poor daffy up at a similar speed.
Since getting here six days ago we've done five crits already. Today's Sunday and I am looking forward to kickin' back on my day off from the circus, to watch HEW Classic on tele, up an Aussie barbie and knock down a few coldies. Ahh, can't ask for much more, well the sun could be out but it's Holland and that could be asking too much.
Aussie-Italian barbecue
Photo ©: Trent Wilson

The five crits so far haven't been as fun as last year mainly due to the weather, with Wateringen and Chaam raining for parts of the race and at Heerlen it rained for the entire race. When the crits have been dry though, the atmosphere has been great; lots of spectators, the smell of cigars and the sound of plastic beer cups crunching under your tyres as you ride over them.
Russ and I are staying at Vince's house up in North Holland in a town called Zwolle, with a few nights thrown in at Russ's relatives house down in Heerlen, when we are doing crits in that area. Vince's house is a pretty full house at the moment too, with two of my mates staying; Antman "the dog" Challinor and Andy "Cush" Yee. The boys have been having a ball at the crits. While Russ and I are going around in circles for 100km the boys are getting into the party atmosphere of the crits with plenty of drinking and joking around.

I now have a few more crits next week, then I head back to Italy for two one day races before I come back to Holland for the final stint of crits.
Cheers,
Willo
Photography
For a thumbnail gallery of these images, click here
Images by Trent Wilson