Recently on Cyclingnews.com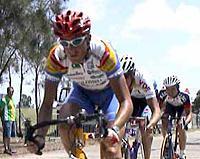 Photo: © Bob Bykerk
Moving on up: The Trent Wilson Journal 2005
Trent "Willo" Wilson is in his second year with the Continental Pro team Colombia Selle Italia. Follow his progress and get a taste of Aussie humour as he lights up the road in Europe. Trent also his own web site at www.trentwilson78.com where you can find out even more about this Sydney rider.
Italy, April
Right turn to the Giro
G'day,
The boys out training on top of a berg
Photo ©: Trent Wilson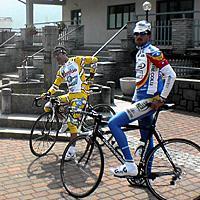 Just got a massage - verdict - legs are tin fruited, stuffed, nailed, finished...all of the above. Luca, our soigneur from last year has come to the rescue. He has joined Domina Vacanze this year and Domina's gain was Selle Italia's loss. Russ and I have missed our mate Luca in particular, considering he lives only 6kms from us and was giving us rubs three to four times a week last year. This year we are stuck in our little town with no one to rub legs, it's just lucky Luca is home between tours with Domina to give Russ and I a few rubs before we start our next block of racing.
I have been here five weeks now and only had two days of racing; that means a fair bit of training has to be done. This doesn't work well for me as I am the kind of rider that gets form from racing, and more the better. The last four weeks have been packed with kilometre after kilometre of training.
When I last wrote I was on the way to Germany for the team presentation and was getting over an illness. I get sick every year I arrive in Europe, but it has a good side to it also. How, you ask? Well, I get it over and done with as soon as I get here, and then get on with being healthy. I have been able to train well since then, while my team mates have all gotten sick and missed valuable training. Russ, Marlon Perez and Phil Schneider in particular got really sick, all being down in bed for close to a week. That's what happens when you room a sick rider with a healthy one, which is what happened with Marlon and Russ in Coppi Bartali. It's not a science; split the boys up if one is sick!
The team presentation went fine, and was held at the Corratec Factory/shop in Germany. Another Aussie, Paul Crake, was there also, as he races with the Cat 3 Corratec team. It was actually good to see the insides of the factory when we got the guided tour - just a pity that all six triple A batteries I had with my camera were flat. From here we went straight to Switzerland to race Stausee. It was the perfect race to start the season with; not too hard but not too easy. It ended up being a bunch kick but had hard sections in it, especially when we had to chase a break down. They had three sprint primes during the race where you won a phone. I was pretty keen to get my hands on one of those seeing I broke my phone two weeks earlier and the phone I was using was useless. The best I could manage was second though - d'oh!
The Selle Italia Columbia team presentation
Photo ©: Trent Wilson

Next up was supposed to be Coppi Bartali, but I got flicked and instead get to ride Giro Trentino. I got asked which one I'd prefer to do and knowing how hard Trentino is, I chose Coppi Bartali, but got pulled from the roster anyway. So for me it was back home for more training. Meanwhile in Coppi Bartali, Perez gets sick and then passes it on to Russ where it then goes onto the others. I was getting some good training in with the local bunch back here though; a mixed bunch of pros and a few strong U/23 riders, usually having a bunch of 6-8 guys to train with.
After the boys got back from Bartali, it was off to the boot of Italy, for Giro Calabria. You couldn't go any further south without going across to Sicily. This race was another bunch kick and quite an easy race. The first hour was hard and I was getting into a few breaks but it kept coming back together, until one rider got away solo. For the rest of the day the sprinters' teams rode an easy tempo on the front over the 15km climb and along the coast to the finish. It was a great sunny day and races in Europe don't get much easier than this.
Back home after Calabria for three weeks of training. There is plenty of racing going on in Europe and I can't seem to work out why we aren't doing any of it. A lot of the Italian teams are even heading to Belgium to do the Classics - that would've been fantastic. The weather hasn't been too great and have missed a few days of training because of downpours of rain, but generally it hasn't been too bad, and the training bunch has been great. The boys train hard and fast and don't mind racing for sheep stations up the bergs, but also love a joke and a laugh, and the odd coffee break, so it makes for good training. The last week in particular has been hard riding, and with lack of massages the legs have been in the hurt bag, but after a few rubs from Luca they're back and refreshed.
Luca giving Russ a rub
Photo ©: Trent Wilson
Now I am off to race Giro d'Oro on Sunday, followed by Giro Trentino starting Tuesday and finishing Friday, then finishing the week with Giro Appennino in Genova next Sunday.
By the end of this racing block I will know what I am doing in May - either a lap of Italy in the Giro, or a vacation. Since I last wrote the team roster has been upped by another two riders. It seems our team getting a wild card in the Giro has got attention from other riders seeking a start in May. It also seems my 'definite' start has changed to a 'maybe'. There are no guarantees or promises in this sport. So next week is pretty important on which direction my season goes. If I don't ride the Giro there is no racing for two months, and May is out of course, then June is empty too, because there is no racing in Italy and the boys are recovering. I'm at a stop sign with a left or a right turn, and hopefully I can go right to the Giro. I've done the work and the training, so we'll see what happens.
Cheers
Willo