Recently on Cyclingnews.com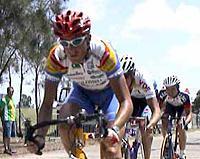 Photo: © Bob Bykerk
Moving on up: The Trent Wilson Journal 2005
Trent "Willo" Wilson is in his second year with the Continental Pro team Colombia Selle Italia. Follow his progress and get a taste of Aussie humour as he lights up the road in Europe. Trent also his own web site at www.trentwilson78.com where you can find out even more about this Sydney rider.
Telekom Malaysia Tour de Langkawi, Malaysia, January 28-February 6, 2005
5 down, 5 to go
G'day,
Willo's planning
Photo ©: Trent Wilson

I'm halfway through the Tour de Langkawi now and plenty has happened since leaving Oz a week ago.
The last week in Sydney was spent finishing off a big block of km's, and then the last few days spent resting up before the tour. I came here knowing I have the km's under the belt, but not too sure on how the climbing and race fitness will be. In one of my last weekends at home, I went out on the local bunch ride, checked out the Bankstown Cup at the Dunc Gray Velodrome and went to a good ol' Aussie Sunday arvo barbie. At the barbie, the boys actually pulled out the Scalextric car set, and after two hours of playing it, I set the fastest time of the night and then retired...
I got to Sydney airport last Tuesday to get a pleasant surprise to find out that for once I wasn't flying solo, and I checked in with Cyclingnews journalist Anthony Tan and photographer Mark Gunter. That set the way for a fun eight hour flight. A night in Kuala Lumpur and the next day I flew to Langkawi to meet the team.
Life's tough in Langkawi
Photo ©: Trent Wilson

I arrived in Langkawi for the typical Italian reception, not how are you, but rather how fat are you? Russ and I got a few yes and nos on either side of that argument.The team we have at Langkawi is the maglia blue at the Giro, Illiano, the hot fav, Rujano, last year's yellow jersey holder, Marlon Perez, sprinter and new signing, Di Biase, Italian Scarselli, and Russ and I. So we got a few days to meet and catch up with the other riders, as well as get the new kit and new bike. This year we're on Corratec bikes with 10 speed Shimano Dura-Ace. It took a few days to get used to the new steed, and after a few days of short training rides around the island and a bit of DVD shopping, the race was underway.
The first stage did not start cruisy as many had hoped and it was on from the gun. I went with a few moves but missed the one that got away. About 12 riders got away and we had Rujano in there. Panaria wouldn't have any of it and didn't hesitate to chase straight away, and as expected brought the race back together for a bunch kick with 10km to go. Graeme Brown won the first stage in front of his team-mate Bongiorno for a Panaria 1-2.
Day 1 was a long day though, once we had lunch, packed and then caught the ferry back to the mainland. I didn't take much rocking to go to sleep that night.
The first long road stage (Stage 2) got underway again from the gun when the Asians attacked from start. I got in a few moves early on, but it ended up being two Asians who got away. The bunch was content to let them ride into the 42 degree heat to gain a gap of 13 mins. They were caught and as expected, they were fried from the long day and heat. Panaria did another 1-2 but reversed this time with Bongiorno taking the win. The awesome lead out again by Lancaster had all the riders talking about it. He led out into a block headwind and no-one looked like getting close to the Panaria riders. My team mate, Di Biase, was 4th.
Stage 3 was the first day in the bergs with two cat 1 climbs in the first 70km. Again, at km 0, an Asian attacked and again it was Fukushima, and again like yesterday, the bunch was happy to let him get over 10m ins. This time however, the sprinters mistimed it and Fukushima stayed away by more than two mins to win. I remember back in 2003 this rider attacked everyday on km 0 and everyday got caught in the last 10km, this time his moved paid off. Panaria weren't willing to chase again on their own, and when no help came, they called the bluff not to chase, and by the time the teams got together to chase, it was too late. My day was a very bad one! I finished in the bunch but was so drained by the finish. I had stomach cramps and the runs for the entire race as well as very sore legs from my bike position being wrong, which I have now fixed. Anyway, I got through, and feel a lot better.
The time trial on Stage 4 was a day off for me, just a matter of riding within myself and saving the legs. O'Neill got Australia another stage win and Fukushima kept his yellow jersey. The big surprise, however, was our 49kg climber who finished only 15 sec behind O'Neill in third. I knew he could climb, but that's an incredible time trial from a little fella.
Now to today; it was a flat day going along the coast heading south to KL, with a bit of wind around. I tried to get in the early move again, but it wasn't to be. Three guys got away but never got more than 5 mins. The Japanese team did a good job to keep the time gap a reasonable range before Panaria and other sprinter teams took over. Surprise, surprise, Panaria won! Not only that but they were 1-2-3... Lancaster was on fire, his 500m lead-out was that good, he nearly took the stage, but Brownie got the win over Bongiorno and Lancaster. My legs felt great today and body back to normal, even mixed it up in the kick to lead out Di Biase.
Now we have two flat days, then Genting Highlands, a berg day and the final criterium in KL. Let you know how it goes...
Cheers,
Willo