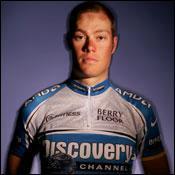 Tom Danielson
Photo: © Al Bello/Discovery Channel
A new start: The Tom Danielson diary 2005
After his ill-fated stint with Fassa Bortolo in 2004, likable American climbing specialist Tom Danielson looks to have found a more conducive home for 2005 with Lance Armstrong's Discovery Channel team. Follow his diary on Cyclingnews as he rides alongside the Boss as part of Discovery's ProTour arsenal.
Paris-Nice, Stage 2 - Tuesday, March 8: Aigueperse - Thiers, 46.5 km
Crazy days in the snow
Stage two today, and what started out as a boring day ended in plenty of excitment.
Because of snow we waited around all afternoon to decide how we were going to take the stage. They decided we were going to the finish town and do one 46km circuit before the finish.
Wow, it was fast! On tiny roads with snow - very slippery conditions - we started. Right from the start it was crazy. I did my best to stay near Lance and my teammates; it's reassuring as they are very calm and always in the right position. Before the finish there was a 3km climb and then a 7km dangerous descent to the finish, and although the climb was not too bad, the descent was very slippery. I stayed with the team and we all took safe lines to the finish.
Popo (Yaroslav Popovych), our fearless descender, flew past people like they were standing still, finishing the stage third. It was a truly impressive feat, taking into consideration he lost some skin in that bad crash yesterday. The rest of the team made it safely down to the finish - it is always stressful in these stages, but I feel very relaxed around the team and more comfortable in these crazy parts of the race.
Now we wait and see if the race will actually get going tomorrow. It feels just like Durango here, so I feel for all my training buddies back home putting in the big hours in the snow and cold. Well, race or no race, tomorrow I will check in with you guys! In the meantime, check out www.teamdiscoverychannel.com to get a closer look at this amazing team I have the pleasure to be a part of.