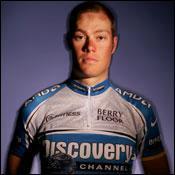 Tom Danielson
Photo: © Al Bello/Discovery Channel
A new start: The Tom Danielson diary 2005
After his ill-fated stint with Fassa Bortolo in 2004, likable American climbing specialist Tom Danielson looks to have found a more conducive home for 2005 with Lance Armstrong's Discovery Channel team. Follow his diary on Cyclingnews as he rides alongside the Boss as part of Discovery's ProTour arsenal.
Paris-Nice, Stage 1 - Monday, March 7: Etampes - Chabris, 186.5km
A day of crashes
Hello cyclingnews readers,
I am writing this journal from the brand new Discovery team bus. Exactly like the team, it is very nice. [Tom's too modest to mention that he's two-thumb typing by Blackberry to keep us in the loop - Ed]
I am very privileged to be part of this team and am very excited to be racing with an amazing group of guys here at Paris-Nice. Well, I could go on about how happy I am with the team, but now I will give you the stage 1 report.
I would say the word of the day was "crash". The day started with an ugly motorcycle crash in the peloton and ended with a crash that took out all but 20 guys. Unfortunately, all of our team was held up in the crash and several groups made it to the finish based on how quickly they could pull there bikes apart. Luckily no one got hurt. I am really trying to improve my skills in the peloton and today was great listening to Johan's instructions over the radio and following around my teammates around. Lance continues to amaze me the way he handles his bike.
So a good day for experience, but unfortunately an unlucky day. But this is bike racing. I will update you each day from the race!