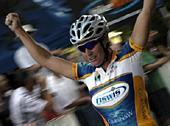 Photo: © Shane Goss
Speedy Gilmore: The 2005 Rochelle Gilmore Journal
Rochelle Gilmore - super sprinter and scratch race silver medallist at the 2002 world track championships - is a woman of ambition. After proving her prowess on the track, she's aiming to forge a successful career on the road. In 2004, she rode for Denmark-based Team S.A.T.S but in 2005, Rochelle joins the one of the longest-named teams in women's cycling, G.S. Safi-Pasta Zara Manhattan, where she'll team up with Britain's Nicole Cooke to make a formidable duo for the finale of any major race. Follow Rochelle as she continues her rise to the top of the tree in 2005 with her regular diary updates.
Wanganui, New Zealand, December 1, 2005
Aussie winning combo
Rochelle and Toireasa Gallagher
Photo ©: Rochelle Gilmore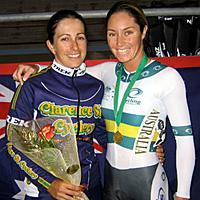 Toireasa Gallagher and myself went into tonight's points race outnumbered, being the only two Australians amongst 12 New Zealanders! We knew the New Zealanders would be racing hard and fast, as it was one of their selection races for the Commonwealth Games. The strongest rider to watch was clear from the start- Catherine Sell, who is a well-known endurance rider from both the track and the road. Marina Duvnyak was also in form after taking some time off. My biggest concern was what Mishy Holt was going to do; she's an absolute powerhouse and was probably the only threat in regards to someone taking a lap.
The race was fast and I started going for the sprint points right from the start. I was very confused about what gear to ride tonight as I don't often race outdoors, I dropped the gear down one point from what I would usually ride indoors - it worked out ok but I realised that I don't quite have the leg speed just yet for the smaller gears.
Our race plan played out perfectly - I was very fortunate to have such a strong rider like Toireasa to rely on, as she pulled back all the breaks that looked dangerous while I was able to take a breather and prepare for the next sprint. We were outnumbered in the race but by no means outclassed. Toireasa is not only one of the strongest riders going around but she is also one of the smartest; she has the professional experience and reads a race very well.
No laps were taken; a few riders attempted it but were soon reeled in. It was a sprinter's race thanks to the combination of Toireasa's strength and my speed (which is lacking a little), and we never really looked to be in any serious trouble.
Tomorrow night we'll attempt to earn more gold for Australia in the 8km scratch race.
Good night from NZ!
Cheers,
Rochelle
www.rochellegilmore.com