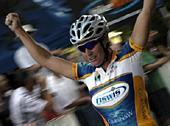 Photo: © Shane Goss
Speedy Gilmore: The 2005 Rochelle Gilmore Journal
Rochelle Gilmore - super sprinter and scratch race silver medallist at the 2002 world track championships - is a woman of ambition. After proving her prowess on the track, she's aiming to forge a successful career on the road. In 2004, she rode for Denmark-based Team S.A.T.S but in 2005, Rochelle joins the one of the longest-named teams in women's cycling, G.S. Safi-Pasta Zara Manhattan, where she'll team up with Britain's Nicole Cooke to make a formidable duo for the finale of any major race. Follow Rochelle as she continues her rise to the top of the tree in 2005 with her regular diary updates.
Australia, November 18, 2005
Flying fun at Dunc Gray
Wow! 70km/hr feels awesome!
I went to the track yesterday with absolutely no expectations. I was asked a few days ago to attempt a female track record of 60km/hr at my home track in Bankstown, the 2000 Olympic Dunc Gray Velodrome. I jumped at the chance to go very fast!
I have been slogging my guts out with long, slow road miles and a combination of different strength endurance efforts which are also done at a slow pace and I must admit, I was getting a little mentally tired of going slow.
Yesterday was fun, flying around at 65-70km on disc wheels and thin tyres, on hard boards. Riding behind a derny might sound a little scary, but I loved it, all 13.4 seconds of it!
The DGV speed record is now set at 13.4 seconds for 250m (1 lap) behind a derny. That's an average speed of about 66km/hr and a maximum speed of 70km/hr.
I'm extremely keen to see if I can go faster but I will have to wait until the Sydney Thousand to see how fast the Meares sisters can go. then I'll have some more motivation and hopefully some fresher, faster legs!
[See this morning's news for a report on Rochelle's successful record attempt.]
Cheers,
Rochelle
www.rochellegilmore.com