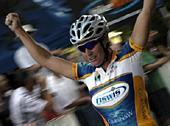 Photo: © Shane Goss
Speedy Gilmore: The 2005 Rochelle Gilmore Journal
Rochelle Gilmore - super sprinter and scratch race silver medallist at the 2002 world track championships - is a woman of ambition. After proving her prowess on the track, she's aiming to forge a successful career on the road. In 2004, she rode for Denmark-based Team S.A.T.S but in 2005, Rochelle joins the one of the longest-named teams in women's cycling, G.S. Safi-Pasta Zara Manhattan, where she'll team up with Britain's Nicole Cooke to make a formidable duo for the finale of any major race. Follow Rochelle as she continues her rise to the top of the tree in 2005 with her regular diary updates.
New Zealand, October 9, 2005
A new bike and some mud in NZ
Hanging out in New Zealand
Photo ©: Rochelle Gilmore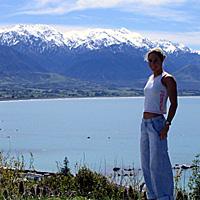 I'm now in New Zealand and have started my preparation for the Commonwealth Games! You might remember from my last diary entry how Pinarello had at the last minute supplied me with a new bike to take home to Australia, as our team bikes had been stolen whilst racing the Giro della Toscana.
Well, I've enjoyed the start of my preparation on one of the nicest, newest bikes around - the Pinarello Paris FP! It's a Full Carbon Fibre Monocoque Frame made out High Modulus Unidirectional 46 HM 3K Carbon Fibres with Pinarello's ONDA® Fork and Rear Stays. My blue Paris is built up with a full Campagnolo Record Groupset which now features titanium brake calipers! The groupset is complemented by a 170mm set of Pinarello's Tank compact full carbon cranks that blends in perfectly with Pinarello's carbon seatpost and saddle. I love the tiny Speedplay pedals, complete with titanium spindles - the way the pedal inserts into the cleat allows more pedalling clearance through corners. This bike is a dream to ride! The 55mm M.O.st oversize bottom bracket not only looks flashy but makes the pedal revolutions feel effortless…so smooth.
With three sets of wheels to choose from it's becoming a hard decision to choose which set I like best. Pinarello have supplied me with the Mavic Ksyriums, which I'm using in the photos shown here. My Safi-Pasta Zara-Manhattan Team also sent me home to Oz with a set of Campagnolo Neutrons with Carbon hubs. To add to those I also have my own set of Zipp Z3's...hard decision, hey?
Giving it some stick
Photo ©: Rochelle Gilmore

Last Thursday I spent the day at the Dunc Gray Velodrome collecting some power data from a set of SRM cranks, which were fitted to my Pinarello Montello track bike for the specific testing session. With the experts present and all of the required technology we were able to determine the exact power I will need to hold for two minutes 27 seconds in order to achieve a Commonwealth Games qualifying time for a Flying 2000m effort. I will now include a couple of SRM ergo sessions per week into my training schedule in order to prepare for this trial in December.
Warming up at the track
Photo ©: Rochelle Gilmore

I arrived in New Zealand (Christchurch) late Thursday night and spent Friday touring the property and local area in which my parents have lived for the past five years - Waiau. It's such a beautiful area and I now regret not visiting their home here earlier. My return flight to Oz was originally booked for Tuesday, but now realising how much I can benefit from the training environment here, I have moved it out 10 days! The roads here are undulating and very quiet, the weather is fresh but nice and the isolation will allow me to focus 100% on training and recovery.
This evening was a blast! Mum and David took me in the ute (utility vehicle) for a tour around their 1500-acre mountainous farm. We were stopping on the peaks to take in the view and discuss the best position for a new dream home, the sun was going down so the pink skies and snow-covered hills were an amazing sight! As we rolled through one of the valleys the wheels on the ute started to spin…. That's right, we were totally bogged miles from the house! Lucky we all had our gumboots on - we trekked home through mud, creeks, cliffs and trees to fetch the tractor and head back for the ute. The sun had gone down and it was now dark. It was my job to drive the ute back to the house while my stepfather David crept home in the tractor. I was so nervous trying to find my way in the dark; it was really slippery in places but the river crossing was the scariest. Obviously I made it home but wow…that was quite an evening! I felt like a real farm chick with mud splattered all over me, wearing gumboots and driving a ute in the dark off road!
Photography
For a thumbnail gallery of these images, click here
Images by Rochelle Gilmore