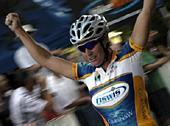 Photo: © Shane Goss
Speedy Gilmore: The 2005 Rochelle Gilmore Journal
Rochelle Gilmore - super sprinter and scratch race silver medallist at the 2002 world track championships - is a woman of ambition. After proving her prowess on the track, she's aiming to forge a successful career on the road. In 2004, she rode for Denmark-based Team S.A.T.S but in 2005, Rochelle joins the one of the longest-named teams in women's cycling, G.S. Safi-Pasta Zara Manhattan, where she'll team up with Britain's Nicole Cooke to make a formidable duo for the finale of any major race. Follow Rochelle as she continues her rise to the top of the tree in 2005 with her regular diary updates.
Venice airport, September 30, 2005
New start!
A new place to call home
Photo ©: Rochelle Gilmore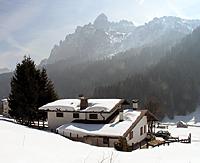 I am writing to you from Venice airport, waiting for my long flight home via Rome and Bangkok.
Yesterday, I realised that I had not been on the bike since the Tour of Toscana, and then more importantly that I did not even have a bike as it was stolen during one of the stages of the tour. I made a last-minute dash to the Cicli Pinarello factory in Treviso to see if they had anything available - I walked out with the new Paris and a really big smile... I can't thank Fausto and Andrea enough... THANKS.
Last week, I spent some very valuable time in Italy with my Mum and stepfather. We checked out some ski fields in the Italian Dolomites, took a very scary vertical ski lift and then headed up to Livigno for a few days.
My stepfather David
Photo ©: Rochelle Gilmore

On the way to Livigno, we stayed a couple of nights in a gorgeous village called Fiera Primiero and decided to look at some real estate. After a long but exciting day, meeting with agents and looking at houses, we fell in love with this one particular mountain cottage! It was about 7pm and the last place that we were going to look at. It grabbed us immediately... It's in a quiet location 10km out of town, situated on slight mountain slope with a ski lift only 50 metres from the house. It comes fully furnished with two fire places, a large kitchen, lounge room, living area, 3 bedrooms, 2 bathrooms, small office and a garage! Nearly forgot - a BBQ too! A few days later, we (David and I) signed the papers. How exciting!
Living in a team house the past few years has had its pros and cons. A team house can get very stressful, especially considering there are often 4-6 somewhat nervous and agitated women about! I'm looking forward to having my own quiet place to return to after a long tour. I'm also hoping that I will now see more of my family in Europe, and they can see more of my European races!
Mum going solo
Photo ©: Rochelle Gilmore

In Livigno we went shopping, mountain bike riding and also did some mountain climbing. The mountain bike ride was a laugh - Mum and I took a tandem. It was the first time I had ridden one so I was a little nervous. It was not too difficult and mum seemed to feel pretty comfortable on the back, then she demanded a go up front and you should have seen and heard me on the back... what a sissy - I was so scared! Perhaps it had something to do with the drop-off (cliff edge) to the left of our dirt trail!!!
Me and Mum
Photo ©: Rochelle Gilmore

It was tough to sit by and watch the results at the world championships, especially knowing that I am in good form and would have made a significant impact. However, the girls did a fantastic job and it was great to see Oenone finish on the podium. It has been a very difficult and emotional year for all of us, but it was great to see that they were able to finish the year on a high note.
I am very excited about the next few months and preparing for the Commonwealth Games. I'm really looking forward to getting back on the track, picking things up where I left them earlier this year and seeing how my current form transfers from the road.
After a week catching up with friends and family in Australia, I will head over to my parent's place in NZ. I will really start to get back into the training, and also test out my nerves driving some fast cars at the racetrack.