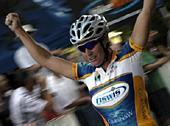 Photo: © Shane Goss
Speedy Gilmore: The 2005 Rochelle Gilmore Journal
Rochelle Gilmore - super sprinter and scratch race silver medallist at the 2002 world track championships - is a woman of ambition. After proving her prowess on the track, she's aiming to forge a successful career on the road. In 2004, she rode for Denmark-based Team S.A.T.S but in 2005, Rochelle joins the one of the longest-named teams in women's cycling, G.S. Safi-Pasta Zara Manhattan, where she'll team up with Britain's Nicole Cooke to make a formidable duo for the finale of any major race. Follow Rochelle as she continues her rise to the top of the tree in 2005 with her regular diary updates.
Italy, August 22, 2005
The all clear
Rochelle in Livigno
Photo ©: Rochelle Gilmore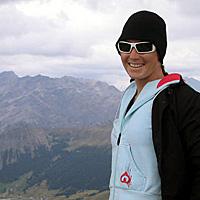 I have finally been released from hospital after being cleared of Lyme's disease. It took the medical staff six long days of ongoing tests before making the final diagnosis. Once diagnosed I was then hooked up to an intravenous drip for 24 hours a day, receiving a strong dose of antibiotics for six consecutive days.
Last Monday for the first time since being admitted I returned a negative blood test; clear of any viral or bacterial infection. I expressed to the doctor that I had responded well to the antibiotics and had not experienced any symptoms for the past 4-5 days. However, I was kept in for one more night for observation.
It is now five days after my release from hospital and I'm jumping out of my skin - pumped with accumulated energy - and rearing to go.
I travelled from Holland to Livigno (Italy) last Thursday for a 12-day training block. The town is buzzing with cycling enthusiasts as the World MTB Champs are being held here next week!
Yesterday, I climbed to 2787m...in a chair lift. It was freezing cold while I was taking in the beautiful scenery! The next morning (today) the mountains were covered in snow and the temperature had dropped to an unbearable 5 degrees. One hour on the bike was as much shivering as the body could take!
After easing into things for a couple of days I'm hoping that tomorrow's training will be a little more productive - ie; WARMER - which means ABOVE 5 degrees!
Keep an eye out for a training report during the next 10 days.
Later...
Rochelle