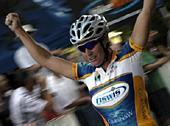 Photo: © Shane Goss
Speedy Gilmore: The 2005 Rochelle Gilmore Journal
Rochelle Gilmore - super sprinter and scratch race silver medallist at the 2002 world track championships - is a woman of ambition. After proving her prowess on the track, she's aiming to forge a successful career on the road. In 2004, she rode for Denmark-based Team S.A.T.S but in 2005, Rochelle joins the one of the longest-named teams in women's cycling, G.S. Safi-Pasta Zara Manhattan, where she'll team up with Britain's Nicole Cooke to make a formidable duo for the finale of any major race. Follow Rochelle as she continues her rise to the top of the tree in 2005 with her regular diary updates.
Holland, August 12, 2005
An untimely illness
Last Thursday I was admitted to Ijsselland hospital in Capelle aan de Ijseeland, Holland, after experiencing severe headaches, muscular pain and a high fever. I was placed in an isolation unit, as doctors feared that I was carrying some sort of serious bacterial infection.
This is the second time that I've been admitted to hospital complaining of these symptoms over the last four weeks. The first instance was two days before I was scheduled to start the GP Carnevale D'Europa in Italy. However, the symptoms subsided and I was released from hospital not fully knowing the extent of my illness.
Now, following six days of extensive testing, including blood tests, a lumbar puncture, chest x-rays and an EKG I have been diagnosed with Lyme's disease. Lyme disease is a bacterial infection that is transmitted primarily through the bite of ticks, which have become infected from some other mammal or marine birds.
As a result of the delayed diagnosis I have also developed a strand of viral meningitis. This is common with Lyme's disease when the condition is left untreated or the early symptoms are not recognised. However, with the appropriate treatment I'll make a full recovery.
I am now receiving antibiotics through an intravenous drip that will continue for the next 2-3 weeks. I am no longer in isolation, but will remain hospitalised for the duration of the treatment.
The medical staff have been really supportive of my cycling career and have allowed me to set up my own training centre within the hospital's physical therapy unit. If my condition remains controlled with the medication I will then progress from two roller sessions a day, to riding out on the road.
Now I'll prepare more specifically for the final two World Cups in Holland and Germany. I still hold aspirations to represent Australia at the World Championships in Spain, a course that's been described as favouring the sprinters. Let's see how it all goes!
Rochelle