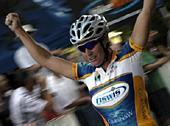 Photo: © Shane Goss
Speedy Gilmore: The 2005 Rochelle Gilmore Journal
Rochelle Gilmore - super sprinter and scratch race silver medallist at the 2002 world track championships - is a woman of ambition. After proving her prowess on the track, she's aiming to forge a successful career on the road. In 2004, she rode for Denmark-based Team S.A.T.S but in 2005, Rochelle joins the one of the longest-named teams in women's cycling, G.S. Safi-Pasta Zara Manhattan, where she'll team up with Britain's Nicole Cooke to make a formidable duo for the finale of any major race. Follow Rochelle as she continues her rise to the top of the tree in 2005 with her regular diary updates.
Health first
I pulled out of the Thuringen tour on Saturday after just 46km. My heart, head and legs were just not up to it. Perhaps I let my team down yesterday by giving up on the sprinters jersey but I think together we have the bigger picture to look at. Health first.
After the race Sara, Oenone, Emma and myself set off for the hospital to spend some time with girls.
Katie Brown, Katie Nichols and Lorian Graham are all putting on brave faces and lots of smiles! It was an enjoyable evening and I will be sad to leave them for some racing in Holland. I will be back at the hospital in a couple of weeks to see the girls who will remain there for some time.
The girls have more flowers in their rooms than a florist...Seriously - it's amazing!
The Australian professional women (Kate, Nat, Sara, Hayley, Liv, Emma, Oenone and myself) had a brief meeting with Wazza - our national coach last night. Wazza is once again showing what an incredible person he is; his strength and professionalism was very motivating. We are all praying for Alexis and Louise who are improving a little everyday!
Polar Data (from Saturday's race) to have a look at:
Stage Distance: 46km
Average Speed: 31.7
Race Time: 1hr28min
Cadence Ave: 80rpm
Heart Rate Ave: 172bpm
Heart Rate Max: 200bpm
Thanks,
Rochelle
Rochelle spoke about her good friend Amy Gillett's death in Tuesday's training accident in Germany - Cyclingnews is presenting tribute pages for Amy, which can be viewed at the following;
Tributes to Amy Gillett
Amy Gillett 1976-2005
Tributes to Amy Part 3
More Amy Gillett tributes