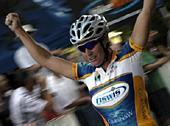 Photo: © Shane Goss
Speedy Gilmore: The 2005 Rochelle Gilmore Journal
Rochelle Gilmore - super sprinter and scratch race silver medallist at the 2002 world track championships - is a woman of ambition. After proving her prowess on the track, she's aiming to forge a successful career on the road. In 2004, she rode for Denmark-based Team S.A.T.S but in 2005, Rochelle joins the one of the longest-named teams in women's cycling, G.S. Safi-Pasta Zara Manhattan, where she'll team up with Britain's Nicole Cooke to make a formidable duo for the finale of any major race. Follow Rochelle as she continues her rise to the top of the tree in 2005 with her regular diary updates.
Hard to focus on racing
I find it difficult to be racing and writing this report. I am like a zombie at the moment and have no idea where I am or what I am supposed to be doing most of the time. This morning I had not packed my bag to go to the race...I'd totally forgotten we were racing today!
In the sprinter's jersey
Photo ©: Rochelle Gilmore

I thought of Amy continually during today's race and found myself smiling...and crying at different times. Amy was a very special friend of mine. I spent a couple of summer's training with her in Adelaide and we became best of friends. For those who did not know Amy, I am sure you know by now how special she was to so many people - the impact her death has had on our cycling family and also our nation indicates the kind of person she was - beautiful, polite, elegant, honest, caring and very loving.
Amy's two greatest passions in life were for sport and for her husband Simon. My most beautiful memory of Amy was seeing her joy on her wedding day - the happiest and most satisfying day of her life. I have never witnessed love as strong as the love Amy had for Simon.
Today was the first official race day of the Thuringen Rundfahrt tour and it was obvious that many people are finding it hard to focus on the racing and to be aggressive.
Stage 4 podium
Photo ©: Rochelle Gilmore

Our team SAFI Pasta Zara Manhatten decided that we would firstly focus on winning the Sprint jersey today. I was nervous to take on this role as I had spent two days last Friday and Saturday in hospital with a sudden and very scary virus. With all of the emotions and lack of sleep the last couple of days, I was extremely unsure of my form. All I could count on was the fantastic three weeks of training I had completed before I was attacked with that virus!
With the amazing support from my team I had no trouble winning the intermediate sprints - which I must add, were before the hills! I struggled over the climbs and my team once again did a terrific job towing me back to the lead group. I was excited about the finish 20km out, but the finishing circuit killed me - there was a little bump in it that really hurt! My legs were really tired at the finish and I had nothing left for the sprint!
So we have the sprint jersey and I'm second on GC. Tomorrow looks a little less demanding; I'll continue to sprint for the jersey and hopefully have more energy left for the finish if it stays together again. Here's something you may find interesting from Polar:
Stage Distance: 126.8km
Average Speed: 33.7km/h
Race Time: 3:46:00
Cadence Ave: 83rpm
Heart Rate Ave: 175bpm
Heart Rate Max: 209bpm
Thanks,
Rochelle
Rochelle spoke about her good friend Amy Gillett's death in Tuesday's training accident in Germany - Cyclingnews is presenting tribute pages for Amy, which can be viewed at the following;
Tributes to Amy Gillett
Amy Gillett 1976-2005
Tributes to Amy Part 3
More Amy Gillett tributes