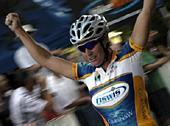 Photo: © Shane Goss
Speedy Gilmore: The 2005 Rochelle Gilmore Journal
Rochelle Gilmore - super sprinter and scratch race silver medallist at the 2002 world track championships - is a woman of ambition. After proving her prowess on the track, she's aiming to forge a successful career on the road. In 2004, she rode for Denmark-based Team S.A.T.S but in 2005, Rochelle joins the one of the longest-named teams in women's cycling, G.S. Safi-Pasta Zara Manhattan, where she'll team up with Britain's Nicole Cooke to make a formidable duo for the finale of any major race. Follow Rochelle as she continues her rise to the top of the tree in 2005 with her regular diary updates.
No Giro d'Italia 2005
SAFI Pasta Zara Mannhatten (my team) will not start the Giro D'Italia on the 1st of July for the first time in its nine-year existence!
SAFI is the longest standing, most successful cycling team in the history of women's cycling. Until yesterday we 'SAFI' were registered for the Giro as the number one team, holding the race numbers from 1-8. Our team leader Nicole Cooke is the defending champion. So, our late decision to withdraw from the most prestigious Italian race has come as a huge shock to many people.
Our team president - Maurizio Fabretto is protesting against a section of the Italian cycling federation, the Organo Ciclistico Nazionale, by withdrawing his team from all racing in Italy for the remainder of 2005. Maurizio disagrees with the way the Organo Ciclistico Nazionale is being run, some of the decisions they have made in the past and they way they have treated him personally and also SAFI for the past eight years.
Myself and other riders on the team are extremely disappointed to be missing the biggest tour of the year; we have all trained our butts off and prepared specifically for this event. In saying that, we can only hope the result of this action will be to gain a little respect and appreciation from the Organo Ciclistico Nazionale for what Maurizio and SAFI have done for women's cycling.
I must point out that I am not involved in the politics of the Italian Cycling Federation, and what I report here is 100% based on information I have received from people inside SAFI Pasta Zara. I have no information from the outside.
I feel anger. but towards no one - simply because I am not racing the biggest tour of the year when I am at my absolute fittest! This is life. I will continue to train hard and focus on doing what is in my power. My next race will be the Thuringen Rundfahrt der Frauen in Germany from the 19-24th July - this race is the same classification as the Giro.