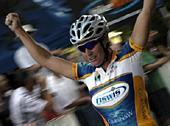 Photo: © Shane Goss
Speedy Gilmore: The 2005 Rochelle Gilmore Journal
Rochelle Gilmore - super sprinter and scratch race silver medallist at the 2002 world track championships - is a woman of ambition. After proving her prowess on the track, she's aiming to forge a successful career on the road. In 2004, she rode for Denmark-based Team S.A.T.S but in 2005, Rochelle joins the one of the longest-named teams in women's cycling, G.S. Safi-Pasta Zara Manhattan, where she'll team up with Britain's Nicole Cooke to make a formidable duo for the finale of any major race. Follow Rochelle as she continues her rise to the top of the tree in 2005 with her regular diary updates.
20th Trofeo Liberazione - 1.2 Italy, April 25, 2005
Liberazione disappointment
Rochelle took second in Liberazione
Photo ©: Rochelle Gilmore
G.S Safi Pasta Zara Manhatten repeated their strong performance during Sunday's race; dominating with their strength in numbers they once again pulled back all of the breaks, even though we sometimes had a rider in them!
I floated through the bunch along with all of the other sprinters while many riders and teams attempted breakaways. I had confidence in my team to chase everything down although they really did have their work cut out at one point when a group of about 20 quickly moved out of sight. It was a great feeling when I looked ahead through the winding roads and could see four or five of my team mates strung out on the front swapping off turns - for me! I felt relaxed and comfortable throughout the race.
With a couple of kilometres to go it was all up to me; my team had pulled the break back and had absolutely exhausted themselves in the process! I can't clearly remember the final kilometres, but what I can remember is my position with 200m to go - BOXED! My own fault of course, but there is no worse feeling at the end of a race when you have great legs but your mind lets you down. What was I thinking? Was I thinking? I should have moved earlier - I had the legs, but maybe not the confidence! My front wheel was between Regina and Giorgia's back wheels, and instead of backing out I pushed, hoping a gap would open. With 100m to go I had no choice but to back out, enough time to pass Giorgia but unfortunately not Regina!
Rochelle's prize of her body weight in local produce, won the day before
Photo ©: Rochelle Gilmore

I was so disappointed - but mostly for my team, as they had worked so hard for me today and I let them down. I wouldn't feel so bad about the second place, and knowing that I had great legs, if they hadn't worked so hard - wow, they were so amazing and it would have been great to finish it off for them.
I am now spending a short time in Reggio Emilia with the Australian National Team. All of the 'professional' Australian Women racing in Europe will come together this week at the national base in Italy to see doctors and physios, biomechanics experts and also to go through the Worlds and Commonwealth Games selection criteria.
Now I have Friday to be excited about - my mother and David arrive in Venice to visit my European home and then they will travel to Spain for a tour and World Cup!
Until next time,
Rochelle