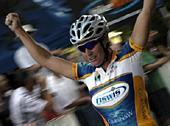 Photo: © Shane Goss
Speedy Gilmore: The 2005 Rochelle Gilmore Journal
Rochelle Gilmore - super sprinter and scratch race silver medallist at the 2002 world track championships - is a woman of ambition. After proving her prowess on the track, she's aiming to forge a successful career on the road. In 2004, she rode for Denmark-based Team S.A.T.S but in 2005, Rochelle joins the one of the longest-named teams in women's cycling, G.S. Safi-Pasta Zara Manhattan, where she'll team up with Britain's Nicole Cooke to make a formidable duo for the finale of any major race. Follow Rochelle as she continues her rise to the top of the tree in 2005 with her regular diary updates.
Trofeo "Guareschi" Prodotti Ittici, Sala Baganza, Italy, April 24, 2005
Relief!
Victory!
Photo: © Rochelle Gilmore & friends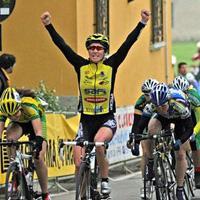 The last couple of weeks I have missed some races to prepare for today's race. I had the support of my entire team, which was a great feeling but a little scary. The team raced 100 percent for me today chasing down every move to ensure a sprint finish. With one lap to go I had no choice but to win, I could not let the team down after all their hard work.
I took the wheel of Giorgia Bronzini with 200m to go but soon after followed a move from Annalisa Cucinotta (Scratch Race Junior World Champion) who finished 2nd today. It was a fast uphill sprint and I made my move with 100m to go to take the win.
Tomorrow we will race Liberazione - another flat race! Looking forward to it!