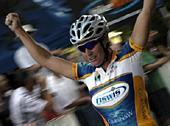 Photo: © Shane Goss
Speedy Gilmore: The 2005 Rochelle Gilmore Journal
Rochelle Gilmore - super sprinter and scratch race silver medallist at the 2002 world track championships - is a woman of ambition. After proving her prowess on the track, she's aiming to forge a successful career on the road. In 2004, she rode for Denmark-based Team S.A.T.S but in 2005, Rochelle joins the one of the longest-named teams in women's cycling, G.S. Safi-Pasta Zara Manhattan, where she'll team up with Britain's Nicole Cooke to make a formidable duo for the finale of any major race. Follow Rochelle as she continues her rise to the top of the tree in 2005 with her regular diary updates.
Holiday in Venice
Damn pigeons! at St Mark's Square
Photo ©: Rochelle Gilmore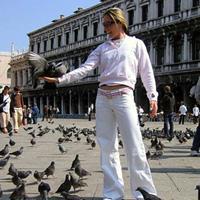 After returning to my base in Italy on the Sunday night after the Tour of Flanders it was time to take a well deserved holiday! I have been training and racing hard since November and had hit a couple of satisfying peaks, but during these past couple of weeks I could feel my body screaming for a short break. The past week was always going to be scheduled recovery time so it was no upset to the 'grand plan'.
Nicole (Cooke) also had an easier week so we took advantage of the situation and invited some (three) friends over from the UK. Our team staff organised a beautiful B&B for us in the mountains of Valdobbiadene (Veneto). A lovely and ever so helpful lady, who was the mother of an employee at the Northwave factory, owned the B&B and made our stay most pleasant. On Monday Nicole and I sat down and put together an itinerary for the week. I had been based here in 2003 and visited the Pinarello factory again last year but never really saw much of the local area.
On Tuesday we picked our friends up from Venice-Treviso airport and headed straight to the Cicli Pinarello factory. My Australian friend Phil who now works in the UK was very interested in seeing all the machinery and chatting to Andrea Pinarello about the finer details involved in the making of the frames. Andrea gave us a very informative tour of the place and spoke in his best English - he spoke rather well, only having difficulties with some of the more technical words. After the visit to Pinarello we spent the afternoon settling into our new home for the week. Nicole then prepared a tasty Risotto for dinner, as one of her English friends had never had it before!
The next day Nicole and I woke up early and snuck out for a short ride as we had planned a trip to Venice and wanted to leave before 10am. We jumped on a train in Treviso and arrived in Venice about half an hour later. The first thing we just had to do was ride in a Gondola! We took a Gondola from the train station to the famous Ponte Di Rialto (Bridge opened in 1591). The ride was short but so amazing; we took some very narrow canals and observed the buildings, local Venetians and tourists while snapping lots of pics. It took about 15 minutes and was hideously expensive at 20 euro each - but definitely worth it!
Nicole Cooke and Rochelle on a gondole
Photo ©: Rochelle Gilmore

We then made our way to Piazza San Marco (St Mark's Square) for lunch. After lunch we relaxed on some benches in St Mark's Square and admired the beautiful architecture, wrote some postcards, fed the pigeons and 'people watched' for a while.
Next was a trip across to Murano on a small passenger ferry called Vaporetti. Murano is a cluster of small islands north east of Venice's centre. The Island is known for producing their world-famous Venetian glass since 1291. We watched a craftsman at work; it was absolutely unbelievable to see how and what they can do with glass by blowing through a long rod and twisting the hot glass into amazing shapes (glass blowing)! We finished the day off with a beautiful Italian style pizza in Venice, made one last stop for Gelati on the way to the station...then I nearly missed our train while purchasing souvenirs!
Thursday was a mix of business and pleasure as I had arranged to visit the DMT/Nike factory in Mantova to have some custom cycling shoes designed and made. My sponsor - Tony Doyle from Nike UK - had organized this trip back in January. As I was not required at the factory until 2pm this was a great opportunity to take our friends into Verona on the way.
Gilmore's crew hanging out
Photo ©: Rochelle Gilmore

We found a nice café outside the Arena where we enjoyed an Italian hot chocolate - so thick that your spoon could stand upright in it without needing to hold it! The arena is something I can't exactly explain, as you walk around inside your mind goes crazy imagining all the things that went on in there - can you imagine the history in that place? We then walked the streets to the 'Casa di Giulietta' (house of Juliet), which was covered in love notes on post-its from tourists. You could also pay to write something on the wall there with a thick black marker. We then picked the wrong restaurant for lunch...but that's another long story! So we headed to the DMT/NIKE factory.
At the factory the most important men of both Nike and DMT greeted us. The first step was to discuss any problems I had with the shoes and what changes were going to be possible. After about one hour all of the precise measurements were punched into a laptop and ready for the next step - making the materials to size and putting the shoe together. This was going to take a few days, so the business side of things was out of the way and we were all given a guided tour of the factory. Luca explained and showed us the process of making the top riders' custom shoes; we took a look at the moulds for some big names, including Armstrong, Pettachi, Cipolini and Valverde, just to name a few!
Rochelle with 'Nonno Pinarello'
Photo ©: Rochelle Gilmore

On Friday I hit the road for another short ride before spending hours setting up a new pair of temporary Nike shoes. After the Italian 'pausa pranzo' (when the shops re-open) I took Phil into Treviso to meet Giovanni Pinarello and to see his Pinarello shop. Giovanni seems to be a very kind man! Who would have ever thought that he would still be serving customers in his own bike shop? He is always friendly, with a huge smile...the first man I have met that might possibly be more passionate about bikes than Phil J. We then visited my hometown of 2003 - Cornuda, for dinner.
Saturday came before we all knew it and we made another trip into Treviso for lunch before heading to the airport to see our friends off. The holiday was over and the hard training started again on Sunday! I am jumping out of my skin so I went out for a two hour ride in the pouring rain, I could not wait another day to do some pedalling! The break has been nice but I am really looking forward to the routine again and my next race, GP Liberazione, on the 25th of April!