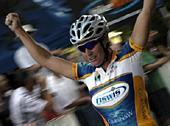 Photo: © Shane Goss
Speedy Gilmore: The 2005 Rochelle Gilmore Journal
Rochelle Gilmore - super sprinter and scratch race silver medallist at the 2002 world track championships - is a woman of ambition. After proving her prowess on the track, she's aiming to forge a successful career on the road. In 2004, she rode for Denmark-based Team S.A.T.S but in 2005, Rochelle joins the one of the longest-named teams in women's cycling, G.S. Safi-Pasta Zara Manhattan, where she'll team up with Britain's Nicole Cooke to make a formidable duo for the finale of any major race. Follow Rochelle as she continues her rise to the top of the tree in 2005 with her regular diary updates.
Disappointment at Primavera Rosa
Primavera Rosa, Italy, March 19, 2005
Just my luck hey - I punctured at the most critical time of the race today - 1km before the start of the Cipressa! The bunch was screaming down the descent, and everyone wanted to be at the front for the start of the toughest climb (the Cipressa). We were doing about 60km/h when my front tyre went BANG!
I was lucky to hold it up and get to the right side of the road without causing an accident. I was immediately on the radio repeating "Ho bucato - La ruota davanti" (I have punctured my front wheel...) but it felt like forever before our team car arrived. As we changed the wheel the other team cars went flying past while their riders where entering the start of the Cipressa.
I turned right onto the climb and started to work my way through the cars until I reached one of my team mates - Zita - who was waiting for me. At this stage we couldn't see any riders ahead, so half way up the Cipressa Zita had towed me onto a group of about 20. Two of my teammates pulled this group over the climb and then continued to swap turns along the flat but unfortunately they were the only two doing so and we were losing time on the front group. I knew the race was over but I was frustrated, I had felt so good chasing up the first climb. Kathy Watt drove our group up the Poggio, and I was feeling so good with nothing to lose that I wanted to attack the climb - for training if nothing else.
Just then another rider attacked and I jumped on her wheel, but there was some severe abuse coming from the hoop group; even jersey pulling! Ok, it was a hoop group and the race was over - DAMN. I am really disappointed today because I had found some climbing legs during the week and it was another opportunity lost...plenty more races though!
I have not mentioned that Nicole [Cooke] finished second today - she is also disappointed. No doubt Nicole was the strongest rider out there today, but she was unfortunately outnumbered by Nurnberg at the finish. Nurnberg's Trixi Worrack was away, and if Nicole had chased her she would have been counter-attacked by another Nurnberg rider. I'm sorry that Nicole didn't have more support up the front - she has great form and will now have to wait for Flanders!
Another teammate, Gunn-Rita Dahle (World and Olympic MTB Champion), crashed heavily on the Cipressa descent. Her carbon bike is broken, but we'll have to wait until tomorrow night to know if she has broken any bones - when she returns to Norway to see her doctor.