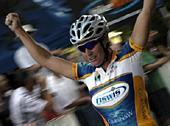 Photo: © Shane Goss
Speedy Gilmore: The 2005 Rochelle Gilmore Journal
Rochelle Gilmore - super sprinter and scratch race silver medallist at the 2002 world track championships - is a woman of ambition. After proving her prowess on the track, she's aiming to forge a successful career on the road. In 2004, she rode for Denmark-based Team S.A.T.S but in 2005, Rochelle joins the one of the longest-named teams in women's cycling, G.S. Safi-Pasta Zara Manhattan, where she'll team up with Britain's Nicole Cooke to make a formidable duo for the finale of any major race. Follow Rochelle as she continues her rise to the top of the tree in 2005 with her regular diary updates.
All looks good for 2005 after Nicole's win
Trofeo Citta Di Rosignano, March 13, 2005
Safi won the first European race of the season today when Nicole Cooke out-sprinted a small group of strong climbers after a tough 114kilometres. The team is happy - we have had a great start to 2005!
Our team has been staying at a place on the beach called Follonica for a two week training camp with warmer weather; unfortunately I have been in bed sick all week while they have been out in the mountains. This may have something to do the crazy winds in Wellington! Nicole was very impressed with the team support today- it seems that we have bonded extremely well and the morale is high!
I raced for two hours, chasing down a few attacks and making sure it was all together when the hills started - my chest was burning but my legs, surprisingly, felt ok. I dropped my chain on one of the climbs just as we were passing our camper and thought it was a perfect excuse to call it a day and get into some warm clothes!
I'm afraid that the intensity of racing today will be a set-back in terms of my health - it was hard work out there - but I'll keep my fingers crossed and look after myself. Just one week now until Primavera Rosa- the next round of the World Cup. It's a big race, so I hope to be healthy by then in order to pick up some more points…but not to worry - I think Nicole has the form to win!