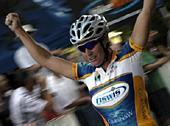 Photo: © Shane Goss
Speedy Gilmore: The 2005 Rochelle Gilmore Journal
Rochelle Gilmore - super sprinter and scratch race silver medallist at the 2002 world track championships - is a woman of ambition. After proving her prowess on the track, she's aiming to forge a successful career on the road. In 2004, she rode for Denmark-based Team S.A.T.S but in 2005, Rochelle joins the one of the longest-named teams in women's cycling, G.S. Safi-Pasta Zara Manhattan, where she'll team up with Britain's Nicole Cooke to make a formidable duo for the finale of any major race. Follow Rochelle as she continues her rise to the top of the tree in 2005 with her regular diary updates.
Geelong Women's Tour, February 22-24, 2005
The form is there
On the podium for stage 3
Photo ©: John Veage

I am now down in Geelong after racing the tour, getting ready for the first round of the 2005 World Cup Series.
Riders have come from all over the World to battle it out on Sunday. I am crossing my fingers that one of us Aussies takes the win and the jersey on home soil!
While I have been racing the tour this week but I have always been thinking about the important one on Sunday. After suffering during the first couple of stages of the tour I finished second on Wednesday, but more satisfying than the result was the way I felt. It was not a hard race, it was flat and fast with perfect weather but positioning and accelerating with ease was a good indication that the form is there. I managed to tack onto the fastest wheel in the bunch - Oenone Wood's wheel with 2km to go. At 200m to go I saw someone jump down the left side of the road, I was behind Oenone on the right, I kicked around Oenone but the American had already gapped us.
Thursday's stage was tough; the course took us over one of the hardest hills that organisers have ever sent women over! As expected, the Europeans did well on the climb but Oenone matched them to hold onto the leaders jersey. I took it easy, having little chance of matching the best on the climb.
I am really looking forward to the World Cup on Sunday!
More news to come after Sunday.