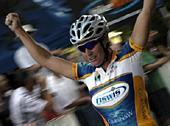 Photo: © Shane Goss
Speedy Gilmore: The 2005 Rochelle Gilmore Journal
Rochelle Gilmore - super sprinter and scratch race silver medallist at the 2002 world track championships - is a woman of ambition. After proving her prowess on the track, she's aiming to forge a successful career on the road. In 2004, she rode for Denmark-based Team S.A.T.S but in 2005, Rochelle joins the one of the longest-named teams in women's cycling, G.S. Safi-Pasta Zara Manhattan, where she'll team up with Britain's Nicole Cooke to make a formidable duo for the finale of any major race. Follow Rochelle as she continues her rise to the top of the tree in 2005 with her regular diary updates.
In the middle!
Sydney World Cup, Australia, February 18, 2005
Rochelle
Photo ©: Ernie Smith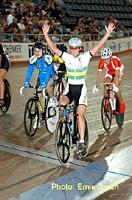 During this evening's presentation I heard the announcer say "And the silver medal goes to..." and out of habit I nearly turned to step up onto the podium! I saw Giorgia lift her arm and wave to the crowd and quickly realized that I was standing in the middle and would have to wait my turn this time!
It felt good to finally be standing on top! I have been really excited all week about riding the World Cup; I learned last week that three sessions on the track was not enough time to find the speed I needed. After national's I flew straight up to Brisbane without my bike to do a job and catch up with family. I received the unexpected call from Macca (Ian McKenzie) on Monday notifying me of my selection for the Sydney World Cup. I knew that another couple of track sessions and a home crowd would be enough motivation to produce a good result. I quickly got my butt on the plane and headed home, excited about the opportunity to race again!
The race went in my favour with few riders attempting to take a lap. I had fun sprinting and felt comfortable for most of the race. I was expecting Giorgia Bronzini to be my toughest competition. Giorgia (from Italy) is a very close friend so we know each other extremely well after living and racing together at SAFI in 2003. Giorgia finished 2nd but never really looked like taking a lap or threatening me for the win.
The podium
Photo ©: Ernie Smith

Listening to the National Anthem and watching the Australian flag being raised in the middle for the first time during my career (in an individual event) was a very inspiring moment for me, what made it even more special was the very supportive home crowd!
I will go for a short easy ride today, have a massage and rest up for tomorrow's scratch race.