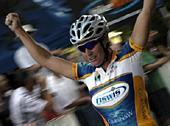 Photo: © Shane Goss
Speedy Gilmore: The 2005 Rochelle Gilmore Journal
Rochelle Gilmore - super sprinter and scratch race silver medallist at the 2002 world track championships - is a woman of ambition. After proving her prowess on the track, she's aiming to forge a successful career on the road. In 2004, she rode for Denmark-based Team S.A.T.S but in 2005, Rochelle joins the one of the longest-named teams in women's cycling, G.S. Safi-Pasta Zara Manhattan, where she'll team up with Britain's Nicole Cooke to make a formidable duo for the finale of any major race. Follow Rochelle as she continues her rise to the top of the tree in 2005 with her regular diary updates.
Sydney Cup, Keirin Championship double
Sydney, Australia, January 29, 2005
Rochelle Gilmore
Photo ©: Ernie Smith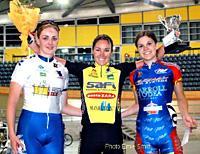 I was back on (the) track last night with four wins in the following events: Scratch Race, NSW Keirin Championship, Sydney Cup on Wheels and the Motor Pace. The Dunrossil Challenge Foundation-Sydney Cup on Wheels program was jam packed full of exciting short races.
The Track event last night was an important indicator of my current form leading into the Nationals (SA) next week. I was not sure if I would have any leg speed after slogging it out on the road over the past few weeks so I decided to ride a big gear. It had been a really hot day and the track was definitely fast, 93.6 even felt a touch too small!
My first session back on the track was Tuesday night and I came home thinking that my top end speed was really lacking. By Thursday I had found something extra, I rode some satisfying times and realised that I could mix it with the NSW sprinters on Saturday night if I rode smart!
It was interesting to see the form of some other riders such as Junior World Champ Amanda Spratt, Sky Lee-Armstrong, Bec Ellis etc. All the girls have been preparing differently over the past few weeks for the National Championships. I would say Liz Georgouras (winner of the Sprint race) would have been my strongest competition last night.
With only one more week of preparation it will be another experiment for Warren McDonald, Gary Sutton and I to reach maximum speed in such a short time. Switching from the Road to the Track at this point is tricky; I have fitness and strength from the road, so all we need to work on is pure speed - that's the easy part. Trying to hold onto the fitness and strength for the next Road Race, (Geelong Tour/W'Cup) that's the tricky bit! Guess I am lucky to be guided by the experienced...I was going to call them experts!
Photography
For a thumbnail gallery of these images, click here
Images by Ernie Smith photo