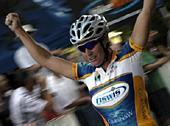 Photo: © Shane Goss
Speedy Gilmore: The 2005 Rochelle Gilmore Journal
Rochelle Gilmore - super sprinter and scratch race silver medallist at the 2002 world track championships - is a woman of ambition. After proving her prowess on the track, she's aiming to forge a successful career on the road. In 2004, she rode for Denmark-based Team S.A.T.S but in 2005, Rochelle joins the one of the longest-named teams in women's cycling, G.S. Safi-Pasta Zara Manhattan, where she'll team up with Britain's Nicole Cooke to make a formidable duo for the finale of any major race. Follow Rochelle as she continues her rise to the top of the tree in 2005 with her regular diary updates.
Good race, Bad result
The Advertiser Women's Criterium Series Race 3, Goolwa, Australia, January 22, 2005
Overall 2nd place winner
Photo ©: Rachel Burke

Close friends and family of mine have always said that I get over disappointing races too fast - without giving the race enough thought afterwards. The thing is that it has now past, therefore it is something that I can't change - so why waste time thinking about it?
Maybe if I did spend a little more time reflecting on those past disappointments it might influence the future? I tend to deal with disappointments by forgetting about them just a couple of hours afterwards and then start thinking about the next goal/race. I just hate feeling down in the dumps, so I get myself excited by planning and thinking about the preparation for the next race.
I had a BAD race today - actually, I had a good race today but I had a BAD RESULT!
The race was very fast but luckily my legs were coping well, I stayed near the front and moved with all the threatening moves for the first half of the race. It was not until the most important part of the race (the end) that I totally stuffed up. Nat Bates broke away from the bunch and I was happy with that because she was way down on points, then Sara Carrigan went out after her and I was also happy to see her move away, for the same reason.
Alex Rhodes and Jenny McPherson attacked in the final laps while I was watching Kate Bates, I was watching Kate as she was only a few points behind and the only person I would have trouble out-sprinting. At this point in the race I was sure that Nat and Sara would take first and second, meaning I only had to win the bunch kick to take the series.
As it turned out, Jenny caught Sara and beat her! I didn't consider that possibility but when I think about it, it was no surprise. Jenny is riding so strong and definitely deserved to win the series!
I think I will reflect on my thoughts/tactics during the last few races and work on my mental race strategies. It's my biggest weakness and it's time to do something about it.
Now I have two weeks to find some leg speed for the track nationals!