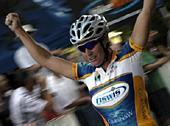 Photo: © Shane Goss
Speedy Gilmore: The 2005 Rochelle Gilmore Journal
Rochelle Gilmore - super sprinter and scratch race silver medallist at the 2002 world track championships - is a woman of ambition. After proving her prowess on the track, she's aiming to forge a successful career on the road. In 2004, she rode for Denmark-based Team S.A.T.S but in 2005, Rochelle joins the one of the longest-named teams in women's cycling, G.S. Safi-Pasta Zara Manhattan, where she'll team up with Britain's Nicole Cooke to make a formidable duo for the finale of any major race. Follow Rochelle as she continues her rise to the top of the tree in 2005 with her regular diary updates.
Up against a juggernaut
The Advertiser Women's Criterium Series Race 1, Adelaide, Australia, January 18, 2005
Rochelle Gilmore (NSW)
Photo ©: CN
I woke up to find five of Australia's top female cyclist on the front cover of the Advertiser, Kate Bates, Alex Rhodes, Lorian Graham, Sara Carrigan and Nat Bates and I suddenly realised that four of those riders would be riding together as a team!
Alex Rhodes, Kate Bates, Nat Bates and possibly Jess Mclean formed a strong team that certainly dominated and controlled the first race of the women's TDU series.
Each of the above riders would take their turn to make an attack in attempt to form a breakaway while the remainder of their team would move to the front of the bunch and control the pace. It was clear to all of us what they were doing, yet they still managed to outsmart us all!
Alex was on fire last night, she knew what she had to do to win and she did it. I must say that the riding from Kate and Nat Bates definitely contributed to her win as they were two extremely strong riders in the race that would not chase her. While we all concentrated on the likes of Kate, Nat and Sara, it was the perfect opportunity for Alex to steal the show by using her strength in a solo break!
I had good legs last night but perhaps not as good as those of Alex Rhodes! Well done Alex. I can not possibly finish second again. Let's see what happens!