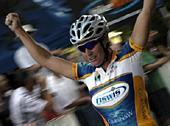 Photo: © Shane Goss
Speedy Gilmore: The 2005 Rochelle Gilmore Journal
Rochelle Gilmore - super sprinter and scratch race silver medallist at the 2002 world track championships - is a woman of ambition. After proving her prowess on the track, she's aiming to forge a successful career on the road. In 2004, she rode for Denmark-based Team S.A.T.S but in 2005, Rochelle joins the one of the longest-named teams in women's cycling, G.S. Safi-Pasta Zara Manhattan, where she'll team up with Britain's Nicole Cooke to make a formidable duo for the finale of any major race. Follow Rochelle as she continues her rise to the top of the tree in 2005 with her regular diary updates.
J Boag and Son Ltd Women's Criterium
Tasmania, Australia, December 31, 2004
Rochelle Gilmore
Photo ©: Shane Goss

New Year's Eve started well for me with a trip to the local Go-Kart centre at Devonport on the way down to Burnie. I scored a comfortable win in a friendly but competitive race, but I left feeling revved up for the J. Boag and Son Ltd Women's Criterium along the shoreline of Burnie.
It was a short hot dog circuit but fast, flat and smooth. The weather conditions were close to perfect and the crowd had steadily built up during the juniorís races. The atmosphere was great and it was extremely motivating to see so many spectators lined along the course as we rolled off the line. After a challenging year, I was looking to end on a good note.
The race started rather tentatively, but the pace gradually picked up and it was not long before the bunch began to fizzle down. With 5 laps to go the lead group had broken down to just myself and 3 other riders. I sat tight waiting for the 2 Tasmanians in the group to start attacking one after the other but luckily for me the attacks never came. In the last lap it was Jess McLean who was first to attack, accelerating hard into the last hairpin turn. I quickly picked up her wheel, waited a few seconds and then kicked past for a longer then usual sprint for the line. It was nice to get the win, but Louise Yaxley was certainly the strongest rider on the day doing the majority of the work.
It has been great to see so many strong women having a go this week. It once again proves that Australia has so much talent in women's cycling. If we continue to receive this level of support and assistance from the organisers of the men's races, we can then further to show everyone what we can do. I look forward to seeing more women travel to Tassie for the Christmas carnivals next year. Itís a fantastic week with plenty of racing, money and support for the women - come on down!