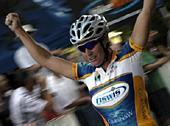 Photo: © Shane Goss
Speedy Gilmore: The 2005 Rochelle Gilmore Journal
Rochelle Gilmore - super sprinter and scratch race silver medallist at the 2002 world track championships - is a woman of ambition. After proving her prowess on the track, she's aiming to forge a successful career on the road. In 2004, she rode for Denmark-based Team S.A.T.S but in 2005, Rochelle joins the one of the longest-named teams in women's cycling, G.S. Safi-Pasta Zara Manhattan, where she'll team up with Britain's Nicole Cooke to make a formidable duo for the finale of any major race. Follow Rochelle as she continues her rise to the top of the tree in 2005 with her regular diary updates.
2004 Latrobe Annual Carnival
Tasmania, Australia, December 26, 2004
Kitted out
Photo ©: Shane Goss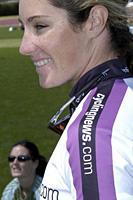 What a rushed day! Is it still the 26th? I woke up at 4.20am this morning after only a few hours sleep to rush to the airport for the 6.15am flight to Launceston.
I arrived in Launceston at 9.45am and then had a 1hr transfer from the airport to the Track in Latrobe, the racing at Latrobe started at 10am. Luckily my first race was not until 11.40am, but still we were not confident that we could un-pack, assemble my bike and register in time for the first wheelrace heat. Warming up was never even considered, I tied my number on and rolled up to the line.
I was on scratch for the first 1000m wheelrace heat and I made a big mistake of blasting out of the blocks to quickly catch Belinda Goss who was off in front of me - it hurt and I paid dearly for it during the rest of the carnival.
The 1000m wheelrace final was feeling OK for me until the last 200m when the riders started to sprint, I was way under-geared and just went backwards finishing 4th behind Liz Williams, Belinda Goss and Laura McCaughey.
I put my gear up from 88 to 91.8 for the 2000m wheelrace and it did feel better but still a little small at the finish when I was towed around the last half lap by Belinda but still unable to move off her wheel!
So for the final scratch race of the evening I decided to go bigger again! This time it worked. Jess McLean hit out with half a lap to go for the perfect lead-out and I stepped off her with 150m to go just holding off Belinda who was coming around with speed - perhaps I stepped off Jess just a second or two too early.
After today's racing I have decided that I will never travel to Tassie on Boxing Day again. Christmas is always a big day for us and normally a late night, then waking early and travelling the day of a race just kills. I will definitely travel down on Christmas Day next year and make sure I give myself the best opportunity for Latrobe.
I am hoping to feel better after a good night's sleep and a 3hr roll on the road tomorrow.
More to come on the Carnivals during the week!