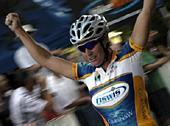 Photo: © Shane Goss
Speedy Gilmore: The 2005 Rochelle Gilmore Journal
Rochelle Gilmore - super sprinter and scratch race silver medallist at the 2002 world track championships - is a woman of ambition. After proving her prowess on the track, she's aiming to forge a successful career on the road. In 2004, she rode for Denmark-based Team S.A.T.S but in 2005, Rochelle joins the one of the longest-named teams in women's cycling, G.S. Safi-Pasta Zara Manhattan, where she'll team up with Britain's Nicole Cooke to make a formidable duo for the finale of any major race. Follow Rochelle as she continues her rise to the top of the tree in 2005 with her regular diary updates.
Power testing
Photo ©: Rochelle Gilmore & friends

It takes at least two sports scientists
Photo ©: Rochelle Gilmore & friends

7000m and counting
Photo ©: Rochelle Gilmore & friends

Lab rat for a week
Australia, December 14, 2004
This week I am staying at the AIS in the altitude chamber. For seven days I will sleep at the equivalent of 2800m and train hard at sea level (well actually Canberra is about 600m).
My body will be closely monitored everyday by the expert scientists at the AIS by taking blood and undergoing strenuous fitness testing. Some of the tests include body weight, skinfolds, blood tests, heart rate and the awful hypoxic ventilatory response test. The HVR test requires you to sit comfortably wearing a mask that will increase the percent of nitrogen you breathe over approx. 10 minutes. I cracked and pulled the mask off at 7500m altitude - before the end of the test! I started sweating, spinning and seeing stars!
The purpose of all this testing is to try and find the best possible preparation program in order to maximise my performance potential on the day of the Commonwealth Games competition. We are trying to find out what program is most likely to work for me as an individual, so that there is a higher chance of me having a good day, on the right day!
I will attack a fitness test on the ergo this Saturday after a specific six days of preparation and compare it to the test I attempted on Monday.
We have several more specific camps scheduled at the AIS this year, so even if we have not got it exactly right this time - we will have time to try new things.