Recently on Cyclingnews.com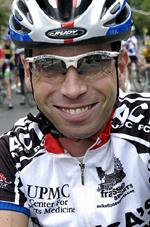 Photo: © Marco Quezada
Papillon: The Joe Papp Diary 2005
Joe Papp is a UCI Elite rider with the UPMC cycling team. He was a double stage winner at the 2003 Vuelta a Cuba (UCI 2.5) and has finished in the top-10 three times at the UCI Pan American Continental Championships (2005, 2004, 1996). Joe's writing is good enough to make boring races intriguing and intriguing races captivating.
August 15, 2005
Riding the rollercoaster
Joe Papp,
Photo ©: Joe Papp

Not having had the inspiration to write a diary entry for Cyclingnews for so many months has left me feeling like a bit of a fraud. While the indisputable truth for me is that my muse disappeared amidst a swirling vortex of trials and tribulations (both on the bike and off) that followed the Vuelta a Cuba, I still feel like I've let down the staff of Cyclingnews and its readers. Something changed in my world of cycling this year, however, and I haven't been in the right frame of mind to click-clack the keys and chronicle the races I've rode and the adventures that I've enjoyed. I hope that's all changing, however, and that during the last few weeks of this season I can get back into the habit of both winning races and then sharing the experience with you all.
I do feel the need to thank the staff of Cyclingnews for sticking by me and not axing my name from the list of rider diaries. After I won a big criterium in West Chester, Pennsylvania in June ahead of Oleg Grishkine of the Navigators and Eric Murphy from Aerospace Engineering, I was psyched to have some new, positive diary material and blasted an email to [publisher] Gerard Knapp, telling him to watch out, that I'd send an entry soon. My fitness was incredible that night and I felt better than I ever had before (I'd just returned from racing in Italy with Simone Biasci on team Partizan-Whistle). If pedaling ever felt effortless to me, it was then, and with one lap to go in the West Chester race I knew I would win if I didn't fall down.
The podium
Photo ©: Joe Papp

I didn't crash, and even better than the satisfaction of climbing up to the winner's spot on the podium was having my teammate Alvaro Tardaguila, who won the Vuelta a Uruguay this year, smile, squeeze my shoulder as I caught up to him and Mateo Sasso after the finish on the cool-down lap and exclaim, "Sos una moto!" It's nice to be appreciated by teammates even before the prize check is cut. As an aside, a big, big thanks goes to Gustavo Artacho of the Colavita-Sutter pro team who gave me a carbo gel on the start line of the race after it was announced that the distance would be increased. Now that's professional courtesy. There are some definite rivalries in the pro peloton in the USA, some of which turn nasty on occasion, but there are a lot of great guys out there like Artacho who are willing to help you when you need it. I hope I can be that go-to guy someday.
Unfortunately, while I didn't crash at the Iron Hill Twilight Criterium, I did stupidly fall down the next day at a tiny circuit race in New Jersey, seriously spraining my ankle and bruising some ribs in the process. At least Alvaro won that race. Nonetheless, it was incredibly frustrating to go from being in peak physical condition to hobbling around on one leg again, and any thoughts of a diary entry were dashed by the fall and mini-depression that followed. Thinking back to the form that I had that day in West Chester, however... wow! That's what it is all about, the miles (km's) of hard training, the miles (km's) of driving across the country in a mini-van with three other guys, the excessive borrowing to cover racing expenses... all that is made worthwhile and validated when you experience what seems like heaven-sent fitness. If anyone out has had a similar experience, where - BAM! - the form arrived and you were just flying, please drop me a line because I'd love to hear about it.
Despite a great ride in West Chester, on the whole this has been a very difficult year for me from a sporting perspective and up until a few weeks ago I hadn't seen a dime of monetary sponsorship (Thanks though to Dr. Freddie Fu, and Larry and Brian at the University of Pittsburgh Medical Center for getting the UPMC team back on the road).
The constant cloud of uncertainty that has been hanging over my racing (and subsequent financial insecurity), plus the emotional strain of being separated indefinitely from my wife while having to make due with a less-than-ideal living situation in the US left me muse-less, and in a generally sour mood, one not conducive to good writing.
Yuliet and Joe,
Photo ©: Joe Papp

In fact, I didn't ride for five weeks after the Vuelta a Cuba, save for one day when I raced in Taiwan (This event I wrote about, and the piece appears on my new website www.joepapp.com in the Writing section.). Nonetheless, I started training again after I was named as a discretionary nominee to the US team for the UCI Pan Am Continental Championships in Mar del Plata, Argentina, where I finished in the top-10 in the road race for the third time in my career ('05, '04 and 1996). The week that she was in Mar del Plata representing the Cuban national team was the only time since the Vuelta in February that I saw Yuliet, and the bitterness of having to say goodbye to her the morning after the road race (just like I'd left Cuba less than 48hrs after the Vuelta finished) overpowered any positive feelings about my performance. Still, I won't forget the kindness of my teammates and the staff, all of whom were wonderful folks. I knew almost all of them by reputation, and some, like Michael Blatchford and Laura Van Gilder, I'd actually raced, trained or traveled with before.
Kristin Armstrong of T-Mobile was super-friendly, as was Webcor's Christine Thorburn. Tina Pic is another super-star who was 100% down-to-earth and very sweet. Track rider Steven Alfred is big and intimidating looking, especially when he's wound-up for the kilo or sprints or whatever it is that the big men ride on the boards, but off-the-bike the dude was just the nicest, most relaxed guy. Brad Huff, who I'd never even heard of before the Pan Ams (shame on me, the guy kicks butt on the bike), was another character - very, very funny (Brad, Yuliet says hi!). What a great crew... the coaches were A+, too. There was Mike Engleman, one of the best climbers of his generation and a rider whose picture I had taped on my bedroom wall when I was a junior, and Jiri Mainus, who could be the most dialed-in director I've ever met. Even though he said that we roadies were soft because we only would race 190km instead of the 250km that the "Europeans" would do if they were riding a Continental Championship, I really admire Jiri and thank him for fighting to get me my spot on the team. I hope I'm selected for the 2006 Pan Ams, which will be contested in Brazil, because I know I can medal with a bit of luck.
Alas, it was a shame that I couldn't get to a happy place so that I could write about the Pan Ams, because the race was as awesome as my companions! Although I still can't believe that I was the only representative of the US to compete in the men's elite road race (and I think that despite dominating the women's road events, USA Cycling missed a great opportunity to send more road riders to Argentina), I was proud to take to the start line in the stars and stripes against world-class riders like Charles Dionne of Canada, who finished 2nd, and my new teammate Wendy Cruz of the Dominican Republic, who was 9th.
So, in finally writing this diary entry, I didn't want to chronicle a particular race as much as I'd hoped to explain what's been going on this season and say thanks to some folks who went out of their way to help me when I needed it (like Jiri and Artacho).
Andrea Panarese and Joe Papp
Photo ©: Joe Papp

I have to thank Andrea Panarese of Italy, one of my best friends in the world, for saving my cycling career by making it possible for me to compete in Italy in May after I returned from the Pan Ams to find that I didn't have a team! The time I spent in Genova with Andrea and his family, with whom I celebrated my 30th birthday on May 25th, rejuvenated me, and though the racing was very hard, I went well enough to be offered a contract with an amateur team for 2006 (I finished second in a race in Ovada, the Giro Dell'Ovadese Molare). If I can't attract the interest of a pro team in the USA, even the lowest-budgeted, most modest outfit, then it may be off to the Continent for my last year of full-time racing, especially if Andrea succeeds in getting Yuliet a contract offer from a women's team in Italy.
Two days after Wendy Cruz signed on with our hit-squad team in July, the four of us (Cruz, me, Sasso and Tardaguila) drove to Wisconsin for the second half of Superweek, the International Cycling Classic. It was a major, major success for us as a quartet, even though we didn't win a stage. Our best finish was Wendy's second place in Kenosha behind Danny Pate, while Alvaro was third at Downer Avenue behind Garrett Peltonen and Alex Candelario. Mateo was fourth in Sheboygan, a stage I won a few years ago, and my best finish was ninth (and ninth overall in the amateur GC) in Waukesha. A big thanks goes out to Otto Wenz and his colleagues for organizing such a great race series, and an even bigger "Gracias!" to our host family the Paul's in Cedarburg. If you're ever in Cedarburg and you want a real shot of Italian espresso... go straight to the Java House on the main drag and tell Dave, the proprietor, that I sent you. It will be one of the few times, I think, where mentioning my name will have a positive result.
Superweek was so nice, not just for the racing but also because we could enjoy the amenities of a cozy town during our time there. Remember, Alvaro, Mateo and me live in our "team apartment" in the middle of nowhere in Glen Spey, New York; the closest town of any size being a good 15 miles away (and the coffee one finds there is NG - no good). Definitely one of the greatest sources of stress for me during the past year has been the isolation that characterizes life in the woods... I like the coffee shop experience, I enjoy seeing movies on a regular basis and I'd like to be able to ride my bike five blocks to the bagel shop... of course, I also like not having to pay rent, or the cost of a DSL line, so it's a very Faustian bargain, except without knowledge or power gained in the end. If anyone in Southern California needs a house sitter this winter, please don't hesitate to email me.
nice tan lines...
Photo ©: Joe Papp

When I was in my early to mid-20s, I had a somewhat justly-deserved reputation in the east coast/mid-Atlantic cycling world as being a jerk. Now, as I hope Laura Van Gilder will attest to, I'm the new-and-improved-version of Joe Papp, and I try not to piss-off anyone, whether on the bike or off. This is crucial advice that I would offer to all the young riders out there... be tough and don't let other riders push you around or take advantage of you or give you a hard time, but also avoid going out of your way to look for trouble. This is important when situations arise and you need to ask for help from your competitors, as happened to me both at Superweek and in the Mt. Holly GP a few weeks ago. Before the start of the Holy Hill stage at Superweek, which was delayed by over an hour, I had to sheepishly beg an energy bar off of Kodak-Sierra Nevada's Scott Zwizanski, who was more than happy to help me out. Thanks Scott!
I wish I knew his name, but I don't, so I'll just say thanks to the rider from the Amgen cycling team who gave me an energy gel during the Kenosha race when I started to bonk from riding my butt off to help Wendy after he lapped the field with Pate and several others. And the same goes for the burly, tattooed powerhouse sprinter (whose name I shamefully have failed to remember) who gave me a blast of HammerGel after I started to bonk with 25km to go in the Mt. Holly Grand Prix in New Jersey.
Speaking of bonking, I've been suffering on-again, off-again hypoglycaemia since coming home from Superweek. The stress of a lot of racing, travel, less-than-ideal diet, insufficient recovery and other bad stimuli really walloped my body and at one point I had a fasting blood sugar of 50 mg/dL. Yikes! I've actually started to feel a bit better during the last few days, though as recently as last Saturday I had to abandon a race because I just didn't have enough energy. So it behoves us all to do our best to follow a well-balanced, healthy diet that meets the energy requirements (both in competition and training) of an endurance athlete. It's actually ironic that I would find myself in an eating-related energy crisis, since I am sponsored by e-Caps/Hammer Nutrition, and my photo even appears in their revised "The Endurance Athlete's Guide to Success." Doh. I've had some more blood work done and I'm waiting for the results to see if my pancreas is ok, and I'll probably return home to Pittsburgh soon to get checked out by UPMC's endocrinologists.
Joe Papp follows the wheel
Photo ©: Joe Papp

While I did have to pull out of the first stage of the Tour de Christiana last week because of the hypoglycaemia, I started stage three, the criterium in downtown Christiana, PA. My teammate Alvaro had finished second to our ex-teammate Todd Herriott (Colavita-Sutter Home) in both stages one and two, and was only a few points behind him in the overall (with Todd's teammate Davide Frattini in third), so Mateo, our Cuban teammate Alberto Blanco and I would give everything to try to set up Alvaro for the win. Having consumed a lot of Hammer Gel before the race, I had enough glucose available to fuel my muscles, and rode tempo for most of the race, controlling things until the last lap, when Mateo took over and brought Alvaro to the last turn in first place. It's a tight corner, followed by an uphill finish to the line, a perfect finish for Coto. Unfortunately, it's been a long year for both of the Uruguayans, and despite having a clear shot to the line, Alvaro couldn't hold on and he was passed by Marty Nothstein (Navigators) for the win. So none of our motors are firing with all 12 cylinders right now (in my case, all six), but it was a good ride for the UPMC team.
UPMC teammates
Photo ©: Joe Papp

I got a nice email from a friend of mine who recently returned to competition and raced there in Christiana. He wrote, "Yo dude, I was serious about complimenting the way you and your team rode on Sunday, you guys hammered it like pros. Steady at the front and covering what was important, the only thing that lacked was the finale (too bad Marty's not on your team!) Hope all works out with your hypoglycaemia and see ya soon." So as nice as it is when your own teammates compliment you, it's even better to get unexpected praise from fellow riders. Thanks for noticing!
The UPMC team raced the Dave Wollet Memorial Criterium (also in Pennsylvania) yesterday, and Alvaro finally won after a string of second and third-place finishes, with Mateo 4th and me 8th. Our next big races are the Mengoni Grand Prix in Central Park and the Chris Thater Memorial at the end of the month, then the Univest Grand Prix in mid-September, which will be my last race of the season.
So thanks to everyone for your support and don't be shy, either with praise or criticism. Mail to the usual address. And a special congratulations to my friend Lisandra Guerra of Cuba who won two events at the Junior Track World Championships in Austria. And good luck to another Cuban friend of mine, Luis Romero Amarán, who disappeared in Spain after the Vuelta a León this month, presumably having defected. No es fácil, compañero.
For a thumbnail gallery of these images, click here
Images by Joe Papp
Email Joe at joe@cyclingnews.com