Recently on Cyclingnews.com
California Dreamin' - The Paolo Bettini Diary 2005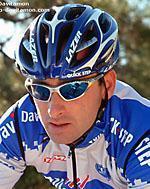 In action
Photo: © Quick-Step Davitamon
He's from California, down near the beach, but this guy's no surfer dude. Paolo Bettini is from La California, near Cecina on the Tuscan coast in Italy. The Quick.Step-Davitamon rider had a fantastic 2004 season, winning his third consecutive World Cup and the Olympic Road Race, finishing the World Rankings as number two. Bettini is back on Cyclingnews in 2005 with his exclusive English-language diary.
Championship disappointment
Italy, October 1, 2005
Hi to all my friends from Cyclingnews,
Paolo Bettini at the World's
Photo ©: Roberto Bettini

I'm sorry I couldn't win this year's world championships in Madrid... jeez! I'm so mad! I prepared really well for the championships and it escaped me by just 300 meters. From Madrid, the memories are indelible and pretty painful. Believe me, I've never been stronger in my life than last Sunday. I was pedaling so well, it seemed like my bike wasn't even there! But the World's are a strange race and for me, it's probably even cursed. There are just too many factors that don't directly depend on me that have to go in the right direction. You also need luck; I don't think I had much at Madrid.
Sure, if the course had been slightly more difficult, I think I could have had a chance to win in a small group, maybe in a sprint with Valverde. I tried as hard as I could to get in a good break, and eventually joined a group of 10 riders, with Perdiguero, Valverde, Davis and Gilbert, but I didn't collaborate at all according to our team strategy. Maybe if I had known earlier that Petacchi wasn't having a good day, I might have been able to work with this break and it would have been hard for the group to bring us back then. But the day went like it went.
Nonetheless, cycling has a well-deserved new world champion, Tom Boonen. Tom was superb in Madrid, above all in his mental focus. Believe me, to ride all season long from February is not easy, with all the pressure you have to deal with. Boonen is certainly the #1 rider this season, and has succeeded in achieving something that only great champions have succeeded in doing in the past. Boonen's season is over, while mine has a few more weeks. I want to take advantage of my excellent condition for the ProTour race in Zurich. Then I'll ride the Giro dell'Emilia and finish my season with the Giro di Lombardia. I'll go all out in the next four races to try and forget the world championship and bring my fans a prestigious win. As for the way the season has gone in 2005, I'd say it's not bad to be there and have some chances to win at the end of the year.
So I want to send a big thanks to all of you who have supported me this season and all those (a lot!) who have written to me after the world championship. Even if I can't answer you all, thanks so much for your support!
Ciao,
Paolo