Recently on Cyclingnews.com
California Dreamin' - The Paolo Bettini Diary 2005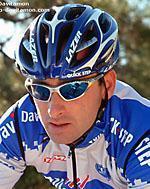 In action
Photo: © Quick-Step Davitamon
He's from California, down near the beach, but this guy's no surfer dude. Paolo Bettini is from La California, near Cecina on the Tuscan coast in Italy. The Quick.Step-Davitamon rider had a fantastic 2004 season, winning his third consecutive World Cup and the Olympic Road Race, finishing the World Rankings as number two. Bettini is back on Cyclingnews in 2005 with his exclusive English-language diary.
Charity begins at home
Italy, January 3, 2005
Hi everybody at Cyclingnews. How's it going?
Best wishes from me and my family to you and yours for a very happy new year. In today's Gazzetta dello Sport they are saying that 2005 will be another successful year for me and I hope that they're not wrong...for sure, to have another year like 2004 this year would be fantastic. For the last four seasons, I've had wins of a higher quality every year and so if I'm going to do even better this coming season, it probably means that I have to go for the number one ranking in the Pro Tour. But at this point in the season, I don't want to think about it. And it's way too soon to be thinking about it in the middle of the terrible tragedy of the Tsunami in southeast Asia.
To see all the kids crying and the corpses strewn about by the water is terrible. I thought about my daughter right away and of the suffering of the families of those innocent victims. It's so true that you never know what can happen in life. For my part, I can't do much more than to say that we all have to try and help these people any way we can via the various organizations that are trying to help.
Do you remember in my last column I wrote about the bicycles that we donated to raise funds for the Fondazione IEO; to help the European Institute of Oncology in Milano? Well, they all sold and we ended up raising €200,000 for the Institute! That's the good that charity can do. So try to help the people you can who are not so well off as you are if you can.
Ciao e buon anno,
Paolo