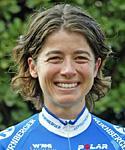 Photo: © Nurnberger
The Olivia Gollan - Nürnberger Diary 2005
A stalwart of the AIS women's team for the last few years, Olivia Gollan turned pro in 2005 with the top German Nürnberger Versicherung team, which has also signed fellow Aussie Oenone Wood. Follow Oliva's escapades through her exclusive diary on Cyclingnews.
'Post-Liberazione', Italy, April 30, 2005
The blue corner does it in Italy
On a day when Italy celebrates its liberation from Germany after World War II, a German sprinter who has made Italy her home won a bike race called "Liberazione" - held in honour of the Italian national day. The blue corner claimed two victories last weekend - the important Bunderslieger race on Sunday was won by Trixi Worrack in Queidersbach, Germany, and the race in Italy won by Regina Schliecher. Not World Cups by any stretch, but victories all the same. The smile on Regina's face was worth the drive to Crema! And the best thing was that I think all three of us (Oenone, Regina and myself) had a great time achieving this result. Barring the Australian contingent the rest of the blue corner are racing in the Czech Republic this week and I am currently waiting to hear how the team performed day one. Next week we head for Spain for some serious action - the next World Cup.
Me? Well for those interested I am in Italy kicking back and enjoying some sunshine and a few rides without leg warmers. All of the pro women are currently gathered in Novellara for a screening camp and most importantly an opportunity to catch up with "Wazza". Warren MacDonald is the current AIS and National Women's coach. He is responsible for countless Aussie women trying to get on the podium in Europe - and he is exceptionally good at his job. Who would be mad enough to coach so many women and deal with the emotional baggage that goes along with it? This man is a saint, to say the least. I would be lost without the support he has given me in the past few months when everything hasn't gone my way. In a very "quiet achiever" kind of way he manages to make a difference - grazie Waz. Juggling acts are hard, especially when you are in a foreign country and you are responsible for the well being of people.
So, this weekend we are off to Switzerland for the Magali Pache time trial in Lausanne. When I say "we" I mean seven Australians and seven other international riders. For Australia it is an important selection race for the World Championship time trial and with a really good result at this race you can earn yourself a spot on the squad for the Commonwealth Games. The pressure is on for a time trial over a very challenging course that will certainly tell us who is in form and not. After motor pacing this morning I am feeling pretty good so will be interested to see if my recent spate of dismal performances can be improved upon. At the very least it will be a good hit out before Spain and I will have a very special new bike to ride.
It has been really good to be in Italy again and see some familiar territory and faces. The people of Novellara embrace the Australians here and though they often wonder about our tendancy to go barefoot, our love of asian food and our obsession with their gelati I think they like having us around. Thanks for having us!
PS: Just heard that Judith won the first stage of Grazia Tour in Czech - awesome.
Liv.