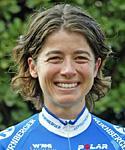 Photo: © Nurnberger
The Olivia Gollan - Nürnberger Diary 2005
A stalwart of the AIS women's team for the last few years, Olivia Gollan turned pro in 2005 with the top German Nürnberger Versicherung team, which has also signed fellow Aussie Oenone Wood. Follow Oliva's escapades through her exclusive diary on Cyclingnews.
3rd Geelong World Cup - CDM, Australia, February 27, 2005
Anke's wounds
Anke's war wounds
Photo ©: Mark Gunter

After a Thai feast and a very large ice-cream last night, I ended up in tears of laughter at my team-mate Anke Wichmann as she inspected her wounds in a full length mirror. A very spectacular crash on the second lap yesterday put Anke out of the race but it has gained her a much better seat on the plane to Wellington this morning. Air NZ were sympathetic to her many grazes and gave her an exit row but were less than sympathetic with excess baggage... There are a lot of very light cycling wallets on this plane!
Nurnberger were in Geelong last week to win the bike race yesterday and we almost got there. NSWIS rider, Rochelle Gilmore spoiled the plan with a very clever and patient sprint - a credit to her after such a hard race. But we certainly aren't about to throw the towel in on the World Cup campaign and we celebrated second place last night knowing we had all given our best towards the win.
As predicted, the Kiwi contingent were aggressive from the start. With the safety of numbers they went out firing - attacking from the first lap. Madeline Lindberg did a tremendous job chasing numerous attacks in the early part of the race and I was so far in the hurt box I didn't think I was going to see the front of the bunch once. I was very fortunate to have Judith Arndt and Trixi Worrack chase me back on after a mechanical, only to get dropped again when half the peloton decided to have a good gawk at Anke's crash and leave a big gap between me and the main field. I scrambled back to the bunch and somehow managed to survive the next few laps at least.
After a lot more aggression from the teams without sprinters and not a lot of chasing from those teams who had sprinters (other than Nurnberger) it was only going to be a matter of time before a break went down the road. It happened in the form of Amy Gillet (AIS), Jenny Macpherson (VIS) and Tanja Hennes-Smidt (Buitenpoort-Flexpoint). With nearly three laps to go they had a minute and a half, with no reaction from the peloton despite numerous teams with interest in a bunch kick. Nurnberger were left chasing. Madeline and I swapped off with what we had left and kept the break to a minimum. I must admit the chase was everything I had left in my system but the lure of a certain Barcelona Olympian who continues to remain nameless kept me going until I caught her at the bottom of the climb - she had tried to bridge the gap to the front group and very nearly got there!
At the bottom of the climb the second last time, Oenone put in a massive attack and took some big names with her. Kate Bates, Mirjiam Melchers, Miho Oki and a few others went in a group but by the time they caught Gillet's front group, the rest of the bunch had caught them. So with the peloton back together, it was the Kiwis' turn again. This time Toni Bradshaw got an impressive gap on the field and French time trial guru, Edwig Pitel, made a move to go across. Judith Arndt made her presence felt and brought this threat back into the fold of the main group. A bunch kick was the scenario panning out. By this time Madeline, Anke and I were watching from the sidelines. And hoping like hell our team of superstars could pull off the win.
Despite the superhuman effort and dedication of all of my team-mates I am awarding the day's best ride to a girl called Lynn Gaggioli (Lloyd Morgan Recruitment). With less than a kilometre to go and Trixi Worrack and Judith Arndt leading out with everything they had, Gaggioli slipped off the front and held a gap for what seemed like an age. She then held on and finish 13th - not a bad ride! Our sprinter went a bit too early and was in the wind from 500m to go. I honestly thought she might have still got there, but Rochelle grabbed her wheel and was very impressive in the finish. Kate Bates was there and nearly got round Oenone but third was still a great result for her new Dutch team.
So now we are on the plane to New Zealand and Oenone has just read the blurb about next weekend's second round in Wellington. "The Trust House World Cup in Wellington will be a test of strength, stamina and endurance and hills around downtown Wellington would test all riders to their maximum. Over the 120km of racing, riders will have to climb 30 hills. The circuit is a hill climbers circuit and is one of the hardest on the 2005 Women's World Cup Calendar."
It will be interesting to see who takes the jersey to Europe if this statement is all is it cracked up to be.
Maybe my legs are in New Zealand? They have to be hiding somewhere!