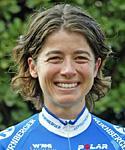 Photo: © Nurnberger
The Olivia Gollan - Nürnberger Diary 2005
A stalwart of the AIS women's team for the last few years, Olivia Gollan turned pro in 2005 with the top German Nürnberger Versicherung team, which has also signed fellow Aussie Oenone Wood. Follow Oliva's escapades through her exclusive diary on Cyclingnews.
The Eve of Discovery - in form or creeping?
Australia, January 11, 2005
It has been a long time between stories for me and Cyclingnews but this one marks the turning of a new leaf. With the colours of my new team, Nürnberger Versicherung firmly clad on my back and the promise of a race on the morrow I would like to welcome you to the new Olivia Gollan - Nürnberger diary.
I arrived in Adelaide yesterday for the start of my racing calendar. National time trial tomorrow! It seems like yesterday that I was lining up for the TT in but race one for 2005 had to come from somewhere. I met my NSWIS compatriot, Nat Bates, at the airport and we piled a plethora of equipment into the biggest car Nat couldn't drive (sooner or later I won't be the only female cyclist who isn't yet 25) and headed for yet another hotel room.
This morning we collected disc wheels, tinkered with TT bikes, bought an esky, packed the car again and headed to Echunga to check out the course. By the time we arrived in was 40 degrees and the wind was howling - nice. The cruisy 30km I had planned for the day turned into a fight with every harsh element South Australia could throw at me. Watching our coach, Warren MacDonald, trying to motor pace Nat in these conditions was entertaining to say the least.
The course is a predominantly flat out and back loop that will be largely affected by the wind if it persists. With a disc wheel it was hard to stay upright if a gust hit you - lucky I still have some off season kilos to help keep the bike on the road. There is no where to hide but there are plenty of places to let your head drift off and start thinking about a nice Adelaide Beach rather than the finish line.
I have not had my usual start to racing for the year so am really at a loss to know how I will fare. After an early season crash my preparation was hindered and I decided to miss Bay Crits and just ride National Road Race. Late last week I had a really ordinary day out on the bike and came home with a fire in my belly. I can't keep avoiding racing just because I am not race fit! Might as well start with the TT and see where I am at. Decision made I packed the bike and started thinking about riding fast.
On the other hand, my teammate for 2005, Oenone Wood blitzed the field at Bay Crits and looks set to take on the defence of her National Titles with a vengeance. After coming out of a canyoning expedition that ended in eating a toasted blue tongue lizard and being air lifted out of the blue mountains, Oenone is without a doubt the one to watch. The other suspects will be my roomie Nat, Sara Carrigan, Amy Gillett and the unforgettable Kathy Watt. With a number of big names not racing due to retirement, Manchester Track world cup and illness it might give a few new faces a chance of an upset.
For me I am really excited about starting my first race as a pro. The Nürnberger contingent have been so supportive from the opposite side of the globe and it is really great to know I am going to be part of something that is proving to be completely professional. The rest of the team, including world champion, Judith Arndt and Swedish rider, Madeleine Lindberg, arrive in Melbourne on the 15th February for the Australian and New Zealand world cup racing. Until then it is time for me to get a couple of days racing under my belt.