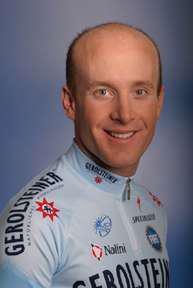 Photo ©: Gerolsteiner
Clear blue water: The Levi Leipheimer diary 2005
Levi Leipheimer shot to prominence when he made the podium at the 2001 Vuelta while riding for US Postal. He spent three years at Rabobank before joining the German Gerolsteiner team for 2005, where he is one of the team's main men for stage race general classifications.
Leipheimer has twice finished in the top ten at the Tour de France, and this year will aim higher if his form allows. "We'll have to wait and see," he says. Follow Levi's progress to the Tour and beyond on Cyclingnews.
Georgia, April 20, 2005
Peter's March
Yesterday's uneventful day lead to a nice outcome today. My teammate Peter Wrolich won the stage! Peter is one of our great sprinters.
Once we entered the arrival city of Rome, we had four undulating circuits. Discovery kept the pace really fast, which was good for Peter and I because we were already up front. With a kilometer to go I was in the top five when suddenly a rider tried to pass from my side but misjudged the space and crashed! I had to ease off for a second, but then tried to drive the pace up for Peter's finish. Peter delivered!
There was some confusion at the finish because many of the team's race numbers got switched. Stuff like that happens, but it wasn't as amusing as what happened to my former teammate and current World Champion Oscar Freire. One of the mornings he was leading the Tirreno - Adriatico stage race, the team was on the bus getting ready for the start. So there in the bus was Oscar pinning his number on his regular jersey! You'd think if you were leading the race that would be the first thing on your mind, but that's Oscar...cool as a cucumber. He's totally engaged in the race, but off the bike he can just relax.
The race finished in Rome, the city Sherman burned during the Civil War in his famous march. We will remain here for tomorrow's time trial. It will be my first time trail on home soil since the 2001 Sea Otter and the third time testing my new time trial position. During the winter I visited the Allied Wind Tunnel to identify a more effective position. I'm beginning to feel more comfortable with the new set-up. My last time trial at the Criterium International was good, but wet and dangerous, so I hope for fair weather tomorrow. Forecast calls for thunderstorms with unseasonably high temps (80F).
Peter is not a time trial specialist, but will do his best to retain the lead. Look out for my teammate Michael Rich for some fast splits.
Georgia has been great so far, so thanks to everybody for your support and hospitality,
Levi