Recently on Cyclingnews.com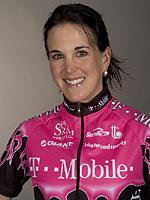 Photo: © Jeff Tse
All American Gal: The Kimberly Baldwin Diary 2005
Last year wasn't one of her best. After a close call with cancer at the end of 2003, newlywed Kim Baldwin (nee Bruckner) was hoping to come back and represent her country at the Athens Games, but apart from a podium finish at the Tour de L'Aude, 2004 didn't quite live up to expectations. However, cycling's all-American gal is looking to the future with new objectives and a new-look T-Mobile cycling team. Let's see how she goes...
Nature Valley Grand Prix - Minneapolis, June 8-12, 2005
Part 2 - Lightning and uphill pain
Stage 3 - Downtown Minneapolis Criterium
Katie and Ina woke up rather sore the morning of the criterium. Bumps and bruises kept appearing on their arms and legs. Luckily we had until 6:45pm to try and recuperate and get ready for the evening's stage. It was pouring rain again in the morning, which made for a relaxing start to the day. When it finally cleared and the sun came out again, we all went for a spin to get the blood flowing.
That night, as we drove to downtown Minneapolis, it was pouring rain again. I was praying it would clear up in time for the crit. Otherwise, our hoped-for spectators would most likely flee! Our prayers were answered, as the sun came back out and the streets were almost dry by the time we started. We only had a 40 minute race ahead of us, but with all the corners, the narrow streets, and the large field, it was still a bit nerve-wracking. Ina and Katie weren't sure how they were going to feel, so we didn't want to count on them for too much. But we should have never doubted their determination. They were right back in the game.
It was tough to be aggressive in this crit, as the course had so many corners, it was hard to get any sort of gap. A few breaks formed but were quickly reabsorbed. About mid-way through our race, I went around an especially tight corner with Ina on my wheel. The rider behind her hit the curb, going down, causing a complete stack-up with the rest of the field. Because it was in one of the most narrow sections of the course, the officials neutralized our race for about half a lap. Kind of odd, but whatever. To make matters worse though, they lined up everyone that had gone down (literally most of the field) right around a blind corner. So when the part of the field that escaped the crash came around that corner, we almost crashed straight into them. I saw one rider go skidding sideways trying to avoid another pile-up. It wasn't the most organized race I've been too! The fans were great though and it was cool to see so many people out there partying, drinking, and cheering.
With about 5 laps to go, we tried to congregate at the front, thinking perhaps we'd lead Kori out and try for a podium finish. With 2 laps to go, I stayed tucked behind the group of sprinters, wanting to just stay safe and not get caught up in the sketchiness. I heard this guy yelling to me "T-Mobile, move up!" Doesn't he understand it's not about me at the finish? I'm not a sprinter! But Ina certainly is. Bruised and sore, she still rode outside of herself to sprint around Laura Van Gilder and Rochelle Gilmore for the win. Lovely job. I love having a purpose this year in the crits. It's great having a true sprinter to work for.
Stage 3 - Red Wing Road Race, 94 miles
The day started out promising enough. We drove south of the Twin Cities to the town of Red Wing and with overcast skies, the weather was nice and cool. The race was a tad long for my liking at 94 miles. Women don't typically tend to actually race when the length is that long. The first 20 miles just kind of plugged along at a casual pace. It was going to be a long day in the office.
About mid-way through the race, the skies turned really dark. We could hear the thunder in the distance. Then the lightning came. I've raced in rain, snow, and hail, but I've never raced in lightning before. It's quite unnerving! One loud crack completely freaked me out and almost scared me off my bike. The rain was just pouring down and life at this particular moment in time was miserable. All the girls were looking at each other, asking, "Are they really going to continue this?"
Finally, the officials "neutralized" us and made us pull over. It was chaos. Now we were just standing in the rain and lightning. Then someone had the brilliant idea of sending us up the road and putting us all in a barn to wait out the storm. I couldn't go sit in a barn. Andrzej and Steve put some of us in the team car and turned the heat on while the officials decided what to do. Thankfully the rain let up and after some major confusion as to which riders were where on the road as far as time gaps went, we started off again.
The sun quickly came out and warmed us all up again. Racing was back on. Then we had major crosswinds to deal with out in the Minnesota fields. We got a little taste of everything today! We came into the town to Red Wing with four 4-mile circuits left in the race. Our team was without radios now since we had given them back to Andrzej during the storm. We didn't want lightning to fry our ears out. But we definitely could have used those radios on the circuit.
I attacked first, brining Erinne Willock with me. When that was brought back, Kori attacked and brought with her Willock, Thorburn, Beutler, and Gaggioli. The break was missing Pic and Van Gilder from Quark, so we let it go, making Quark chase. The next time up the circuit's climb, I heard Ina yell from behind me, "Kimstar! Bridge!" Although our element of surprise was missing, I was still able to bridge with just Tina Pic on my wheel. I wasn't sure that was the smartest thing, but I saw Andrzej on the climb at that point, gave him a questioning look, and he told me to keep going. So I did. With both Kori and I in the break and just 1.5 laps to go, we tried to take turns attacking. But there was a bit of miscommunication, and things didn't go that smoothly. Luckily though, Kori was still able to pull off a second place finish in the sprint, solidifying her 3rd place position on the podium. Tina Pic won the sprint, giving her bonus seconds that put her just 18 seconds out of first place.
Stage 5 - Stillwater Criterium
Considering I had only come to this race for fitness and training, I was a bit more tired than I had expected. These courses were not easy. So when we pulled up to our parking spot for the Stillwater criterium and I saw the hill we needed to ride up, I sighed heavily. I was watching guys ride up it and it looked like they were headed to the sky! I think I read it was a 20% grade in the race bible, maybe more. Steve! Where is my 27??
The race was only 50 minutes and I kept telling myself, this is easier than doing intervals at home right now. Our start was right at the base of the climb, thank you very much. And I was lined up at the very back. Once the gun when off and everyone clipped into their pedals, I heard Andrzej on the radio almost immediately. "Kimberly is at the back! Kimberly is at the back!" Well, just give me a second here. I learned later that Ina and Kori were driving it at the front and he didn't want them to drop me.
That first lap was particularly painful as I made my way to the front, but it was much better up there. I did a quick time calculation after the first lap so mentally I would know exactly how many times I needed to go up that climb. Apparently I calculated wrong, because just when I thought we'd be almost done, Andrzej came on the radio and told us exactly how many laps we had to go. It was about double what I had figured.
In the earlier part of the race, our girl Rebecca made it to the front and then tried, for some reason, to attack on the steep downhill section. I was sitting about 4th wheel and watched the whole thing. I knew it was going to be trouble. As she led the field around the 2 steep downhill corners, I feared for her safety. Sure enough, around the second corner, she had too much speed, hit the outside curb, and started doing cartwheels. It fully sucks when you see a teammate crash and you just have to keep riding. But I soon heard Andrzej in the radio again yelling, "Rebecca! Get to the front!" So I knew she was ok.
One time up the climb, I was in my drops and my radio cord wrapped itself around my SRM head unit. When I tried to sit up, the cord just pulled on my ear and jersey, and I thought I was going to have to ride staring straight down. I finally was able to get the cord unwrapped from my SRM thank goodness, once I got to the top of the climb. I'm sure some spectators on the climb were wondering what the hell my problem was. Too much technology.
The race stayed pretty mellow throughout. I think girls were tired and GC was pretty much set. We were riding to keep Kori on the podium and not let her lose any time. The last lap, Erin Willock attacked and kept a gap all the way around the course and into the climb the final time. I thought she was going to hold it, but Lynn Gaggioli came around her just at the line to take the stage win.
When we saw our host family after the race, they kept saying, "Kimberly finished second!" I did? They were so cute. They thought that since I was near the front every time up the climb during the race, protecting Kori, then for sure I would finish second overall. Oh I wish. I love their belief in me though! Stillwater is right on the St. Croix river and on the other side of the river is my home state of Wisconsin. So after the race, Brooke and I rode across the bridge so I could say I had been back home, if even for just brief few minutes. And sure enough, as soon as we crossed the bridge, we saw a sign for a cheese factory right up the road. Some things never change.
See you in Park City for U.S. Nationals!