Recently on Cyclingnews.com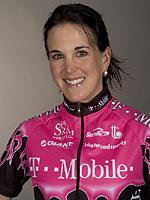 Photo: © Jeff Tse
All American Gal: The Kimberly Baldwin Diary 2005
Last year wasn't one of her best. After a close call with cancer at the end of 2003, newlywed Kim Baldwin (nee Bruckner) was hoping to come back and represent her country at the Athens Games, but apart from a podium finish at the Tour de L'Aude, 2004 didn't quite live up to expectations. However, cycling's all-American gal is looking to the future with new objectives and a new-look T-Mobile cycling team. Let's see how she goes...
Liberty Classic - June 5, 2005
Fabulous in Philly
Kim Baldwin (T-Mobile)
Photo ©: Mitch Friedman

I realize that reading a race report five days after the actual event took place may not be the most exciting thing in the world. Please excuse the delay. I'm now in the woods of Minnesota having already started our next race, the five-day Nature Valley GP. But I think the Liberty Classic is still on all our T-Mobile minds. It's our biggest win since the inception of this team, so we're still enjoying the high.
In the midst of Petra Rossner's seven-year reign as the Liberty Classic queen, I had the privilege of being teammates with her two of those years. But as talent would have it, I was never included on the Philly roster to help Petra retain her title. Our roster was so stacked with quality women, riders like Anna Millward, Ina Teutenberg, Judith Arndt, Suzanne Sonye....that the team never needed me for Philly. I was always sent home after Montreal to train for HP in Idaho. But both years, I remember exactly where I was on that day when the team called me with the news. The greatest, up until this past Sunday, was in 2001. Anna Millward was going for the overall World Cup title, and Philly was then on the nine-race World Cup tour. The team still wanted Petra to win, but not at the expense of Anna possibly losing points and the World Cup jersey. Best case scenario would have been a 1-2 punch, but even in the race meeting the night before, the girls admitted that was most likely wishful thinking. But sure enough, the next day, I was riding up Olde Stage road in Boulder and received a phone call that morning from our logistics director, Andy Lee, telling me that Petra and just won her fifth Liberty Classic title, and sure enough, Anna had led her out and still finished second. When people ask me of my favorite race moments, that's still the one that comes to mind first...and I wasn't even there.
I was surprised when Ina told me she had actually only finished this race once. I had no idea. I knew that most times she had been working for Petra, whether it was with the German National team or Saturn. This was to be the first time she would be racing Philadelphia for herself. We were all looking so forward to helping her. Ina's raced so selflessly all year and buried herself for me at Tour of the Gila in May. So it was the least I could do to repay her the favor. Then...Ina really fired me up. At our race meeting on Saturday night, we were talking about various girls' roles in the race. Ina spoke up and said, "yeah, Kimberly doesn't really like the wall, so I don't know if she'll be there." Well, fine. That did it. Come hell or high water, I was going to be with her going up Manyunk wall. I slept horribly Saturday night...I could not stop thinking about the race and the fact that I was determined to prove Ina wrong.
T-Mobile girls
Photo ©: Mitch Friedman

The Wachovia Classic and Liberty Classic, the men's and women's races, are the biggest spectacle races all year. The fans, the helicopters, the police brigades, the big screen "tv" at the start/ finish line...the whole thing is absolutely amazing. So much so that I couldn't tell during the race if the goosebumps I broke out in were from dehydration or just excitement from listening to all the screaming people. It's such an experience.
We had a team of eight T-Mobile girls for Liberty Classic: Ina, Kori, Kristin, Mari, Lara, Rebecca, myself, and a certain Aussie named Katie Mactier. Katie is the current World Champion in the pursuit and a silver medalist at the Athens Olympics. How she came to bless our team with her presence I'll never know...but we are so lucky she did. Katie comes with such a sense of enthusiasm and excitement, along with a plethora of Aussie sayings that we are just learning to understand. It was perfect timing adding Katie to the team. She gives us a boost of energy and really adds some pizazz to our team. She'll be finishing out the season with us and we're all really looking forward to it.
We also have one of the best fans out there. Her name is Samantha and I think she's about eight years old. Samantha and her dad came all the way from Florida to watch her team. When we rode up to the sign-in table, I heard Lara say, "Hey Kimberly...is that Samantha?" I turned around and saw this little girl standing on the other side of the fence, holding a big pink poster board that said, "Go T-Mobile!" It had all our names on it. I went over and introduced myself straight away and invited her and her dad, Robb, to our tent. Samantha had been hard at work the past weeks making us all beautiful bracelets and necklaces. The bracelets said Go T-Mobile and the necklaces all had our names on them. How did we get so lucky? She had a jersey that had been signed by Dede Barry, and had the rest of us sign it as well. I didn't get a chance to see Samantha after the race, but if you're reading this, I hope you know you brought us all luck. Thank you very much.
Andrzej could tell we were all abnormally nervous before the start. "Just relax. Just relax." He kept saying. "You've done this a million times." The men were to start at 9am and after finishing three parade laps, the women were to start. Funny thing was that the women lined up LONG before the men even came to the line! I saw girls lining up so I rode up to get my place. Then I looked at my watch and saw that it was only 8:40...we still had over half an hour before our start. I never understand that. We did this at Tour de L' Aude too. Every day the women started lining up 30 minutes before the actual start. Ironically, I always see the best of them just hanging out in the back, no worries in the world. And as soon as the gun goes off, they're at the front. I was lined up next to Amy Moore from Victory Brewing and we were chatting a little bit. "Ok, I'm finally nervous," she said. "Now?" Exclaimed the girl standing next to us. "I've been nervous since Thursday!" When I asked her why, she went on to say that Philly was her first big race...ever. Oh dear. Now I was nervous! With that in mind and my determination to get my ass up the Manyunk wall, I stayed near the front as soon as the gun went off. I'm glad I did too, as I heard two crashes within our field before we even reached Manyunk for the first time.
Ina Yoko Teutenberg (T-Mobile)
Photo ©: Todd Leister

The women only race four laps for a total race of 57 miles. Within the race is the Queen of the Mountain competition, with points given every lap at the top of Manyunk Wall and Lemon Hill. So as we raced through the main street of Manyunk before taking the turn into the wall, I could see around me the girls that I knew would be going for the QOM - Christine Thorburn, Annette Buetler, Dotsie Cowden. The QOM competition was certainly not our focus, but we knew we'd have to be there. So lo and behold, guess who went into the Manyunk wall first? Yours truly. There's this great picture on cyclingnews.com that I want to print out and give to Ina. It's the women's field heading up the wall the first lap...
Of course, I didn't actually make it to the top first, but that's beside the point. I was there. We crested the climb with the usual company....my teammate Kristin, Thorburn and Erin Willock from Webcor, Cowden from Colovita, Oenone Wood, Nurnberger, Lynn Gaggioli, Monex, Buetler from Quark, Jo Kiesenowski and Edita Pucinskaite, Nobili, Amy Moore, Victory Brewing, and Ina. Immediately Ina came on the radio yelling, "Drive! Drive! Drive! We've got a big gap. We need to work this!" Kristin and I didn't even look back. We went to the front and drove. I knew Ina would let me know if the bunch caught back on. Webcor quickly came to the front and helped us drive it as well. This was almost unheard of...a break in the first lap. I think there were about 12 in that original break but with most girls the sole representative of their team, they were few that were willing to work. Ina kept saying, "We just need to keep this break at least to the wall next lap."
We worked the time gap up to about 50", but as we approached Manyunk for the second time, the time gap kept coming down. Ina even rolled through a few times to show her willingness to work. I think we had about 38" going into the wall the second time. Shortly after we crested the top, I saw that another group of 4 or 5 had bridged; Judith Arndt and Regina Schleicher, Nurnberger, Laura Van Gilder and Tina Pic, Quark, Karen Brehms, Webcor, Singrid Corneo, Nobili and our own Mari Holden. Having Mari there was perfect for us. Now it meant Kristin could stay back with Ina and just sit on while Mari and I did all the work for our team. Brehms and Willock continued working for Webcor, and Corneo kept rolling through for Nobili. All the major players, meaning the major sprinters, were in this break. It was solid and I knew we'd have a really good chance if we could bring this to the line. And I was just so happy to be in the break! I really wanted to be there for Ina and do as much work as possible.
Ina Teutenberg (T-Mobile)
Photo ©: Jon Devich

Mari and I knew we'd have a hard time hanging on Manyunk the 3rd time up the climb. If attacks started, I knew I'd be flung off the back. It did go hard up the climb with girls going for QOM points, but they all sort of sat up at the top, looking at each other, since those were the girls that hadn't been working....and it gave Mari and I a chance to catch back on. "Just one more time," I said to Mari. We just need to make it to the base of the climb next lap. When the course wound back on itself, we could see the remnants of the main field putting in a chase. With Katie, Kori, Lara, and Rebecca back there, we knew we'd be safe. It was mainly Colovita and Diet Cheerwine chasing, but our gap kept increasing.
To make a long story short, when we hit the base of the Manyunk wall for the last time, I figured it was the end for me. I think it was Judith that attacked and away they went. I could hear Andrzej in the radio saying "Come on Mari! Come on Kimberly!" I think it was the screaming fans that kept my legs going up that climb...that and Andrzej's encouragement. I took the right hand turn at the top of the climb and saw the girls ahead of me. If I could just get there! I knew Kristin would protect Ina and give her the leadout she needed. But if I could get back...it'd be all the better. Again, there was hesitation in the break as to who was going to drive it, and it was just the hesitation I needed. Zoom...right to the front again, feeling like I was taking my final breaths. I got over Strawberry Hill, but I knew Lemon Hill...the final QOM, would be the end of me. Arndt attacked again over Lemon and I was dropped like a sack of potatoes. I could hear Dave Towle, the race announcer at the top of Lemon Hill, screaming into his microphone. I think it was just 3km from the top of Lemon to the finish line. Come on Ina!
T-Mobile teammates celebrate
Photo ©: Nancy Wright

I could hear Ina calmly in her radio telling Kristin what to do and when to give her the lead out. Kristin punched it around the roundabout in Logan Square and pulled off for the long straight away to the finish. I watched everything in front of me, albeit a bit behind. When the bunch crossed the finish line, I kept waiting for Michael Eisner to say Ina's name. I couldn't hear him amidst the noise though. But then I looked up and saw Ina raise her hands in victory. Ina wins!! She just beat out Regina Schleicher of Germany...a girl she had raced against many times while growing up. It was so close she didn't even raise her hands until she was well over the line. Total elation. I threw my bike (I have no idea why) and went running over to Ina. Why I just didn't ride over to her I'll never know. My mind wasn't working quite right. I had tears in my eyes and just wanted to cry. Ina was absolutely glowing...she won Philly!! This was the biggest win by far for our T-Mobile women's team. And it was a total show of teamwork. The celebration began. Andrzej jumped out of the car and came running up to us to give us big bear hugs. The other girls came in, screaming with excitement. What an amazing feeling. I couldn't be happier for Ina. She deserved this win so much. The team was 100% dedicated to riding for her and our energy was contagious. Everything came together just right.
We had a big celebratory team dinner that night at our favorite Philly restaurant, Pietro's. The owner, authentic Italian guy, serenaded Ina as she walked in and announced to the whole restaurant that she was "The winner!" That is for sure.