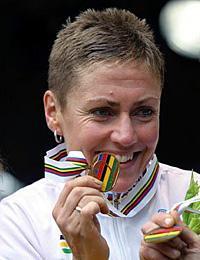 Photo ©: Birke Ulrich
On top of the world: The Gunn-Rita Dahle diary 2005
Norwegian cross-country mountain bike racer Gunn-Rita Dahle is probably the best female rider this relatively young branch of the sport has ever seen. World champion in 2002 and 2004, Olympic champion in 2004 and unbeaten in the World Cup in 2003 and 2004, she has a breath-taking palmares.
Dahle says her success is due to an unrelenting focus - she describes herself as a '24-hour athlete' - and the constant support of her boyfriend and coach Kenneth Flesjå. Follow her exploits on Cyclingnews as she works to stay at the top of her game in 2005. Or, for more Gunn-Rita, see her personal website: www.gunnrita.com
Norway, December 31, 2005
Happy New Year!
There are only a few hours left of 2005 and I'm definitely not the only one who feels that time flies! It's nice to think back on pleasant and good memories from the year that has passed, but I also consider it just as important to see all the possibilities for the upcoming year.
We've had a lovely Christmas holiday together with our closest family, and we value these experiences very highly as there won't be much time spent at home in the coming months. We celebrated Christmas Eve at Lura with the whole of Kenneth's family. The Flesjå family always serves reindeer meat on Christmas Eve. I was served lovely cooked cod, salmon and sole. Together with these delicatessens of the ocean I had sweet peas, cauliflower, carrots and Brussels sprouts - I'm a tiny bit spoilt by these special meals, prepared especially for me.
The training menu for Christmas Eve was a 3-hour trip on my bike, during which the weather-gods served up sunshine, blue skies and a couple of degrees above freezing. We didn't get to experience a white Christmas this year, but it was a lovely holiday anyway with such fantastic winter weather.
Santa Claus gave me lots of nice stuff, which would suggest that I've been quite a good girl through the year of 2005. Father Christmas visited early in the evening and thrilled especially the younger members of the family. Judging by the size of the pile under the Christmas tree at Lura, there must be many well-behaved members of our family!
On the first day of Christmas we had another wonderful long-distance ride in gorgeous weather before travelling in to Bjørheimsbygd to celebrate Christmas with my mother and father. Kenneth and grandmother were served ribs of mutton while I had fried wolf fish. Delicious food in good company.
On the second day of Christmas we started up with a trip to Regnaknuten, a four hour hike in wonderful nature under blue skies and a couple of degrees below freezing. My mother also came on the trip and all three of us got to test our balance on the slippery ground. We left for Stavanger again in the afternoon of the same day, and enjoyed a relaxed evening together, with a couple of movies.
Apart from this, my holiday has been spent doing a lot of exercise, both long-distance, power-pedalling inside on spinning-bikes in the basement, running intervals on steep hills, and a good and cold long-distance ride today. We've relaxed a lot, tidied the house, and have started packing and preparing for departure on our next trip. The new season starts on the 1st of January, crammed with new goals, and with 2005 behind us.
We can look back on a successful year together with Multivan Merida Biking Team and our personal sponsors and co-workers. This week I was elected sportsperson of the year by the newspapers Stavanger Aftenblad and Rogalands Avis, and I would like to thank everyone who is following our progress here at home.
Time flies when you're having fun, so they say. Many people also talk about how little time they have, that there are only 24 hours a day, and that when things quiet down they plan to do all sorts of things. But we mustn't forget to live today and to enjoy what we're doing right now.
I would like to close by saying thank you for the past year, and wish you all a giving and exciting year of 2006. We've made our goals for the new season, and we know that every day counts in our work and preparations for success this year. We're really looking forward to the New Year and the challenges and possibilities it will provide us with. I would like to thank all our fantastic friends and co-workers which have been with us through the golden season of 2005.
New Year's hug from Gunn-Rita

[Translation: Crispen T. P. de Lange]