Recently on Cyclingnews.com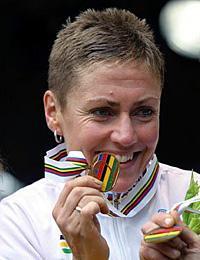 Photo ©: Birke Ulrich
On top of the world: The Gunn-Rita Dahle diary 2005
Norwegian cross-country mountain bike racer Gunn-Rita Dahle is probably the best female rider this relatively young branch of the sport has ever seen. World champion in 2002 and 2004, Olympic champion in 2004 and unbeaten in the World Cup in 2003 and 2004, she has a breath-taking palmares.
Dahle says her success is due to an unrelenting focus - she describes herself as a '24-hour athlete' - and the constant support of her boyfriend and coach Kenneth Flesjå. Follow her exploits on Cyclingnews as she works to stay at the top of her game in 2005. Or, for more Gunn-Rita, see her personal website: www.gunnrita.com
Post-World Championships and World Cup, September 15, 2005
A great winning streak
Another fantastic gold at the World Championships
Another rainbow jersey!
Photo ©: Rob Jones

We had a terrific day of World Championship action at Livigno on September 4. I was deeply moved when I received yet another World Championship gold and heard the Norwegian national anthem being played way up in the Italian Alps. We managed to win the main event of the year, and I'm very proud and honoured to be allowed to wear the rainbow jersey for yet another season. First of all, Kenneth and I would like to congratulate all our sponsors and partners with the latest win at worlds. You are all very important to the success that we've experienced this year, and we hope you're all as happy as we are. We are proud of what we've achieved together with our pro team, Multivan Merida Biking Team, and our personal sponsors, and we're really happy that we'll be working together for many years to come. It's Tuesday morning and the delight of having won is still very much there, and probably will be for a while to come. It takes time to digest such an incredible day as we experienced in Livigno. Hundreds of things happen in the time you're awake, but most of these things don't really make sense until later.
On our way to Scotland
On her way to gold
Photo ©: Rob Jones

And now it's Sunday morning, and we're sitting in the lounge at Heathrow Airport in London. We unfortunately didn't manage to get the same suite that we've enjoyed on our previous visits to Scotland. We had a long trip on Tuesday with many hours of delay, both leaving Zurich and in Manchester. We arrived around 7:30 in the evening and managed to fit in a jog for an hour, plus 45 minutes of massage and a simple dinner before going to bed. It's just so wonderful to be sitting here, feeling the peace and quiet sink down over my entire body, both inside and out. In the last few days we've had the World Cup Finals at Fort William, and it ended up being a wonderful grand finale to yet another great season for both of us. Soon it's holiday time, with plenty of relaxation - we really need it. We've had a tough time of it this last week. We both felt physically and mentally drained after the World Championships the previous weekend. It was a totally natural reaction after so many weeks of focusing exclusively on the day of the big race. But through this week we've done everything we could to push each other and back each other up, both physically and mentally, in order to be as recharged and ready as possible before Sunday's challenge.
Top shape, as planned
That's gold!
Photo ©: Rob Jones

I was in top shape for the World Championships, and good condition doesn't disappear overnight, a fact that was proven to us at Fort William. We've verged on the extreme when focusing hard on rest. Restitution, massage every day, early nights, correct nutrition at the correct times of the day, and lots of positive encouragement of each other. Focusing on everything that's positive really works wonders when one is completely worn out. And so we got to experience yet another day of jubilation with our sixth World Cup victory of the season. We received the trophy, and Multivan Merida Biking Team won the team trophy for the third consecutive time. In addition, my team-mates, Irina Kalentyeva and Nina Ghöl, got third and fifth place, so there were three Merida women on the podium.
The men on the team also had great success, with Ralph Näf winning his first World Cup race and Jose Antonio Hermida coming in fourth, while young Moritz Milatz came home in 18th place. This fantastic day in Scotland got even better with a Norwegian victory in the World Cup in 4-Cross, when Leiv Ove Nordmark won. Lene Byberg rode a very good race too and fought for a position in the top 10, but unfortunately she had technical problems towards the end and simply had to pull out of her race. In other words, Norwegian mountain-biking really rocks these days! Now we're soon going to fly home to Stavanger and the sunny coast where relaxation at our home awaits us for the rest of today and tomorrow. Kenneth will be travelling to Trondheim for a course for three days this week while I have to do some work with our sponsors, plus a marathon race in the Czech Republic this coming Saturday. There's no holiday for us quite yet, but my body will start to wind down in the coming days, leaving a lovely relaxed feeling. We have so much to look forward to in the coming weeks! You'll soon be hearing from me again, only then the focus will be quite different from what it's been in the past months. Have a wonderful day, and keep looking for the possibilities which exist right now.
Lots of warm greetings,
Gunn-Rita.
[Translation: Crispen T. P. de Lange]