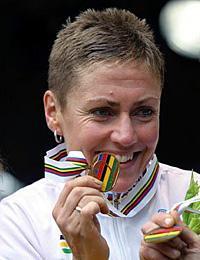 Photo ©: Birke Ulrich
On top of the world: The Gunn-Rita Dahle diary 2005
Norwegian cross-country mountain bike racer Gunn-Rita Dahle is probably the best female rider this relatively young branch of the sport has ever seen. World champion in 2002 and 2004, Olympic champion in 2004 and unbeaten in the World Cup in 2003 and 2004, she has a breath-taking palmares.
Dahle says her success is due to an unrelenting focus - she describes herself as a '24-hour athlete' - and the constant support of her boyfriend and coach Kenneth Flesjå. Follow her exploits on Cyclingnews as she works to stay at the top of her game in 2005. Or, for more Gunn-Rita, see her personal website: www.gunnrita.com
August 30, 2005
Two months of conquering the world
Can nobody stop her?
Photo ©: Øyvind Aas

We've won gold, gained valuable experience, been in Brazil for the first time, competed on bikes at almost 3000 metres above sea-level, written a new contract with Merida, and nourished both body and soul with simply amazing experiences. Our travels with our bikes through the past two months have given us a lot, demanded a lot from us, and been extremely exciting. It's a long time since you've heard from us, so I don't know quite where to begin. Last time I wrote a few lines, we were on our way to Brazil to take part in the World Cup round in Santa Catarina. So much has happened since then. I'm going to have to give you a short version this time, since I could probably write a couple of books about everything I've done and experienced these past weeks. During the autumn I promise to write a more extensive recount of the season, in which I will include more details which have made an impression on both body and mind, and which might be interesting reading for you.
World Championship Marathon in Lillehammer
Fresh wares usually taste best, so I'll start with the World Championships for MTB marathon at home in Norway last Saturday. It ended up being a perfect day for both Kenneth and I. An exciting race against marathon specialists on a demanding track, an impressively well organised championship by the Birkebeiner organisation, amazing numbers of spectators along the race course, sun and blue skies, a cheering mass of spectators at the finish line in Lillehammer, and a World Championship gold medal on Norwegian soil!
Riding the marathon Worlds
Photo ©: Øyvind Aas

The day of the championships will always remain a special day for us, with the heavy expectations lying on our shoulders, the media focus, the enthusiasm of thousands of mountain bikers, Norwegian flags everywhere, the pride of being Norwegian, and naturally also the joy of once again being successful. It still feels great to be confronted by foreign cyclists who tell us that their experience of Norway was fantastic.
Our family, sponsors and supporters were also there and made sure the day turned out to be perfect. Many of our sponsors competed in the Birkebeiner race for the first time, and all of them impressed us with their results. I've been told that almost all of them plan to take part again next year, only with a bit more experience in their backpacks.
The Birkebeiner race always means both cycling and pushing the bike, which can be both a good and a bad thing. I can well understand that people get 'hooked' on cycling after taking part in the world's largest off-road race in sheer numbers of competitors on one and the same day. It also cheered my heart to hear that a good 1,700 of the 11,500 competitors who were cycling from Rena to Lillehammer were women. Perhaps all these sporty women would like to bring a female friend to take part in the race together with them next time!
The Shell race
The preceding weekend, before Birkebeineren, we took part in the road race from Lysebotn to Bryne on Saturday, and also took part in the Shell Race the following day. The Lysebotn - Bryne race is spectacular, starting furthest in the Lysefjorden fjord. From there it winds its way over the Sirdal mountains towards Ålgård, with the finish at Bryne. Kenneth and I took part in the race as a pure exercise stint, and were rewarded with a perfect warm-up for the World Championship Birkebeiner race. We completed this fantastic nature experience on a very demanding route together with a good 500 other cycling enthusiasts.
On the women's podium
Photo ©: Øyvind Aas

The Shell Race this year was staged for the third time, and 427 people took part. The route goes around the Hafrsfjord fiord around the four Shell-stations in the area, and is a good 30 kilometres in total. It's a nice race for the whole family to take part in, for both young and grown-up riders. Participants can choose which Shell-station they would prefer to start at and one can register for the race between 10:00am and 2:00pm.
Each of the Shell-stations offered free buns, fruit and drinks, in addition to a range of activities for all age groups at every stop. Everybody gets a start-number, a certificate upon completion, and the possibility to win on the raffles after the race. The Shell Race has really become a success. Many people come with their whole family and make the day into something social and fun for everyone. Kenneth, Lene and I set up camp at the Shell station at Madla where we handed out various Merida paraphernalia and signed our autographs for the children.
Nordic Championships
On Sunday the 7th of August I became Nordic champion at Roskilde in Denmark. Our original plan was to take the weekend off, but two weeks before the race we decided it would be smarter to keep our race-training up to scratch. We combined the race with a trip to Lillehammer just before the weekend in order to try out the final section of the World Championship marathon race course, and it turned out to be a smart investment in time and effort. The final part of the World Championship race course up from Lillehammer was technically demanding both upwards and downwards, so it was a good idea to test out exactly that part of the course.
Four-time European Champion
Concentrating before the start in Angel Fire
Photo ©: Marek Lazarski

I made use of the road race, Thüringen Rundfart, as a warm-up for the European Championships this year. Same recipe as last year. I already had three gold medals from European Championships in my pocket from before, so I was somewhat more nervous and focused than usual as I stood there on the starting line in the small Belgian town of Kluisbergen. I knew I was in good fighting fettle after a relaxed week of exercising, during which we had focused on rest and relaxation after many kilometres of on-road cycling the preceding week.
I think Kenneth was just as excited and nervous as I was, since a championship is quite an experience no matter what. We enjoyed the company of four friendly supporters, our closest family, who cheered for just about everybody on the starting line that day. The European Championship race course was a high-speed track with short, steep climbs and descents, and lots of mud. Just after the race started for the women, the rain started bucketing down, so it became frightfully slippery after a while. I won't go into details about the race, but it was wonderful to win, once again. With these four European Championship wins in a row, we wrote mountain-biking history - a great experience.
Norwegian Champion
On Saturday the 16th of August I became Norwegian Champion on Skullerudsletta in Oslo. It was a particularly jet-lagged and rather worn out Dahle who stood there on the starting line. Kenneth was just about as giddy as I was, since we had only just come home from USA four days before the championship. Next to becoming Norwegian champion again, the most enjoyable thing was to see how many competitors, both boys and girls, men and women, were lined up in the various age-groups. It really makes us happy to see how many are taking part, and we clearly have a big job to do for these young, enthusiastic people who hopefully will be taking over the mountain biking scene with time.
Two new World Cup victories
Feeding time for Gunn-Rita
Photo ©: Marek Lazarski

The two World Cups following the Mont Sainte Anne round in Canada should be recounted together, since many things happened simultaneously. From June 25 to July 12, we visited three continents and competed in three World Cup races (America, Brazil and Europe). The trip from Canada to Brazil took two whole days to complete. We got to our hotel in Santa Catarina, about one hour's flight southwards from Sao Paolo, on Tuesday evening. The following evening we got our bikes, and the following Sunday we were racing at the World Cup. My legs weren't exactly in supreme shape, but I don't think any of the other girls who took part had managed to recover completely after the race in Canada either. The long flight also took its toll on my body. We won with a reasonably good margin to German Sabine Spitz, and were very grateful for yet another first place.
The following day we travelled to New Mexico and Angel Fire Resort where the next World Cup race was to be held the following Sunday. It meant two whole days of travelling again. We used the dead time at the airport in Sao Paolo to cycle for one and a half hours on rollers, to get the blood circulation up and hopefully shorten the period needed for restitution. Angel Fire Resort is a good 2600 metres above sea level, so we had a bit of a shock when we finally arrived at our hotel on Tuesday evening. We managed to take a jog before going to bed and woke up on Wednesday morning feeling totally knocked out.
Winning again!
Photo ©: Marek Lazarski

On Thursday we cycled around the race course at a low pace twice, and were actually about to pass out on several occasions. The highest point of the race course was all of 2930 metres above sea level, so you can imagine that our training stint together that day was somewhat out of the norm. It was simply impossible to speak and pedal at the same time with that little oxygen available, even though we were cycling slowly and at a relaxed tempo, in easy gears.
The race course at Angel Fire Resort was awesome, especially the descent. I use singular here since it was single-track for three whole kilometres from the top to the very bottom of the course. Loose and deep sand, roots, short stony sections, thick forest, with many bends and turns. The remaining five kilometres of the race course had several short flat sections, but one more or less continuous climb to the very top again. I was very tense before this race because my strongest rival, Marie Helen Premont, had dropped the World Cup race in Brazil. But once again we prevailed and secured another overall victory in this year's World Cup series, even with one race to go.
New contract with Merida
Hey, I won...
Photo ©: Marek Lazarski

One of the greatest things that happened through these last weeks was signing a new contract with Multivan Merida Biking Team and Merida Taiwan. The new contract outlines that in the first three years I'll be a competitive cyclist just like now, followed by three years as a sort of ambassador or promoter for Merida. I'm very glad that we're continuing with Merida. Both Kenneth and I are looking forward to many exciting and challenging years together with our pro team Multivan Merida Biking Team and the bike manufacturer Merida. We're naturally also very happy to be able to continue our work with our Merida family here in Norway, Stians Sport.
Apart from this, Klepp Hus and Ramp are working on getting the blueprints for our new house approved by the authorities. The wedding plans are going fine, without us actually knowing exactly what'll happen on the big day, the 15th of October, in the Stavanger Cathedral. I at least know that the rest of the day will be celebrated at the Radisson SAS Atlantic Hotel in Stavanger. Kenneth's older sister, Hege, is the main brain behind the planning of the reception and party afterwards, with lots of help from the rest of our wonderful family. The new 'Gunn-Rita - the Buff' is to be found in all the shops in Norway now, and it turned out to be a really nice piece of apparel. Our new engagement rings made of carbon, by Siv & Adam, get lots of attention.
Gearing up for a new World Championship
Riding strongly in New Mexico
Photo ©: Marek Lazarski

At present we're in a little mountain village called Pontresina in Switzerland, not far from St Moritz. It's Saturday evening now and we're soon going out to eat supper. We're living in a beautiful and very well-kept hotel called Sporthotel. We can easily recommend this hotel to anybody passing through these parts, either for hiking in the mountains or for traversing the many mighty mountain-tops in this region. See this site for details.
It was on this very day, August 27, exactly one year ago, that we won the Olympic gold medal in Athens, and it's a little frightening to think of. Time really flies, and still we often experience more than we're able to digest. One just has to enjoy the day today and be happy for what we has here and now. Tomorrow we're moving all our gear across the mountain, crossing into Italy, and will live for a week in Livigno where the World Championships will be held next Sunday. We're really looking forward to another big race.
This turned out to be a long report, and without all that many interesting details, I'm afraid. I have no one but myself to thank for the fact that I haven't kept you all updated more often, and probably ought to do better in this area in the weeks to come. Now a tasty dinner of Italian salad, barbecued salmon and lots of lovely greens and pasta awaits us. Have a really good evening and a weekend full of happy experiences.
Lots of warm greetings,
Gunn-Rita.
[Translation: Crispen T. P. de Lange]