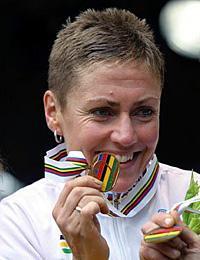 Photo ©: Birke Ulrich
On top of the world: The Gunn-Rita Dahle diary 2005
Norwegian cross-country mountain bike racer Gunn-Rita Dahle is probably the best female rider this relatively young branch of the sport has ever seen. World champion in 2002 and 2004, Olympic champion in 2004 and unbeaten in the World Cup in 2003 and 2004, she has a breath-taking palmares.
Dahle says her success is due to an unrelenting focus - she describes herself as a '24-hour athlete' - and the constant support of her boyfriend and coach Kenneth Flesjå. Follow her exploits on Cyclingnews as she works to stay at the top of her game in 2005. Or, for more Gunn-Rita, see her personal website: www.gunnrita.com
April 26, 2005
Plenty to do after my injury
Great start to the season
They say time flies when one's having fun. When one's days are also action-packed and full of experiences, it's almost frightening to see how time just disappears! We've already had three weekends in a row of off-road competitions, and this has provided us both with fantastic experiences on and off the bike.
I have a lot to tell about this time, since you haven't heard from me for a good three weeks. The mountain bike season started for me with the Swiss Power Cup in Reinach on April 2 in Switzerland. It went better than I had dared hope, as I won the race, just in front of my teammate Irina Kalentieva. Multivan Merida Biking Team was victorious again the next day when Ralf Näf won the men's race.
I was a little unsure as to whether I should take part in the race at all, since I still had a bit of pain in my ankles, and especially in my left heel. But everything went surprisingly well, and as usual there wasn't time to think about such things when thundering over rocks and roots, and concentrating on various challenges on the fly. Still, the race was a sort of shock-start to my system after an inactive Easter after the crash I was involved in on my road bike during the Primavera Rosa race. The following week was used for slow and relaxed training, a lot of rest, alternative training, and many hours of massage.
Beautiful Italy
Last weekend we were in Italy where we had a lovely weekend from Thursday to Monday, consisting of things other than biking. Delicious food, friendly people, cultural experiences, all of which were exciting, along with amazing hospitality, and lots of laughter. Two races in one weekend, both over long distances, with many hours spent driving the car, and a tight schedule usually results in long days and too little sleep. But once in a while it works out just fine, and especially when you're having fun.
Conversations naturally concentrate on winning when one rolls across the finish line in first place twice in consecutive days, but those aren't necessarily the only experiences Kenneth and I took with us. On the race on Sunday morning, the Grandfondo del Montello race, elite women and men lined up together at the start in order to ride a large loop of 45 kilometres. Kenneth also got to take part in the race this time, and lined up in the first row together with me and many other pros. It was a complete mud bath from beginning to end, but lots of fun and excitement the whole way. We simply enjoyed ourselves on our Merida bikes, and looked anything but beautiful as we crossed the finish line after two hours and 12 minutes.
Apart from that, the weekend offered us a dinner together with the Italian importer of Merida and his family on the Friday evening. The whole family naturally lined up as excited supporters the following day in the Luquigas Cup on Saturday morning. Multivan Merida Biking Team had been split up this time, so it was only me and my Spanish teammate, Jose Hermida, who traveled to Italy. The rest of the team took part in Swiss Power Cup in Buchs. Jose was missing both his luggage and his bike when we arrived at Pisa on Friday afternoon, so he borrowed my bike and Kenneth's kit on both Saturday and Sunday. Jose is a fast rider, and he won the race in front of his previous teammate and Olympic champion from Athens, Julian Absalon, on a completely new bike, and in somebody else's riding kit.
A base at lovely Heubach
We've got ourselves a base close to the town of Heubach, an hour's drive southeast of Stuttgart, where we've spent our weekdays for the last two weeks. We have a large and nice apartment which we'll stay in for the rest of this month. We've been living in this same area for the past two years at this time, and really enjoy ourselves here. Last week Lene Byberg and Håkon Austad also lived with us here for a few days before the Norwegian national team came down on Thursday.
After arriving here we took part in the first MTB Bundesliga Cup in Münsingen; it was an exciting and fun. I really got to test my physical condition plus the training I've been doing, and the results were great. I won by all of two minutes in front of my teammates Irina Kalentieva (RUS) and Nina Göhl (GER). In other words, a great day for the girls on Multivan Merida Biking Team. Our Spanish racer, Jose Hermida, was number three today and was satisfied with his form throughout the race.
There were also a few other Norwegian riders at the start today who performed well. Lene Byberg came in a good sixth place, and really got to demonstrate how hard she has been working and training through the winter. Håkon Austad arrived among the top 20 men. He raced well and was happy with the result.
That's about it for now - in my next entry I'll let you know how the first MTB World Cup race went, and more stories from my racing and training. Well, it's pretty much time to get out your bikes in Norway too, I reckon, so get out and enjoy it! Bring a few of your friends and take a long trip out into nature. Good luck, and cherish the experience that your two-wheelers give you.
Training session of the week:
Team tempo together with Kenneth and Håkon. It was a great tempo session during which I had the advantage of riding a road bike while the boys rode slicks on their mountain bikes.
Dinner of the week:
Italian pasta with an utterly delicious garlic sauce…and naturally in the pleasant company of the North Wave family.
Tip of the week:
Take a good friend to a good Italian restaurant. Make sure you have lots of time to really enjoy a lovely evening together.
Biker's greetings from Gunn-Rita (Multivan Merida Biking Team)
Translation: Crispen T.P. de Lange