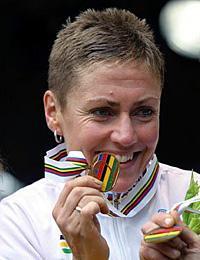 Photo ©: Birke Ulrich
On top of the world: The Gunn-Rita Dahle diary 2005
Norwegian cross-country mountain bike racer Gunn-Rita Dahle is probably the best female rider this relatively young branch of the sport has ever seen. World champion in 2002 and 2004, Olympic champion in 2004 and unbeaten in the World Cup in 2003 and 2004, she has a breath-taking palmares.
Dahle says her success is due to an unrelenting focus - she describes herself as a '24-hour athlete' - and the constant support of her boyfriend and coach Kenneth FlesjŚ. Follow her exploits on Cyclingnews as she works to stay at the top of her game in 2005. Or, for more Gunn-Rita, see her personal website: www.gunnrita.com
March 29, 2005
Recumbent Easter
The bad spill I took during the Primavera Rosa World Cup road race last weekend has meant a quiet and physically relaxed Easter for me. I still have pain in both ankles, and wearing any form of shoes is difficult. Even so, I'm very lucky not to have broken any bones. The bike, on the other hand, is a total write-off, with a broken fork and wrecked gear and drop-out at the back.
And so the first day of Easter has arrived here in our living-room at Tjensvoll, and I'm sitting here with my feet up. I've been doing this for a whole week already in order to make the swelling recede as quickly as possible. It also helps relieve the pressure in my ankles. I have had some short stints of cycling outside and on rollers inside during the last few days, and it's gone reasonably well. I don't know if I'll be quite ready to race next weekend, but it's not too important.
The most important thing now is to listen to my body and avoid over-exertion too early. I'm still a little swollen and sore, and my ankles can't take any pressure for longer periods of time. But the improvements during the last week have been phenomenal, from sitting in a wheelchair last Sunday, to a two-hour relaxed bike-ride today. I'll be going to the hospital again on Wednesday for another check-up, and after that we can decide whether or not to take part in Swiss Power Cup on the weekend.
Kenneth has been exercising a lot all week, and is already in dangerously good shape. It'll be a struggle catching up on the head-start he now has on me, but it's far from impossible! It's difficult to know exactly how great the setback has been for me. But it doesn't really matter, as the most important thing now is to see to it that my heels recover completely. We're following a schedule that will give a peak in physical form around the end of May - we still have a while until then.
Apart from sitting around with my feet in the air, I've had the chance to meet up with some of our good friends and family here at home, through trips to the cinema, eating out, home visits, and guests here in the living room. Apart from that I've had many hours here in my easy-chair with my feet up. The beautiful weather this Easter has raised my spirits and given me optimistic thoughts, even though I've had to spend a lot of time inside. I hope many of you have had a fantastic Easter which gives you all a lift and lots of energy for the coming weeks, both at work and otherwise.
Training stint of the week: The small amount of exercise I've done this week has been pure luxury.
Dinner of the week: Barbequed tuna steak with fantastic vegetables and pesto sauce at the restaurant Harmoni in Stavanger. Highly recommendableÖ..
Tip of the week: Take good care of your health. It's no fun when your body doesn't work as it should.
Cyclist's greetings,
Gunn-Rita.
Translation: Crispen T.P. de Lange